Caulk-Tube Extension Nozzle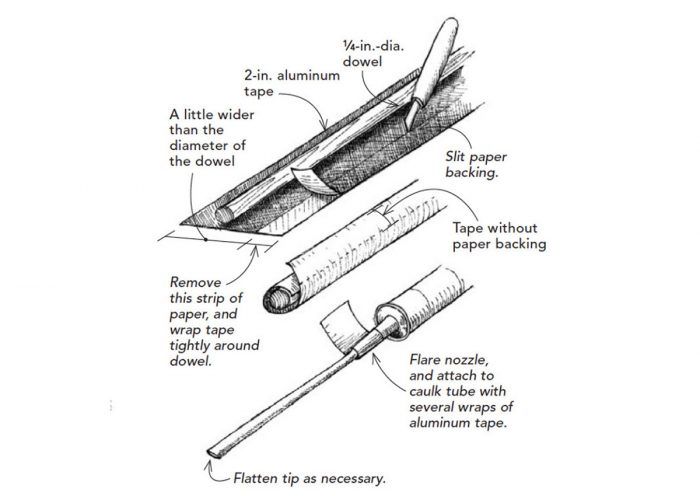 A water leak in an adjoining room caused some glued-down flooring to loosen from its concrete substrate. I planned to secure the loose boards with construction adhesive once the floor dried. But getting the adhesive to the target presented a problem: The closest access point for the caulk-gun nozzle was about 18 in. away from the loose boards. To deliver the adhesive, I needed a thin, stiff extension tube that could be flattened a bit so that I could slide it under the flooring. Here's how I did it.
I began with an 18-in. length of 2-in.-wide aluminum tape. This is the tape typically used to seal HVAC ducts. It's sturdy and has a paper backing that has to be peeled off before it can be applied.
As shown in the drawing, I removed a strip of the paper backing about 1/2 in. wide along one edge of the tape. Next, I wrapped the tape around a 1/4-in.-dia. dowel. The edge with the paper backing removed wraps last around the dowel so that it sticks to the layer below it, but not to the dowel. Dowel extracted, I had a stiff, strong tube with thin walls.
I flared one end of the tube, slipped it over the caulk-gun nozzle, and attached it with a couple of wraps of the aluminum tape. By flattening the tube, I was able to slide it into some really tight gaps. I discovered, however, that pumping the gun slowly is important, especially with material as thick as construction adhesive, so that the pressure does not build up too high.
James LaGrotta, Boonton Township, NJ
Edited and Illustrated by Charles Miller
From Fine Homebuilding #180