Trimming Round Corners
Intersecting lines provide measuring points for wrapping radiused wall corners.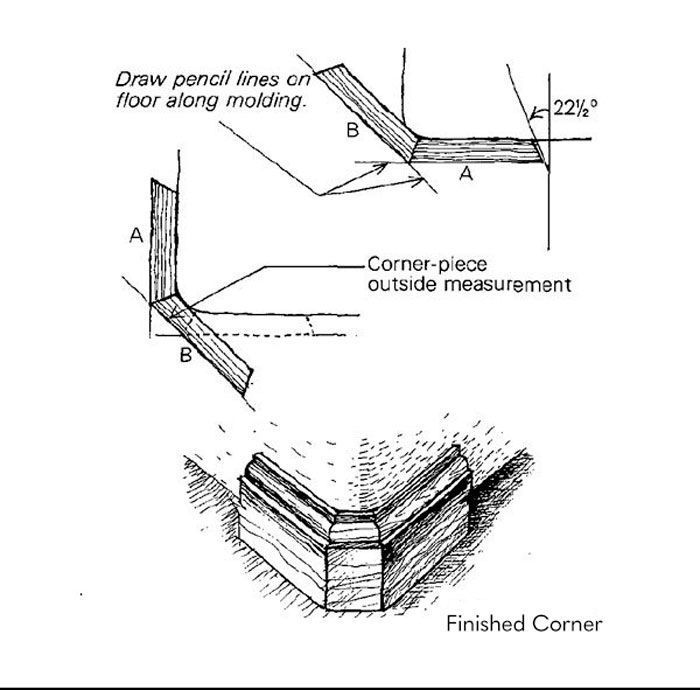 The following procedure allows you to install baseboard or crown molding where the plaster or stucco corners are radiused, without leaving an ugly gap behind the heel of the miter. Begin by cutting two pieces of base molding about 4 in. long with an angle of 22-1/2° (one-half of 45°) on each end, as shown in the drawing. Then, holding piece A flat against the wall and piece B against the round corner, move both pieces until a tight corner fit is formed. Mark this junction with a pencil line on the floor, Next put piece A flat against the other wall and move piece B along the pencil line until again a tight corner is formed. Now scribe another pencil line along the front of piece A. Where the lines cross is the given measure of the small corner molding piece, which is also angled at 22-1/2°. The long pieces can also be accurately measured from the intersecting lines.
—Hans Matzinger, Laguna Beach, CA
Edited and illustrated by Charles Miller
From Fine Homebuilding magazine
---
Editor's note: On new builds, it often makes more sense to install the trim before doing the plaster or stucco, which can be easily molded to fit trim. It's much harder to scribe and fit trim to hardened plaster and stucco. For more on this technique, check out A Hybrid Approach to Lime Plaster.