How To Finish an Exterior Wood Door
Penetrating stains and marine varnish are a good start, but clear-finished doors will still need occasional maintenance.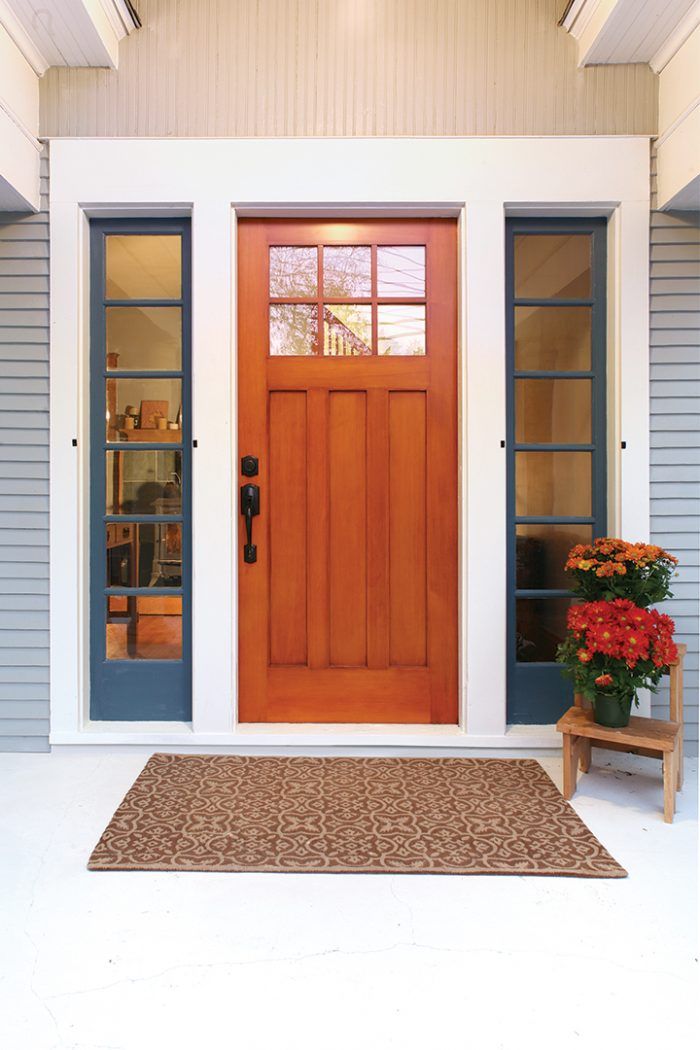 In 1988, I installed a custom wood door with sidelites on the front of our home. It was given five coats of stain for penetration and then sealed with polyurethane. I have been fighting with the finish ever since. Although protected by a porch roof, the door receives intense afternoon sun as well as an occasional wind-driven rainstorm. The finish continues to crack and peel and requires yearly upkeep. The sun's heat on the door is so powerful that the glue has let go in the panels. I want to replace the existing door with another oak door. How should I finish it so that it will look good without needing yearly overhauls?
– Greg Bebernitz, Warwick, NY
William C. Feist, a specialist in exterior wood finishing and weathering in Middleton, Wisconsin, replies: As you've found out, it's difficult to maintain a natural finish on wood that is exposed to lots of rain and intense sunlight. I don't generally recommended conventional clear polyurethane, because ultraviolet (UV) light from the sun can penetrate and degrade these film-forming finishes. Lacquers and shellacs do not make good outdoor finishes either, because of their sensitivity to water and their brittleness. Without care and maintenance, these finishes eventually peel and the wood underneath the finish darkens and cracks. The more sun, rain, and heat the finish sees, the faster the finish and wood degrade.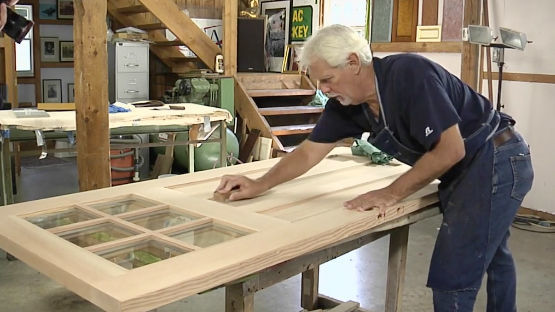 Given all these potential problems, you do have some options for a reasonably durable exterior door finish. But keep in mind that maintenance is part of life for anyone with clear-finished or stained wood doors. Beyond picking the most durable exterior finish for your door, another thing that you can do is to use a product that will make maintaining the door a bit easier. In other words, maintaining the door doesn't have to mean refinishing it every time. Here are a couple of options that I've found create a relatively durable finish and are on the simpler end of the spectrum when it comes to maintenance.
Penetrating finishes harden in the wood
The first option would be using a penetrating finish, such as Watco exterior stains. (Exterior, semitransparent, penetrating, oil-based house stains that contain mildewcide and are water repellent would also work well.) As their name implies, these finishes penetrate the wood before hardening instead of creating a film on the surface. They are also fairly easy to work with.
Application is essentially a matter of flooding the surface of the door, allowing the wood to soak up as much of the finish as possible. It is easy to see when the door should have additional coats and when it has had enough. In my experience, these finishes usually require maintenance every two or three years, but they are reasonably easy to take care of. All you have to do is clean the door and then re-apply the penetrating finish, adding as many coats as are needed.
Use varnish with compatible stain
A second choice would be a multicoat varnish system. I've found you can achieve a reasonably long-lasting door finish with varnish if you are willing to work at it (as boat owners do).
First, treat the bare wood with a paintable water-repellent preservative such as Wolman Woodlife. Next, apply a varnish-compatible, pigmented alkyd-based stain, such as a furniture stain. The pigment in the stain helps to reduce UV-damage to the door. Be careful in your choice of stain; some exterior products may not be compatible with the subsequent varnish coats, especially those containing unpaintable water repellents. Lacquer-based stains are not a good choice either.
Finally, choose a top-quality marine-grade exterior spar varnish. The first varnish coat should be a sealer made by diluting the varnish 1:1 with solvent, normally mineral spirits or turpentine. Give the sealer coat a light sanding, and then apply a minimum of three more coats of varnish with a light sanding between each. In marine exposures, six coats of varnish are often applied. You might consider applying six coats to deal with your door's severe exposure to the sun. But even these measures will require some maintenance every couple of years.
Follow instructions and do an annual inspection 
Finish chemistry is only getting more sophisticated, which for us means it is getting more complicated to choose and use products. Therefore, no matter what stains and finishes you decide to go with, follow the manufacturer's instructions for application. And remember, you'll have to take the door off of the hinges because it is super-important that you finish all six sides of the door, including the bottom (especially the bottom).
Inspect the door annually, if you notice the finish is fading or degrading, the sooner you do some maintenance the better. Finally, the best protection of whatever finish you choose is minimizing the heat, light, and water that reach the door. Even with your front porch, I suggest that you try to create more shading for the door with a sun shade, an awning, or with some newly planted trees.
Photos by Justin Fink.
For more information on finishing exterior doors:
Fabulous Finish for an Exterior Door – Beautify a wood door with dye, stain, varnish, and a fool-proof process.
Restore a Wood Entry Door – Let the wood shine through with a marine-grade finish that's sure to last.
Finish Fix for a Varnished Door – Learn how to maintain and refresh aging spar varnish on an exterior wood door.
Brush-Painting a Steel Door – A good paint job can go a long way to making a steel door look as welcoming as a wood one.