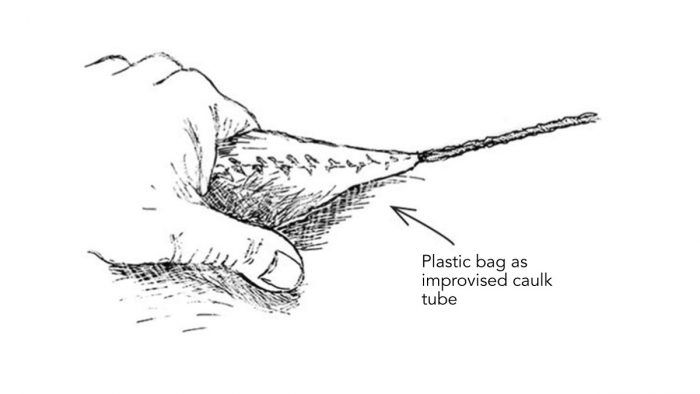 I needed to seal the joint between a finished oak floor and a new granite hearth inlaid in the floor. I've learned that using a caulk that matches the darker color hides rather than accentuates the joint. In my case, the granite I was trying to match is essentially dark green. I wanted to use silicone caulk for its elasticity, for ease of cleaning, and for matching the shiny finish of the polished granite.
My local paint supplier had silicone caulk in white, black, brown, gray, and clear. I asked an employee at the store if I could tint silicone caulk, and he said, "No way, because it will begin to skim over as soon as it is squeezed out of the tube, and you'll have no practical way to apply it in a joint." Of course, I had to figure out a way to solve that problem. Here's how I did it.
I squeezed a load of clear silicone caulk into a plastic bag and added small amounts of Mixol tints to the caulk. Mixol is a highly concentrated pigment-based coloring agent (www.mixol.com). You can find it at some paint stores and at mail-order woodworking-supply outfits. For my project, I added a bit of green and black, then kneaded the bag with my hands and used the caulk tube as a rolling pin to mix the colors with the caulk.
Once I had the caulk mixed to a consistent color, I snipped one end of the bag and used it like a cake-frosting bag to squeeze out a consistent bead.
Joe Luce, via email, None
Edited and Illustrated by Charles Miller
From Fine Homebuilding #189