The Big Drawer
DIY truck-bed extender allows for easy access to stored items.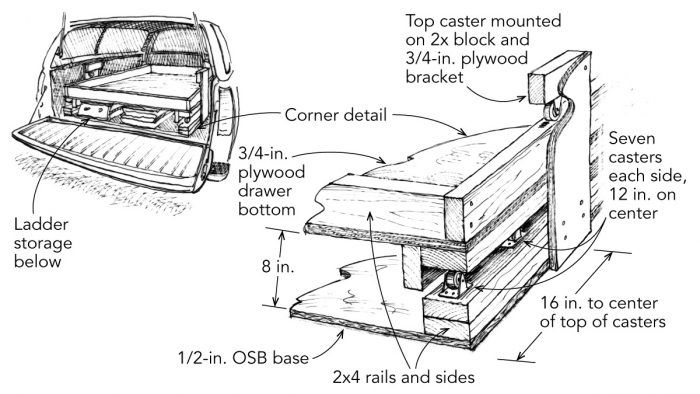 I know truck-bed extenders are available commercially, but I decided to make my own to demonstrate my carpentry and problem-solving skills to my clients. It seems to have worked. My truck's Big Drawer never fails to be a great conversation starter.
The Big Drawer is made up of two parts: the drawer and the support-roller system. Neither is attached to the truck bed, so it's not difficult to remove the rig if I need to haul a load of material.
The drawer measures 4 ft. by 8 ft. and is raised about 8 in. above the base to allow room for stepladders or folding sawhorses. As shown in the drawing, the drawer rides on casters affixed to 2×4 rails. To prevent the drawer from tipping when it's extended, I attached a couple of overhead casters on plywood brackets 16 in. from the tailgate. The weight of the drawer, in addition to the tools in it, gives the drawer enough friction to prevent it from sliding out. When fully extended, the drawer is 5 ft. past the truck's bumper, allowing for easy access to items stored near the cab.
Brad Moritz, Charlotte, NC
Edited and Illustrated by Charles Miller
From Fine Homebuilding #189