Tools & Materials
Yes, You Need a Cordless Impact Driver
These compact, high-torque tools leave cordless drills in the dust for most any drilling or driving application.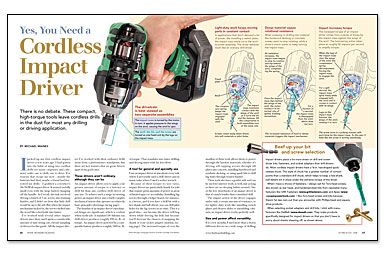 Synopsis: In this tool review, builder and designer Michael Maines assesses the current crop of cordless impact drivers. These versatile tools can be used for everything from light-duty work (installing switch plates) to heavy-duty applications (driving screws through sill plates). He outlines features available on cordless drivers, and a series of illustrations shows how a cordless impact driver gets its work done.
I picked up my first cordless impact driver a few years ago. I had gotten into the habit of using two cordless drills for many carpentry and cabinetry tasks: one to drill, one to drive. For reasons that escape me now — maybe the batteries had died, maybe a friend had borrowed my drills — I grabbed a coworker's 18v DeWalt impact driver. It seemed awfully small even with the large battery hanging off the handle. As I recall, the task involved driving a bunch of 3-in. screws into framing lumber, and I didn't see how that little drill would be up to the job. But when the impact mechanism kicked in, the screws melted into the wood like a hot knife into butter.
I've worked with several other impact drivers since then, and I spent a considerable amount of time trying out a broad sampling of drivers for this guide. All the impact drivers I've worked with blow ordinary drills away from a performance standpoint, but there are key features that set great drivers apart from good ones.
These drivers aren't ordinary, although they can be
An impact driver allows you to apply a far greater amount of torque to a fastener or drill bit than any cordless drill-driver of any size. To achieve such a surge in twisting power, an impact driver uses a fairly complex mechanical system that operates on relatively basic principles.
The benefits of an impact driver's mechanical design are significant, which is evident when on the job. A standard 18v lithium-ion drill-driver produces roughly 450 in.-lb. of torque. An impact driver powered by a comparable battery produces roughly 1400 in.-lb. of torque. That translates into faster drilling and driving times with far less effort.
A tool for general and specialty use
I use an impact driver in just about every task where I previously used a drill-driver and in many tasks where I used a socket wrench.
Because of their torque-to-size ratio, impact drivers are particularly handy for jobs that require great amounts of power in areas of limited space or accessibility. Installing lag screws through a ledger board, for instance, is a breeze, and if you have a drill bit with a hex shank and ball detent, you can drill pilot holes for the lag screws in no time. This is a good idea — not because the driver will bog down while driving the bolt, but because you'll decrease the chances of snapping the shank of your socket adapter. The increased torque of even the smallest of these tools allows them to power through the hardest materials, whether it's driving self-tapping screws through sill plates into concrete, installing hardwood and synthetic decking, or using spade bits to drill big holes through treated lumber.
For more photos, illustrations, and details, click the View PDF button below:
View PDF