Tools & Materials
Cordless Impact Driver for a Tight Squeeze
This angle driver can drive screws in locations that are much too tight for a pistol-grip driver.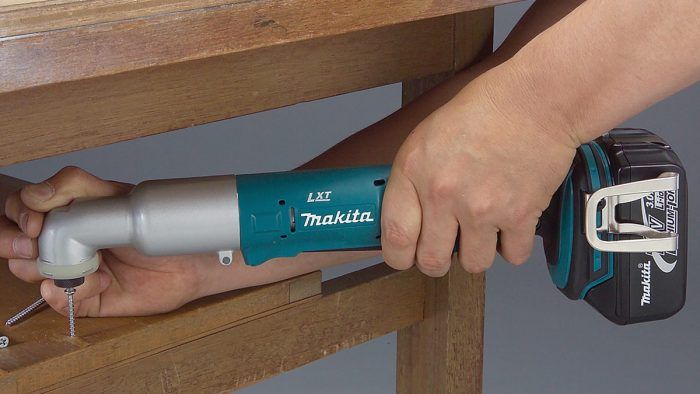 Here's a familiar story: You're working on a big project held together with lots of screws. It only takes a couple of minutes to drive in all the screws, except for the last two, which are tucked away into a pesky nook. Progress comes to a halt as you try in vain to position your pistol-grip-style impact driver into an angle that allows you to drive the screws. And after giving it your best effort, the final result is two screws with stripped heads driven halfway home. I've found a better way: the Makita XLT01 Cordless Angle Impact Driver.
This driver has a slim body and a 90° angled head that projects a mere 2-1/8 in., less than half the distance of Makita's pistol-grip driver. The tool is under 4 lb. with the battery attached, making it easy to hold at odd angles. The large, comfortable paddle switch provides intuitive control over the variable speed.
If you do get this tool, make sure you have a stubby bit holder on hand, or driver bits that don't require a holder. To reach the tightest spaces possible, you can insert a standard bit without a holder. It won't lock into the chuck, but it works great in a pinch.
I have the Makita platform, but similar angle drivers that I suspect would work just as well are available from other manufacturers. I spend my days building custom cabinetry, and while this isn't my daily driver, there are countless times I've needed to drive a pocket screw where the clearances are way too tight for a pistol grip. That's when this angle driver really shines.
Makita XLT01 Cordless Angle Impact Driver
Power 530 in.-lb. max torque
Length 15-1/4 in.
Weight 3.9 lb. (with 3-Ah battery)
Price $220 (tool only); $500 (kit with 3-Ah battery, charger, and bag)
Bobby Nelson, a custom cabinetmaker in Northfield, Minn.
---
RELATED STORIES