Design
What's the Difference: Deck screws
When choosing your deck screws, keep in mind where they're being used and how long you need them to last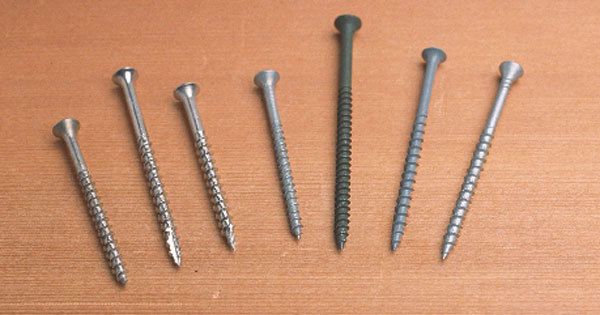 Stainless, galvanized, or paint- and polymer-coated steel?
When is the best deck screw on the market a waste of money? Darin Lawrence, technical manager for McFeely's Square Drive Screws (800-443-7937), says that it's when you need a fastener that's only pretty good. Lawrence is happy to recommend galvanized screws over stainless-steel fasteners for a pressure-treated pine deck that's constructed well away from the coast. But put that same deck on the beach, or use either redwood or cedar decking, and those expensive stainless-steel fasteners become the ideal choice.
Choosing the most appropriate deck screws depends on where they will be used and how long you expect them to last. Choices basically fall into two groups: stainless steel and everything else.
For corrosion resistance, stainless steel is the best of the lot. But these fasteners are expensive. Building-supply dealers and catalogs may offer as many as five different types of stainless-steel screws. Basic stainless steel—sold as type 302, 303, 304 or 305—contains 18% chromium and 8% nickel plus other alloys. These screws are often called "300 series" stainless steels, or simply "18/8." The differences among them, Lawrence says, amount to relatively minor variations in alloys. The chromium-nickel content is the same in all of them.
When used on a noncoastal deck, an 18/8 screw is essentially a lifetime fastener, meaning it will last as long as a top-quality deck board, such as ipé. But in a salty environment, the best bet is a 316 stainless-steel screw, which has a significant amount of molybdenum added to increase corrosion resistance and strength. Of course, this higher corrosion protection comes at a higher cost; at McFeely's, for instance, 316-grade #10 by 3-in. screws cost about 65% more than the same size screws in an 18/8 grade.
Lawrence says many people mistakenly believe that stainless steel is much harder than conventional steel. Not true. In fact, stainless-steel screws are only slightly harder than brass and tend to deform when overtorqued. To compensate, Lawrence suggests going up a shank size when using stainless-steel screws, predrilling pilot holes and then driving the screws carefully at a low-torque setting.
Their longevity makes stainless-steel screws the right choice for plastic-composite decking and tropical hardwoods, Lawrence says. They also are the best bet for woods such as cedar and redwood that stain when in contact with galvanized fasteners.
Galvanized steel costs less and protects less
It's the zinc coating that protects a galvanized-steel deck screw from corrosion, but what makes these fasteners especially attractive is the price, far lower than stainless. Depending on exposure and production variables, galvanized-steel screws should last 10 or 15 years.
A zinc coating can be applied in a number of ways, and some methods produce a smoother surface. Three common ways of galvanizing steel are electroplating, mechanical coating and hot-dipping. Electroplated fasteners have a smooth, thin, shiny coating. They offer the least corrosion protection and are not recommended for decking. Hot-dipped screws are immersed in molten zinc. Although the coating produced in this process is thick, it can be lumpy and may clog Phillips-head or square-drive recesses and make these fasteners a real pain to use.
A mechanically coated screw is intended to overcome this shortcoming. As explained by McFeely's Lawrence, glass beads, chemicals and powdered metal are combined with steel screws in a big vat. As the contents are mixed, the beads peen the surface of the screws and bond the metal powder to the screws. The surface is smooth, with driver recesses free of zinc clumps. Lawrence says the process makes a deck screw 25% to 60% more corrosion resistant than hot-dipped fasteners, even though the coating is thin.
Jerry Winandy of the Forest Products Laboratory in Madison, Wisconsin, disagrees. He says that what counts is how thick the zinc is, and hot-dipped fasteners typically have the thickest coatings. But no hardware stores in my area seem to carry hot-dipped screws, which settles the debate if I were building this weekend.
Other coatings include paints or polymers
Yet another class of corrosion-resistant fasteners has emerged recently: screws coated with paint or polymers. John Wagner Associates offers a line of Grabber screws that they say are better than galvanized fasteners. Stephen Moss of Grabber Construction Products (925-680-0777) described the coating on GrabberGard screws as a polymer applied over zinc and then baked on. A dacro-plated fastener has a similar, though not as corrosion-resistant, finish. These new finishes are more elastic than the old-style ceramic coatings they have replaced, Moss says, and are therefore less likely to chip during installation.
At Home Depot, you can buy Deckmate screws that, the manufacturer says, are as corrosion-resistant as stainless steel. Phillips Fastener Products (781-224-9750) describes its dull-green Evercote finish as a water-based, organic paint similar to a product used in the auto industry. The coating is applied on a fastener already protected by yellow zinc, a relatively low-level corrosion inhibitor. These fasteners are said to be nonstaining in wood.
Because results of third-party testing for corrosion resistance are hard to come by, it's tough to weigh manufacturers' longevity claims. Common sense suggests that if you want the fastener to last indefinitely, spring for 18/8 stainless if you live inland, and 316 stainless if you live along the coast. Simple.
Long life costs more
Stainless steel comes in different alloys; higher-numbered grades cost the most, containing more molybdenum and lasting indefinitely. Galvanized screws are cheap and last for 10 to 15 years. New polymers and paints claim a variety of life spans at midrange prices.