A Cordless Screwdriver Without the Battery Problem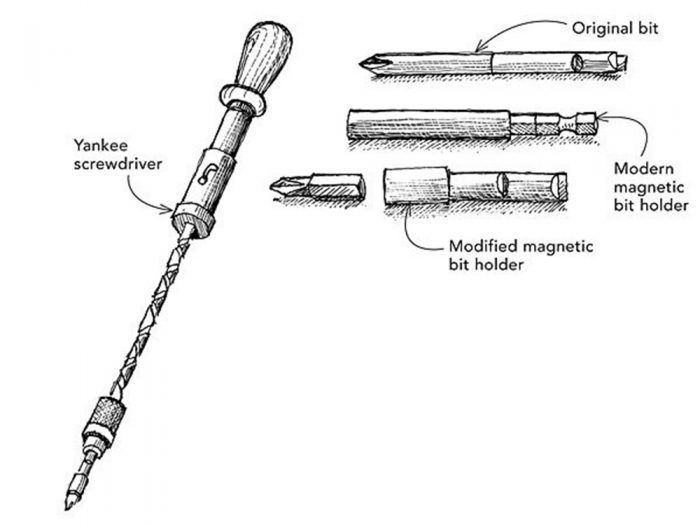 Call me old-fashioned, but I still get a lot of satisfaction from using my old hand tools. I sometimes can even outperform modern power tools, especially cordless tools, and be quieter and safer at the same time.
I wonder if anyone knows how many man-hours are wasted every year searching for a charged battery or a place to plug in a charger. At precious job-site electrical outlets, the old Medusa of extension cords has been replaced by Hydras of battery chargers. I wonder, too, how much energy is lost and wasted in the charging and storing of batteries.
And what about all those batteries? I don't know many people who are conscientious about recycling them. And even if they were, I have been told by more than one service center that collected batteries are simply chucked into the garbage.
I just love the feeling of political and environmental correctness that comes over me when I get out my old North Bros. Model 31 Yankee Screwdriver (for which I paid $1 at a tag sale) and plow in hundreds of screws without using an electron of nuclear- or fossil-fuel-generated electricity. It is faster than a cordless driver, and I have just as much depth control, if not more. The length of this model of screwdriver extends my reach 18 in. to 25 in., and I can snake it into tight areas where a bulky drill cannot go. It is lightweight and hangs neatly in the cat's paw/trisquare loop of my tool belt.
I admit that the bits for this dinosaur are expensive, short-lived, and of limited utility with modern fasteners. So years ago, I had my local machinist turn a magnetic bit holder from my screw gun into an adapter for my beloved antique, as shown in the drawing. I can use any 1/4-in. hex bit and replace it cheaply and quickly when it becomes worn or broken. The magnetized bit not only holds screws ready for driving but also can retrieve dropped screws and small hardware.
Albert Ginouves, Lakeville, CT
Edited and Illustrated by Charles Miller
From Fine Homebuilding #202