Which Rigid Insulation Should I Choose?
Get the details right when installing foam, mineral wool, or other rigid insulation types, and a small increase in wall thickness can make a big difference in energy efficiency.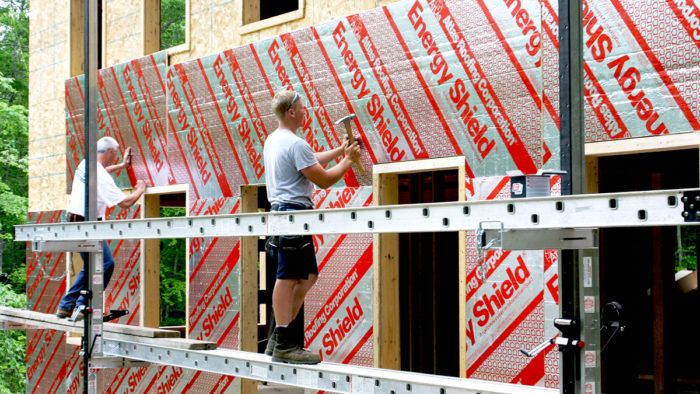 Rigid-foam insulation packs a lot of R-value into a relatively thin package. It is often used as a layer of continuous insulation on exterior walls and in the roof. Used in this way, the foam lowers the loss of energy through framing members, a phenomenon called thermal bridging, and increases the overall R-value of the roof or wall assembly. Some types of foam also can be used under basement slabs and on slab perimeters to lower heat loss through the concrete, which is a very poor insulating material. In choosing which type of foam to use, consider its location, R-value, and other performance attributes. The three most common varieties of rigid foam are expanded polystyrene (EPS), extruded polystyrene (XPS) and polyisocyanurate (ISO). An Irish manufacturer offers a fourth and more recently developed type, phenolic foam.
Foam isn't the only way to build a super-insulated home
If you're still in the planning stage of your project, be aware that exterior foam insulation isn't the only way to build an energy efficient home. Take a look at the article Six Proven Ways to Build Energy-Smart Walls if you want to explore your options. Also, remember there are other options for continuous exterior insulation, including mineral wool and fiberboard insulation, neither one of which is comprised of petrochemicals.
Three rigid-foam choices
Expanded polystyrene (EPS)

EPS is the insulation used most widely in insulated concrete forms and structural insulated panels (SIPs). EPS has the lowest average R-value of the three most common types of rigid-foam insulation, around R-4 per inch. It also is the least expensive. EPS is suitable for ground contact and can be treated to resist insects. If you plan on placing it in contact with the ground, make sure it's rated for that use. Some builders avoid using any type of foam on foundation exteriors because of the risk that tunneling insects like carpenter ants and termites will bore through it or nest in it. Check with your local building office first. When applied as sheathing, EPS should be used over housewrap. Most EPS is unfaced, which means it is fragile. It's also considered semipermeable to water vapor, so it does not create a vapor barrier.
Extruded polystyrene (XPS)
Easily recognized by its blue, green, or pink color, XPS falls in the middle of the three types of rigid-foam insulation in both cost and R-value (about R-5 per inch). XPS comes unfaced or with a number of different plastic facings. Unfaced 1-in.-thick XPS has a perm rating of around 1, making it semipermeable. Thicker, faced XPS is stronger and can have a lower perm rating, but it is still considered a vapor retarder, not a vapor barrier.
If you are concerned about the environmental impact of the building materials that you use, remember that the blowing agent used to make XPS has a very high global warming potential. For this reason, many green builders avoid using it. Thermal drift, the gradual lowering of R-value over time, is a consideration with both XPS and Polyisocyanurate.
Polyisocyanurate (ISO)
ISO panels are the most expensive of the three and has the highest nominal R-value, R-5.7 to R-6. Its blowing agent is pentane, which has a very low global warming potential. Because ISO starts as liquid foam and has to be sprayed against a substrate to form a rigid panel, all ISO panels are faced. Foil-faced ISO panels are considered vapor impermeable. Because applying these products as sheathing creates an exterior vapor barrier, they never should be used with an interior vapor barrier. More permeable ISO panels are faced with fiberglass and can be used without creating a vapor barrier.
Although the nominal R-value of polyiso is the highest of the three major types of rigid foam, its cold weather performance is lower: As the temperature drops, so does the R-value. Some builders working in cold climates give it an R-value of 4.5 or 5 per inch. Polyiso is not rated for ground contact.
Read the complete article: Save Energy with Rigid-Foam Insulation
More about rigid-foam insulation choices and construction details:
Get the Right Rigid Foam – Foam-board insulation can boost R-value, slow thermal bridging, and control condensation—but you better choose the right type.
Is Your Exterior Rigid Foam Too Thin? – Whether it's to meet code or to adhere to a "green" target, more and more builders are adding a layer of rigid foam insulation on the outside of homes. The idea makes sense, if it's done correctly. Learn if you're applying exterior rigid foam correctly.
Detailing Walls With Rigid Foam – Builder Steve DeMetrick shares construction and design details for efficient and trouble-free installation of exterior foam sheathing. His method employs Zip System sheathing for structure and air-sealing, 2-in. foil-faced foam for exterior insulation, and a felt-paper weather-resistive barrier behind a rain screen.
Choosing the Right Thickness of Exterior Foam – Rigid foam must be thick enough to prevent condensation on the roof sheathing.
Insulate Your Basement, Part 3 – In this episode, Justin Fink explains the why and how of using foam insulation on masonry walls, and demonstrates how to properly insulate the rim joist area with rigid foam and batt insulation in your basement.