Tools & Materials
Convoy Super Caulking Gun Review
With its longer barrel, cast-aluminum handle with comfortable plastic grip, automatic flow control, and a 4 1/2 in.-long puncture tool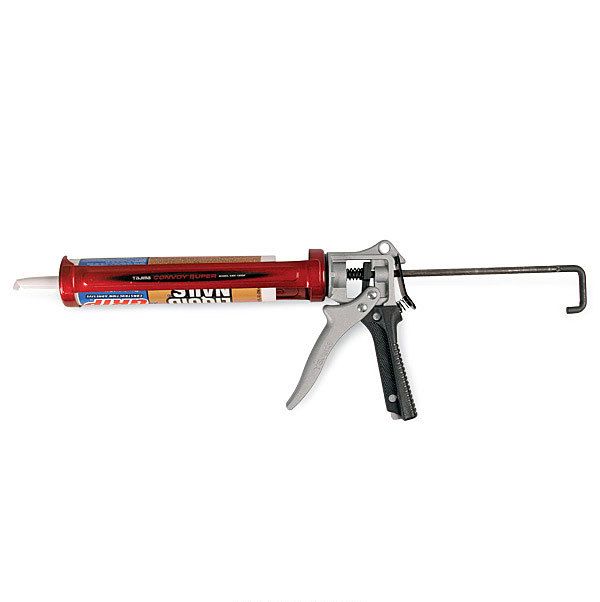 I gave up buying cheap caulking guns early in my career, and it wasn't until recently that I gave much thought to the distinctions among better-made caulking guns. The Convoy Super caulking gun from Tajima has taught me that not all highend caulking guns are the same.
First and foremost is the extra length of the barrel. Its 10-in. length makes it easy to insert and remove a typical 8-in. caulking tube. This lets me ignore the buildup that inevitably forms on the pusher over time. That's a regular maintenance issue on other caulking guns.
The cast-aluminum handle is outfitted with a comfortable plastic grip that prevents it from slipping on hot summer days. The gun is designed to produce a longer, more-consistent thrust to help avoid the telltale caulk bump created when you stop to reset the trigger. The handle also rotates 360°, so I don't have to release the pressure, then turn the tube while working long vertical runs or around curves. I also like the automatic flow control, which stops the flow of caulk when the handle is released. I don't have to release the pressure of the plunger every time I stop.
This gun has a 4 1⁄2-in.-long puncture tool (about an inch longer than most I've tried), so it has no problem reaching the skin of even an oddball long nozzle. There isn't a nozzle cutter, and when I asked a company representative about the missing feature, he said that Tajima designs its tools for professionals and that company research shows most pros prefer to cut nozzle holes with a utility knife. Because this is true withme for all but bulk adhesive applications, I can't argue with it.
The Convoy Super costs more than I'm used to paying for a caulking gun, but like any good tool, it's worth it.