Design
Kitchen Addition: Recycling Center
A three-bin rotary recycling center adds convenience and organization to a busy kitchen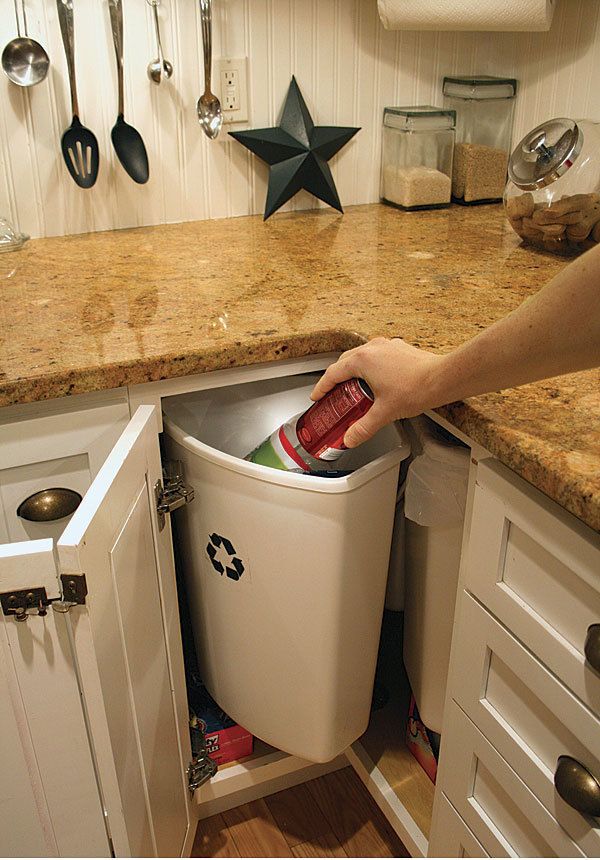 When we remodeled our kitchen, my decision to replace our blind corner with a cabinet outfitted with a Knape & Vogt (www.kv.com) three-bin rotary recycling center was, in the end, a last resort. Like everyone else, I needed somewhere to put the garbage, and in trying to cram every bit of utility into my tiny kitchen without expanding its footprint, I had pretty much run out of options.
The unit, which cost about $230 when I had it installed three years ago (you'll find it online for as low as $116 now), consists of three white 32-gal. triangular plastic bins that hang from 1/4-in.-dia. wire supports attached to a 1-in.-dia. center pole. My unit sits behind a double-hinged corner door. When the door is opened and the unit spun on its pole, each bin in turn projects into the opening—just far enough, I've found, to slide in a 2-liter bottle. The bins slide off the supports for emptying. (There's also a pass-through model that attaches to a corner cabinet door.)
Since I had three teenagers taking out the garbage, my biggest concern was durability. But the bins have held up well, with no cracks in either the bodies or the lips from which they hang on the wire frame. The frame has proven durable as well, with no bending or rust.
While the rotation doesn't expose as much bin as a traditional pullout, I find that it is just enough to get what I need into the bin. And because the bins are mounted just a few inches below the countertop—without a drawer intervening, as is often the case with straight pullouts—I can sweep debris from the countertop directly into the trash. In fact, mine is mounted a bit higher on the pole than I've seen in some product literature. This not only brings it closer to the countertop, but also leaves a good 6 in. below the bins in which to store boxes of trash bags.
For my kitchen, the real strength of this system is its location. The corner it occupies is smack between my stove and sink; that's the prime food-prep area. Having the bins immediately below makes it simple to sweep any debris into the trash.
With that in mind, one improvement I'd like to see from Knape & Vogt is a lid of some sort that would enable me to use a bin for kitchen compost (more on that third bin later). The hinged door on my model can get in the way, so I occasionally leave it open when I'm cooking. If I'm working on a big meal with a lot of debris, I'll resort to pulling the bin free and setting it down in the corner in front of me—perhaps not the best situation, but it works. Putting the trash in the corner rather than under the sink, where it used to be, eliminated one problem my family experienced every night after dinner: collisions between those working at the sink and others trying to scrape plates into the trash below them.
If there's a downside, it's this: I rarely use the third bin. We commingle glass and plastic where we live, and I've found that the bin is too deep to adapt well to newspapers or magazines. We'll be ready if our community ever gets more aggressive with its container recycling, but until then, we tend to use the third bin as a second trash can or, when we have them, a place to separate deposit containers from other recyclables. As a result, I occasionally wonder if it's foolish to give up an entire corner—in a kitchen as space-challenged as mine—to a unit that can't exercise 100% of its utility. But every time I consider that space for another use, the result is the same: I'm left holding the trash bag.
Photo: Debra Judge Silber