Tools & Materials
Tool Test: Portable 10-in. Tablesaws
These are the first five saws with safety features so well designed that you just might use them.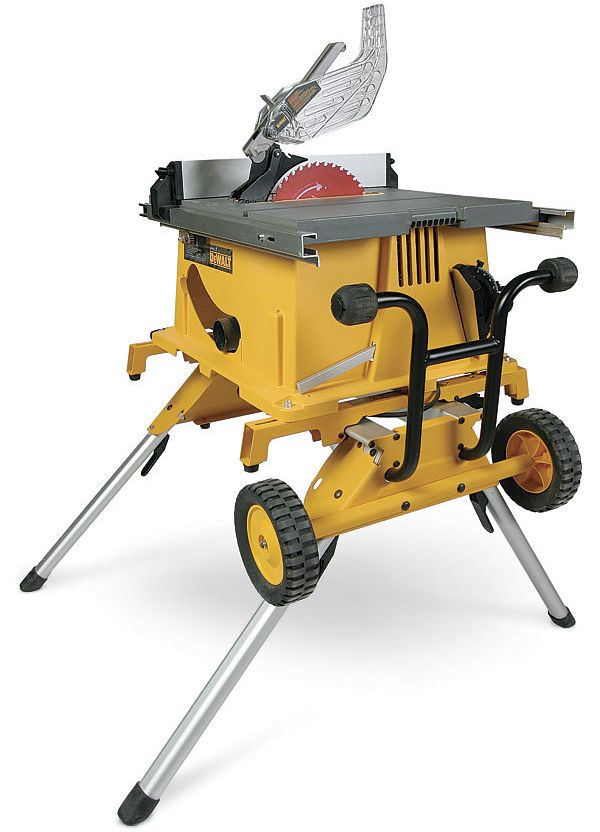 Synopsis: Tablesaws are usually thought of as large, shop-based tools, yet tool manufacturers have found a way to bring the functionality of the tablesaw to the job site via portable tablesaws. In this tool review, FHB editor-at-large Kevin Ireton takes a look at five portable 10-in. tablesaws. While he finds that four of the saws get the job done, Ireton says that the big news with portable tablesaws is the addition of a riving knife, a safety feature meant to reduce injuries related to kickback. Blade guards and antikickback pawls also make today's portable tablesaws safer to use.
If you ask me, "portable tablesaw" is an oxymoron. A good tablesaw is big, heavy, and stable. Portability favors small, lightweight, and collapsible. Hence, the better the tablesaw, the less portable it is. I don't have the luxury of a shop, though, so I need the best tablesaw that I can still move up and down my cellar steps, and in and out of my truck, without help. I also want to traverse a finished house, through doorways and up stairs, without damaging anything.
For 20 years, I've used an 8-in. Makita tablesaw (2708) that I drop into a fold-up Rousseau stand (www.rousseauco.com), which comes with its own stout fence. I have an outfeed table (also from Rousseau) that gives me 18 in. by 45 in. of solid support for whatever I'm ripping. Yes, I have to make three trips to set up this rig, but all the parts are light and maneuverable. I've built kitchen cabinets with this saw, and I've used it to cut everything but firewood. This is the standard against which I judged the tools in this review. While I'm not sure I'd trade any of these saws for my old Makita, their new safety features would make that a tough decision.
New UL standard means better guards
I've already lost one fingertip to tablesaw kickback, and I don't intend to lose another. The five saws I tested are the first portable models on the market to meet the new UL standard for blade-guard systems. With their riving knives, antikickback pawls, and plastic guards, all these tools are safer than any portable tablesaw I've ever used.
Given how easily these safety features install and how well they work, I think there's even a chance some of them will be used on a job site. Lots of different people use a tablesaw set up on a site, people who never read or even see the manual, so the safety system should be intuitive. As mandated by the UL standard, none of the saws requires tools to raise or lower the riving knife, or to remove and install the guards and pawls. But certain differences make some saws' safety features easier to use than others.
The safety features on the DeWalt and Ridgid saws stood out in these areas, but the Bosch wasn't far behind. Given the new emphasis on safety, however, I was disappointed that none of these updated saws makes it easy to clamp a featherboard to the table to keep the stock firmly pressed to the fence and further reduce the chances of kickback. Twenty-five years ago, using a featherboard would have saved my fingertip.
Every tool reviewer has biases
I don't much care about power. Or rather, I don't care about the relative difference in power between these saws. All of them are powerful enough for my purposes. They all did an adequate job of ripping a pressure-treated 4×4 — two of them, the Makita and the Ridgid, have the depth capacity to do it in a single pass — but that isn't something I need to do often.
For more photos and details, click the View PDF button below:
View PDF