Podcast 201: Broken Bricks, Unloved Concrete, and Portable Tablesaws
The FHB editors offer suggestions for repurposing a concrete slab, protecting brick from rock salt, switching from a shop saw to a portable, and more.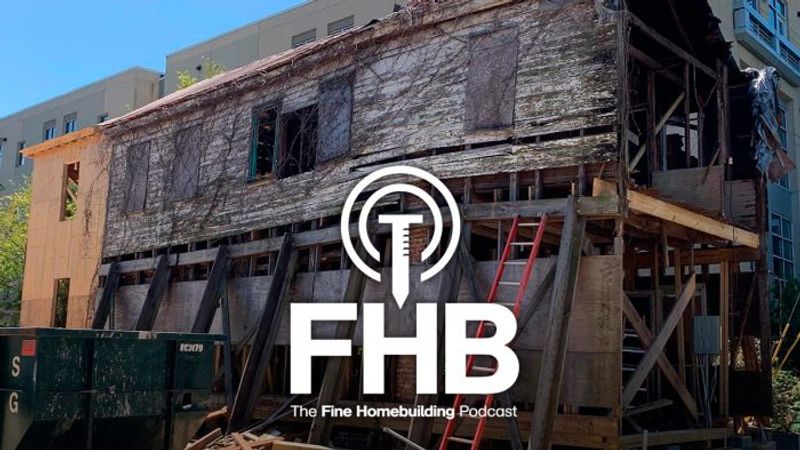 Follow the Fine Homebuilding Podcast on your favorite app. Subscribe now and don't miss an episode:
Matt, Kiley  and Patrick hear from listeners about small jobs and glass bottle masonry before taking questions about how to best use an unloved slab in the backyard, how to keep the snow removal team from destroying a brick wall with salt, and the proper way to detail a deck over a porch.
---
Listener Feedback:
Listener feedback #1
Chris in Chicago writes, Hello FHB podcast personalities, Love the conversation you have been having lately about the problem of finding tradesman to do small jobs on homes. I would like to throw my 3 cents in on the topic from the trades' side.
When I traded in my tools for a position as a facilities manager a few years back i thought i would try making some extra money on the weekends doing handyman work. Let me tell you brother after doing it for a year or so, I learned a few things.
The honest truth is that homeowners are just not willing to pay what you need to charge to make it worth your while most of the time. They will pay a heating guy or a plumber 125-150 per hour for a service call no matter how painful because they need their furnace to run and there toilet to flush. The same cannot be said for patching some drywall or replacing a lockset. In reality a handyman has the same expenses and costs that a heating guy and plumber have but can't command a fraction of what they charge. There's also the reality that some want a price up front , so you end up driving around quoting jobs your never gonna get.
I can guarantee you if i was to tell someone over the phone i charge 150 per hour it's gonna be a short conversation.
I decided to just go back to delivering pizza's.
Related links:
Listener feedback #2
Brian in Seattle writes, You recently asked about what kinds of stuff we've found in our houses — I've found two copies of The Watchtower magazine in walls and a 1948 Seattle Post-Intelligencer newspaper in my bathroom ceiling. The newspaper was notable because it had an article about the actor Robert Mitchum being arrested for marijuana possession.
I also found some old liquor bottles and beer bottles, but they weren't so much in the basement as IN the basement, the walls to be specific.
The house was originally built in 1930, presumably on a post and beam foundation. I know that the owner in the 1940s dug out and poured the concrete basement, but it wasn't until I had to enlarge an opening in a small section of concrete wall in order to build a staircase that I discovered the bottles used as bricks.

Listener feedback #3
Dane in Brisbane California writes, Regarding your discussion of balconies built on cantilevered floor joists from episode 197. You were talking about this detail as a relic of the 1970s, but here's an example of a soon-to-be $1M+ house in my neighborhood doing exactly that.
---
Editors' home project updates:
Kiley's carpet cleaner
Matt's gazebo roof
Patrick's photo shoot
---
Question 1: What to do with this backyard slab?

TJ from Bellingham writes, Hi FHB Podcast crew love the podcast and have learned so much (who knew there was so much to know about insulating and venting houses). I have a 20'x14'x4" thick concrete slab left over from the previous home owner that my wife and I are trying to decide what to do with. The slab was previously used as the base for a dog kennel. It's not level, is surrounded by trees, and is looking pretty rough. I currently use our 2 car garage for a little woodworking and remodeling projects so I would love to build a small shop in this space but doubt that the slab would be useful at all for this. I'm also not sure if the space I have at this site is enough room for a shop and if I can reasonably build a shop there (due to watershed restrictions I can't easily remove any of the trees). My wife would like to either put a small garden shed on it or turn the space into a outdoor patio. I know a small shed could easily sit on this slab and would get some of the yard equipment out of the garage, giving me a little more room. It just seems like a waste of space to not utilize this area to its full potential. Sprucing this area up into a patio with some pavers and maybe a pergola would be a relatively easy project but seeing as we live in the wet Pacific Northwest I don't know how practical this would be from a usage point of view. If this was your space what would you do with it? Creative thoughts are welcome.
| | |
| --- | --- |
| | |
Related links:
---
Question 2: How can you prevent ice-melt salt from damaging brick?
Michael from Chicago writes, Hey Y'all, I'm the facilities manager at my Church in the northwest suburbs of Chicago and we have this situation where, during the winter, when it snows, the snow removal company applies ice melt next to the building on a wheel chair ramp and it has begun to deteriorate the brick veneer. Below is a picture of some of the damage to the brick (sorry for the poor quality) as well as a field sketch of the damaged condition. The damage pretty much runs the length of the ramp which is 20 feet (minus a door) and extends up to about 7 1/2″ up the wall.
Options to repair:
Remove and replace brick – This is challenging because the concrete ramp is poured against the brick. Also, it does not really address the underlying issue which is that ice melt is damaging the brick.
Cover the brick with some trim or flashing detail. This could be just a standard piece of flat stock trim, such as PVC or cement board. I also looked for specific brick flashing and came across reglet flashing. This would need to be cut in, either in a continuous slant across bricks or in a stepped configuration. Before covering up, I was considering applying a liquid applied flashing, such as Prosoco Fast Flash which is vapor permeable. Attached is a generic detail I came up with which would cut across brick. It would be similar for the stepped configuration.
Related links:
---
Question 3: Should there be a vapor barrier between a porch ceiling and a rooftop deck?
Anthony from Texas writes, I have a question and I was hoping the experts could help me out. We're located in coastal south Texas, very hot and humid most of the year. We're rebuilding a 600 sq. ft. balcony on a 5 year old house. It wasn't flashed or sloped properly and water got in and caused a lot of damage. Below the balcony is a patio and the upper balcony provides cover for the patio. My question is, should I install a plastic vapor barrier or a tar paper moisture barrier to the patio ceiling before installing the cedar cladding? The floor space between patio and balcony is not insulated. Same question applies to the ceiling above the upper balcony. The difference there is that ceiling has open cell spray foam insulation. Any assistance is appreciated.
Related links:
---
Question 4: Will I be disappointed if I replace my cabinet saw with a portable job-site saw?
John writes, Dear Fine-Homebuilding Podcast, I am an avid listener and home DIY and equipment tinkerer. I am looking to downsize my home shop into a 12×24 garage wood shop. For space savings I am considering selling my Grizzly G1023 cabinet saw ($1500-$1800) and using a job-site saw (either Bosch 4100 ($600 w/stand) or Sawstop job-site ($1400 +$100 shipping) since I have a Kapex miter saw and Festool MFT/tracksaw for processing material as well. My question for FHB is can I expect to get consistent quality cuts on a job-site saw as I have off my cabinet saw? What is the cut quality & consistency off the new Sawstop job-site pro versus a cabinet saw? Thanks again for all your great content!
Related Links:
---
Closing note…
Thoughts on historic district preservation?
---
If you have any questions you would like us to dig into for a future show, shoot an email our way:

[email protected]

. If we use your question we'll send you a FHB Podcast sticker!
#KeepCraftAlive

KeepCraftAlive hats help celebrate the value of true craftsmanship–plus 50% of all proceeds from every hat sold go to the #KeepCraftAlive Scholarship Fund, supported by Fine Homebuilding and SkillsUSA.
Buy a #KeepCraftAlive hat or t-shirt
---
This episode of the podcast is brought to you by MiTek
Brought to you by MiTek ProSeries Structural Wood Screws, the new standard in wood screws. MiTek's ProSeries Screws are code compliant, reduce labor time, and are available for many fastening needs. And now the MiTek ProSeries line includes the WSTS Truss/Stud Screw. The WSTS includes an installation angle tool and driver bit to help you drive every screw at the exact angle needed without complicated jigs or measuring. Reverse thread angles on opposite ends of the screws provides higher load capacity while a fully threaded shank allows for more flexible installation. Get through the job faster, easier, and stronger with MiTek ProSeries WSTS Truss Stud Screw. Visit Mitek-Us.com and search Pro Series for more information.
Fine Homebuilding podcast listeners can now get 20% off anything in the Taunton store, including Renovation, now in its 5th edition. This home repair and remodeling bible describes in unvarnished detail best practice for hundreds of renovation projects. Also check out the Code Check series. These sturdy, spiral bound reference books will help you navigate the International Residential Code, The National Electric Code and the Universal Plumbing Code. There's also the 2020 Tool Guide with insights and reviews on more than 100 hand and power tools. Use the discount code FHBPODCAST to take advantage of this special offer.
---
We hope you will take advantage of a great offer for our podcast listeners: A special 20% off the discounted rate to subscribe to the Fine Homebuilding print magazine. That link goes to finehomebuilding.com/podoffer.
The show is driven by our listeners, so please subscribe and rate us on iTunes or Google Play, and if you have any questions you would like us to dig into for a future show, shoot an email our way: [email protected]. Also, be sure to follow Justin Fink and Fine Homebuilding on Instagram, and "like" the magazine on Facebook. Note that you can watch the show above, or on YouTube at the Fine Homebuilding YouTube Channel.
The Fine Homebuilding Podcast embodies Fine Homebuilding magazine's commitment to the preservation of craftsmanship and the advancement of home performance in residential construction. The show is an informal but vigorous conversation about the techniques and principles that allow listeners to master their design and building challenges.
Other related links