SketchUp for Builders and Remodelers: Build a Virtual Lumber Yard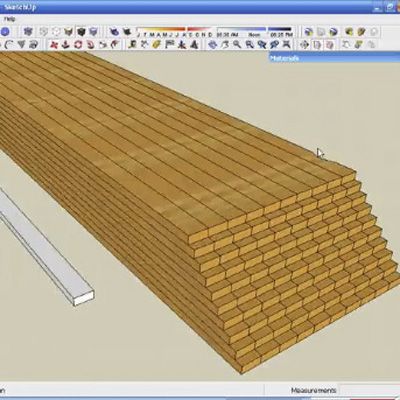 Don't be intimidated by 3D Drafting
Welcome! If this is your first experience on a "digital jobsite", it may take some getting used to. Like (some) real world jobsites, this digital jobsite can be fascinating, motivating, confusing, and intimidating all at the same time.
If you go to sketchup.google.com and download the free version of Google SketchUp 7 you will get all the digital tools you need to go into business creating 3D models.
Build your own 2x4s
Check out what some of your new digital tools can do in this short screen capture video where I use the line tool and the push/pull tool (aka digital board stretcher) along with the move tool (aka digital grunt) and others to create a stack of 100 2x4x12′ lumber without even breaking a sweat! Compare this to moving a bunk of lumber on a real-world jobsite where it just rained last night and it's a mud hole…
Is that great or what? No problem getting that handled before break time… now where's the donuts?
Start with some free lessons
To get an idea of how to work with all the stuff in your new digital toolbox as shown in the video, spend some time with the tutorials link in the sidebar and Aidan Chopra's SketchUp tutorials on YouTube, starting with simple ones that cover push/pull, grouping, moving and copying which were used to create the bunk of 2×4's you just saw. If you have a work or home project in mind like a garden trellis, new deck or maybe a child's playhouse, break out some of the digital tools and just start drawing. There's nothing to lose creating a project on the Digital Jobsite where the digital dumpster ("Delete key") is only a click away.
SketchUp is a very intuitive program to learn, and this short intro should help make the Digital Jobsite more interesting and less intimidating and confusing, to the point where you can see when and how it can improve the design/planning part of your work.
Using SketchUp in the real world
This blog isn't intended to be a tutorial on the computer part of learning how to operate the SketchUp software as much as a forum to share unique applications of a great free program to improve the work of Fine Homebuilders. I hope the time you spend here is as rewarding to you as adapting this digital toolbox to my business has been to me.
The next project I'll cover will be creating components to build a 3D model of basic wall framing. Until then, if someone can help me come up with some new digital excuses, as it occurs to me that "I clicked it twice and its still too short" isn't going to get me anywhere on the Digital Jobsite.
Later,
Matt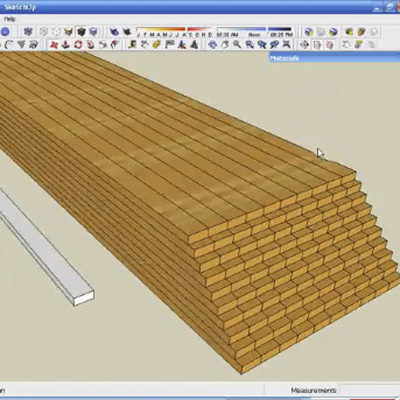 Make a truckload of 2x4s with a few clicks of your mouse.