A Moldy Crawlspace Nightmare Part 3: The Good, The Bad and The Ugly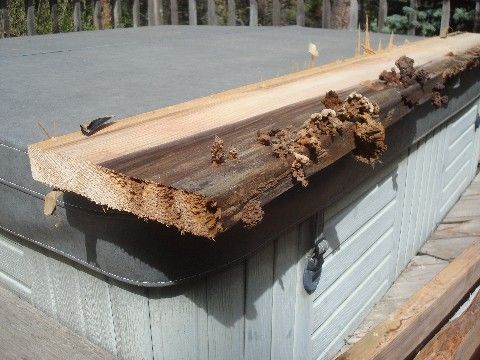 The Bad and The Ugly

After removing the old insulation its clear to see the full extent of damage caused by excess moisture in this crawlspace. The photos show The Bad and The Ugly. The "epicenter" of damage is the joist next to the wire that started this epic in the first place. Check out the creepy mold growths and hard-to-believe powdered wood. Incredible. The joists had a kind of thin crust which, when cracked, allowed clouds of powder to pour out.
The Good
With the floor framing fully exposed and partially removed it appears that a dozen joists will need to be replaced, along with the associated rim joist and sill plates. The challenge here is lifting the walls enough to cleanly remove the rotten structural members and get the replacements into place. While it would only take a few hours to frame and sheath a 16 x 24 deck in new construction, something tells me this will be considerably more time consuming. The Good is that the worst of the nasty tear-out phase is over!
Rebuilding Strategy
There are no doubt many feasible ways of lifting the walls that this floor system supports. With the given site conditions and framing configuration I first decided to try to lift the walls by the ceiling framing to provide maximum accessibility for the removal/ replacement process. Good thing there are many feasible ways to do this lift because my first attempt quickly failed when the ceiling joists began separating from the top plates. So on to plan B. A brainstorm brought in the idea of some bomber lifting fixtures to lift from under the bottom plates to relieve the weight of the structure above. A test run of the lifting fixtures using a 12 ton and a 20 ton bottle jack placed on the footing and a doug fir 4×4 went well: plenty of power to get the job done. Nothing like a little welded steel to show this old house who's boss. I should practice reading facial expresssions more since I'm not sure if my client was amused by my quip that with this lifting method, I could make this room a 2-story if he wanted.
The Light in the Tunnel
With the damage exposed and assessed and plans coming together for rebuilding this floor system, there is a faint light showing in the end of the tunnel. Check back for the next post to see if that light is in fact the end of the tunnel or just a freight train coming the other way…
Matt
——————————————————————-
See earlier posts in this saga:
Aftershock: A Moldy Crawlspace Nightmare, Part 2
Also see Green Building Advisor's article: Crawlspaces: The Downsides of Basements with Few of the Benefits

The Bad and The Ugly: the worst of the joists after removal
First Lifting Attempt: FAILED
Breaking the "shell" of a joist lets powdered wood pour out
Mold Epicenter: deterioration revealed with insulation removed