Greenbuild 2015 Puts Product Transparency Under Microscope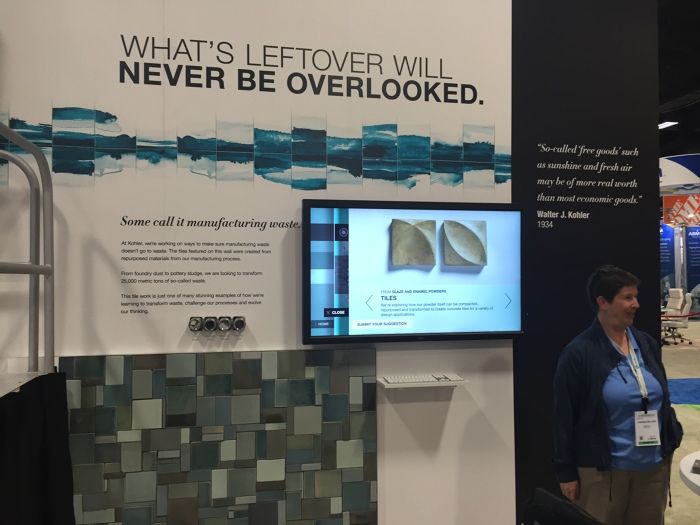 "What do you think of these tiles?" a Kohler representative asks a visitor to the company's booth at Greenbuild 2015, attended by thousands of architects. Created from foundry dust, the tiles are part of a year-old project to recycle waste from Kohler factories into fashionable new products.
Small cracks in some tiles make the response important to the Kohler team. They want to know whether the random imperfections add to the product's patina or detract from its appeal. Most designers who stopped by gave the tiles a thumbs up.
Kohler's interactive exhibit, highlighting its commitment to transforming 25,000 metric tons of waste, was one of the most visible messages of transparency at Greenbuild 2015. But it was far from the only one. In booth after booth companies bared information about the materials and processes used to produce commonly specified products.
The groundswell of transparency efforts can be attributed to the desire to meet the requirements of voluntary certification programs such as LEED v4 and the Living Building Challenge. The popular standards now focus on the contents of building products, how they are made, and, increasingly, their impact on the health of building occupants. Buildings receive credits for having products with certified environmental pedigrees.
The stakes are high enough that many large building products companies now employ sustainability executives who develop company plans for using raw materials more efficiently, softening the environmental footprints of factories, and properly disposing of–or even reusing–waste. Some companies now produce annual sustainability reports to tout their accomplishments.
Whirlpool executives at the show were eager to talk about their newly adopted commitment to achieving 90 percent material transparency within five years. The company has a similar goal, that may take two years longer, to provide zero waste to landfills. "We've already achieved zero waste at two of our three plants in Brazil," says Maureen Sertich, who leads Whirlpool's sustainability efforts in North America, "and we're making progress in other regions."
EPD: Where Rubber Meets the Road
Building architects, though, want to see certified environmental-product declarations, so-called EPDs, that are good for LEED v4 points. The documents must include a life-cycle assessment — based on an international standard — that details the raw materials used to produce the products, energy use, transportation alternatives, product usage, and whether products can be recycled or re-used.
EPDs are fast becoming ubiquitious. At the show, Owens Corning made available seven new ones across eleven of its core commercial and residential product lines, including 700 Series fiberglass insulation, fiberglass pipe insulation, and ductwrap. The technical documents make it clear that the life-cycle cost analysis doesn't address the specific environmental impacts of raw-material extraction, "nor are they meant to assess human health toxicity."
The limited scope of EPDs creates the need for additional health certification, so-called Health Product Declarations (HPDs). These reports inventory the material contents of products, including trace substances from manufacturing, and associated health hazards. Products must be screened against a minimum list of hazardous chemicals. But manufacturers may leave out "proprietary" information.
LEED v4 gives credit for products certified by Cradle to Cradle, an organization formed by famed architect William McDonough. The standard examines material health, material reutilization, renewable energy and carbon management, water stewardship, and social fairness. Products are judged in each category and given ratings of basic, bronze, silver, gold, or platinum. The lowest achievement represents the product's overall mark.
Cradle to Cradle partnered with Unity Homes and Builder magazine to build a modular showhome that included many products it has certified products, including solar panels produced by SunPower, roofing made by GAF, and hardwood flooring and throw rugs from Shaw Industries. "Sixty-six percent of the products Shaw manufacturers are Cradle to Cradle certified," said Paul Murray, vice president of sustainability and environmental affairs at Shaw.
Third-party organizations are popping up all over to verify claims by manufacturers. Sometimes they test products and work with manufactures to development documentation. Other times they produce independent research.
The Healthy Building Network announced at Greenbuild that it had confirmed manufacturers' claims that residential fiberglass insulation is free of formaldehyde-based binders in its manufacturing. The organization spent 10 years examining thirty fiberglass-insulation factories in the United States and Canada. The movement to remove the chemical from insulation began in 2002, when Johns Manville shifted to an acrylic binder.
"As of October 2015, manufacturers are no longer using formaldehyde as a binder in light density residential fiberglass insulation," the organization reported, adding that there may still be releases from production of some higher density batts that go into commercial buildings.
Staying Off The Red List
To the uninitiated, signs at Greenbuild touting environmental claims could be confusing. Large displays in the Mohawk booth, for instance, touted the carpet manufacturer's 490 red-list-free products.
The signs refer to a Red List of "worst in class" materials kept by the Living Building Challenge, an organization that publishes stringent guidelines for sustainable products and buildings. The Red List includes materials, chemicals, and elements known to pose serious risks to human health and the greater ecosystem.
"We believe that product transparency is crucial to increasing the availability of healthy products in the marketpace," says Rochelle Routman, Mohawk's sustainability director.
Mohawk is a leader in issuing "Declare" labels, which list all the ingredients in a given product. The company has issued them for broadloom and non-PVC carpet tile as well as an adhesive. Living Building Challenge keeps an online catalog of products that meet its Declare criteria.
Meanwhile, people with heightened concern about the health risks of their home can explore the new WELL certification standard that debuted last fall. The certification, already in place on 20 million square feet of building space in 12 countries, focuses exclusively on the health and wellbeing of building occupants. It considers seven factors–air, water, light, nourishment, fitness, comfort (thermal and acoustic), and mind.
Kohler displayed prototype tiles made from a factory waste stream
Mohawk lays claim to products without "Red List" ingredients
Shaw pledges to recycle the carpet on the exhibition floor
An exhibit of Owens Corning products with Greenguard certification by Underwriters Laboratory
The Unity modular home at Greenbuild contained Cradle-to-Cradle certified hardwood flooring by Shaw Industries