Hunt for Green Products Turns Up Treasures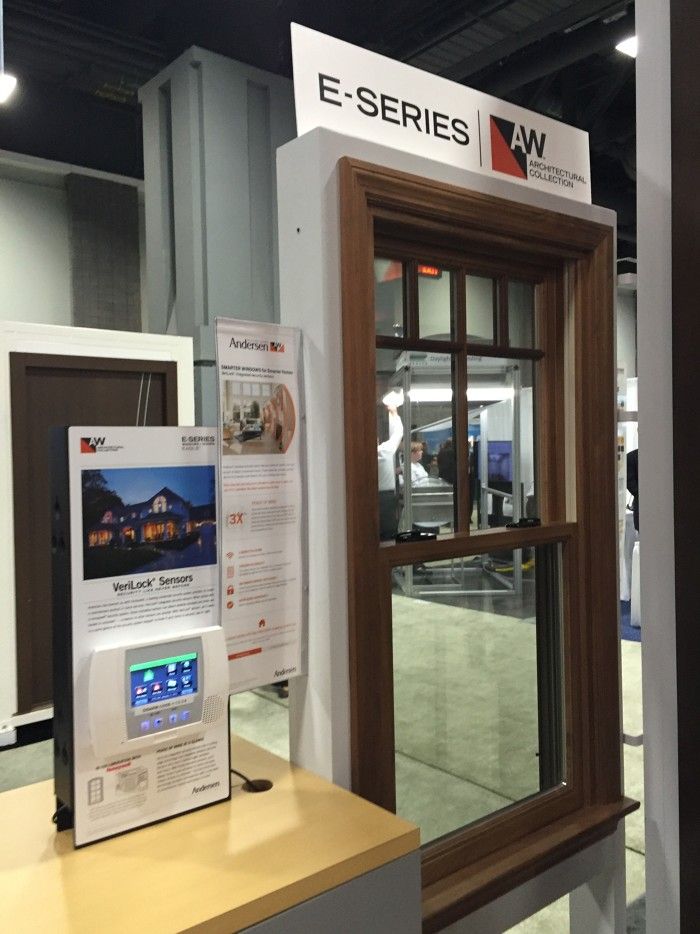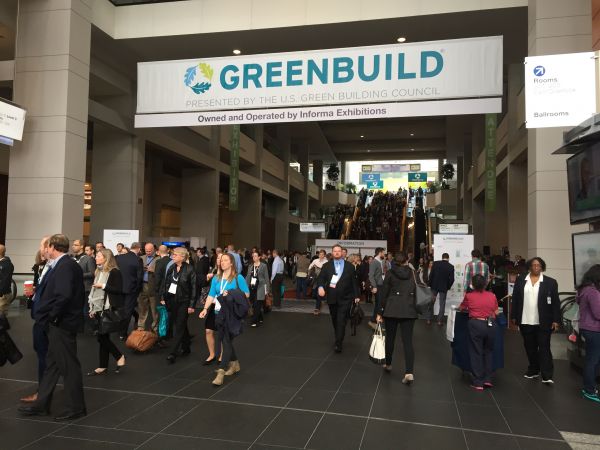 To see what's special about SunPower's newest photovoltaic panel Walter Cuculic takes visitors around back. There, attached to the underside of the panel, is a integral micro-inverter that converts direct current (DC) generated from sunlight to alternating current (AC).
What's so special about the system? Unlike previous versions of AC solar panels that were guaranteed for 10 years, these come with a 25-year warranty, meaning that they should last as long as the solar panels. Easier installation makes them even more attractive.
The advantage of AC units is that the solar panels can be chained together by joining the male and female ends of MC4 chords. By contrast, traditional PV panels generate DC current that must be run to a stand-alone inverter by electricians.
"The system is so simple that it can be installed by a roofer rather than an electrician," says Cuculic, the company's director, adding that it comes with a 25-year warranty, compared to the more typical 10 years. "That could save half your labor costs."
Sunpower's new product, found in a small booth toward the back of the hall, demonstrates the difficulty–and the reward–of finding new product innovations for single-family homes at Greenbuild 2015, a show largely dedicated to commercial and multifamily markets. Nearly 20,000 professionals attended the week-long conference, browsing 140,000 square feet of showfloor space.
Andersen Windows' VeriLock security sensors provide another case in point. The technology–sensors hidden in window locks communicate directly with a security system–has been around for a couple years, but only on the company's high-end windows. But it's about to become available on all the company's window lines and work with several home-security systems.
The built-in sensors eliminate the need for wires or visible security sensors. Moreover, drilling holes in the windows to install security sensors could void Andersen's warranty. The built-in sensors communicate with a security display that tells you if your windows or doors are open, closed, locked, or unlocked.
Rob Garofalo, who is in charge of product development at Andersen, notes that the VeriLock system produces energy savings, since it tells homeowners when windows are locked. "Windows are much more energy efficient when they are locked," he points out.
Specialty Products Stand Out
The show is a great place to find unusual products from specialty companies as well. On the other side of the large exhibit hall, Aquion Energy is showing saltwater home batteries that don't have heavy metals or toxic chemicals. While the industry waits for Tesla to debut its lithium ion home battery, Aquion is marketing one that's so safe your dog could lick it.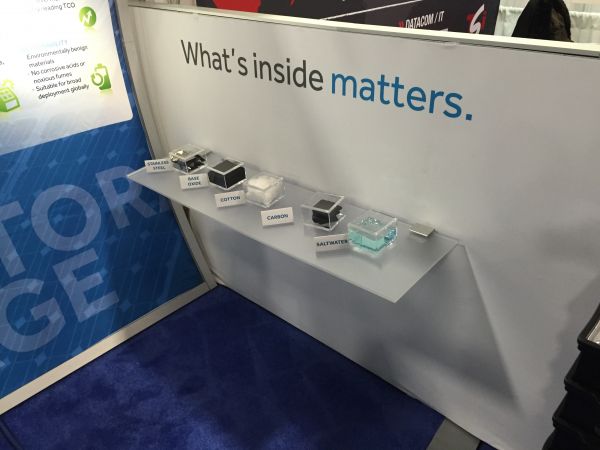 "We're providing power to all the booths on this aisle," says a marketing rep, pointing to the show's net-zero zone. Photovoltaic panels from LG and other companies set up outside the convention center send power to an inverter and an Aquion battery located in a glass enclosure at one end of the net-zero zone.
Based on the number of companies introducing them, home batteries should be a hot item in 2016. They enable homeowners to store excess solar power for use later in the day. They could also be used to buy power from the electric company when it's cheap–in the middle of the night–and use it when it's more expensive to buy during peak hours.
Some Greenbuild exhibitors that cater to the commercial market are trying to crack the residential market. You can tell by the big curtain walls in the MechoSystem booth that the company's automated window coverings mostly find their way into office buildings. But Marketing Manager Bill Maiman says the company's shades find their way into luxury homes as well.
That effort received a boost from the recent introduction of a solar-powered daylight sensor that wirelessly communicates with the shade system. The sensor, which attaches to a window mullion with peel-and-stick backing, relays brightness data to the shade automation system.
Visitors to the Sherwin-Williams booth got a first chance to see the company's new Paint Shield paint that kills bacteria. The paint, which the manufacturer says will reduce the growth of "common microbes" for at least four years, won't be available until next year. It will be important to hospitals but find its way into homes as well. Sherwin-Williams says the paint will kill 99.9% of common bacteria lodged on it within two hours. It should be an effective deterrent of Staph, MRSA, E. coli, VRE, and Enterobacter aerogenes.
What's new in sustainability
Greenbuild has become an ideal venue for tracking the introduction of new products made from sustainable materials. Dozens of products on display that looked like wood siding, trim, or decking were actually composite materials made from other raw ingredients.
One example, TruGrain, looks like tropical hardwood but is completely "wood free," says Jacelyn Durant, who does marketing for the company. The bio-based material, which can be used for siding and decking, is made from rice husks (60%), mixed with common salt and a synthetic plastic polymer. It resists water, fungus, termites, and slips.
"It's easy to install — you don't need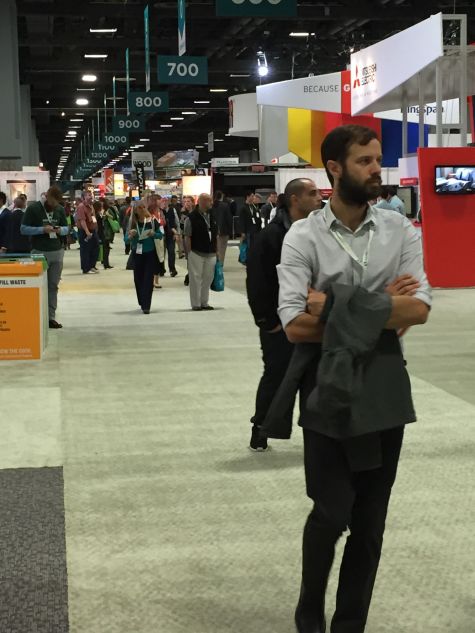 special tools — but you do need to follow the instructions," says Durant. Like other siding, TruGain needs room to expand and contract. It will probably also need to be re-finished in 5 to 7 years, just like a wood product would. TruGain has been used by a couple high-profile architectural firms on recent projects, including the Grosman Residence by Shulman + Associates and Lake House by Strang Architecture.
Several new bio-based products were debuted at Greenbuild. One company, SYNLawn, was showing off synthetic turf made from soybeans and recycled materials. A new backing for the product, EnviroLoc, uses polymers made from soybeans rather than petroleum, a new use for soy, coupled with a recycled product of coal combustion.
Other exhibitors introduced products for a new generation of extremely energy-efficient homes. Carrier, for instance, brought its new low-capacity furnace, which delivers 26,000 BTU/hour of heating. It's designed to overcome the problem of over-specifying furnace capacity in energy-conserving homes.
Enviro Water Products drew attention to a new system that filters and softens water for an entire home without using salt. The system uses carbon water filters and a salt-free water softener to protect against contaminants, sediment, and scale build-up. The salt-free solution reduces maintenance — you don't have to haul salt bags every month. And it can save several thousand gallons of water a year over a salt system that produces brine waste-water, often difficult for utilities to process.