Tools & Materials
Buyer's Guide to Insulation: Spray Foam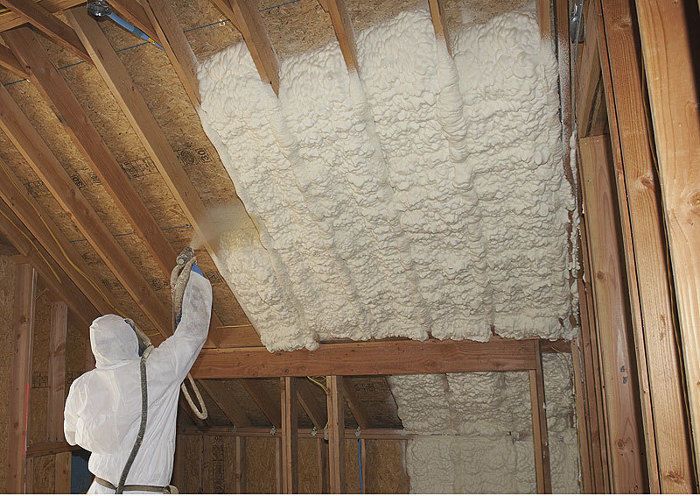 [Photo credit: CertainTeed]
Made from polyurethane, spray foam insulation reduces air leakage better than any other type of insulation. It easily fills the nooks and crannies of unusually shaped building cavities. Spray foam is especially useful for insulating unvented roof assemblies, basement walls and a variety of hard-to-reach spots. Newer blowing agents have made spray foam less damaging to the environment.
There are two main types of spray foam: open-cell spray foam, which has a density of about 1⁄2 lb. per cu. ft.; and closed-cell spray foam, which has a density of about 2 lb. per cu. ft. The higher the density of the foam, the greater the R-value per inch.
The two ingredients used to make spray foam—conventionally called the "A" and "B" components—are mixed on site using equipment mounted in a trailer or truck. Heated hoses convey the chemicals to a gun that mixes the two chemicals as they are sprayed. An exothermic chemical reaction begins as soon as the chemicals are mixed; the liquid mixture foams, expands, and eventually hardens.
For small jobs, builders can purchase disposable tanks of two-component closed-cell polyurethane foam. Sold in various sizes, these tanks cost from about $250 to $600. For very small jobs, small aerosol cans of one-component (moisture-cured) polyurethane foam can be purchased at most building-supply stores for about $5 a can.
Open-cell spray foam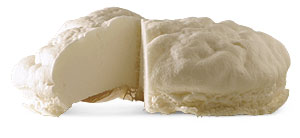 R-VALUE:R-3.5 to R-3.6 per in.
COST: Varies widely, but filling a 2×4 cavity to R-13 with open-cell spray foam costs about $1.50 to $2.25 per sq. ft.
APPLICATION: Walls, ceilings, and roofs
The low density of open-cell foam makes it relatively vapor permeable (a 3-in.-thick layer of open-cell foam has a permeance of 16), so when it's used to create an unvented conditioned attic in a cold climate, the interior face of the foam should be covered with a vapor retarder. This can be accomplished by spraying the cured foam with vapor-retarding paint.
Open-cell foams use water or carbon dioxide as the blowing agent (the component that makes it foamy). Some open-cell foams are made in part from bio-based raw materials—for example, soybean oils—in place of a portion of the petrochemicals. Like closed-cell foam, open-cell foam creates an effective air barrier.
Unlike closed-cell foam, however, open-cell foam absorbs and holds water, has a lower R-value per inch, and is vapor permeable. The permeable nature of open-cell foam can be a virtue or a drawback, depending on the application.
---
Closed-cell spray foam

R-VALUE: R-6.5 per in.
COST: Varies widely, but filling a 2×4 cavity to R-13 with closed-cell spray foam costs about $3.50 to $5.25 per sq. ft.
APPLICATION: Under slabs; walls (below grade and above grade); ceilings; and roofs
Closed-cell spray foams provide a higher R-value per inch than less expensive insulation types like fiberglass, cellulose, or open-cell foam, all of which have R-values of R-3.2 to R-3.8 per in.
Closed-cell spray foam is the most expensive residential insulation available. When installed correctly, however, it performs better than any other insulation. It is an excellent air barrier, is impervious to moisture, and is an effective vapor retarder. Because of its density and gluelike tenacity, it also adds structural strength to a wall, ceiling, or roof assembly. To seal air leaks in retrofit applications as well as new construction—for example, at rim joists or the attic side of partition top plates—closed-cell spray foam is an extremely useful material.
Many green builders avoid the use of closed-cell spray foam because the blowing agents in most types of closed-cell foam are hydrofluorocarbons (HFCs) with a high global-warming potential. However, newer hydrofluoroolefin blowing agents with a much lower global-warming potential are finding their way into the market and are now available.
---
Photos by Rodney Diaz unless otherwise noted.
More on Spray Foam
Closed-Cell Foam Between Studs Is a Waste – If you want to install spray foam in a stud wall, and price is no object, then it would seem to make sense to specify closed-cell spray foam, right? This article explains why this not necessarily true and why closed-cell foam between studs is a waste.
Make Your Foam Gun Last – Here are the secrets to keeping this precision tool up and running.
Spray Foam for the Rest of Us – In most cases, installing spray-foam insulation is a big job best left to a professional insulator. With the advent of do-it-yourself spray-foam kits, however, smaller tasks are now manageable for nonpros. Associate editor Patrick McCombe tested five DIY spray-foam kits to examine how they work.
Why I Don't Use Cellulose or Blue-Jean Insulation – This article explains why not to use cellulose or blue-jean insulation and the downsides that these installations have in your home and on the environment.
You Don't Know Foam – Whether you use a gun or a straw, there's more to filling a gap than pulling a trigger.