Mud Math: Figuring Concrete Volume with SketchUp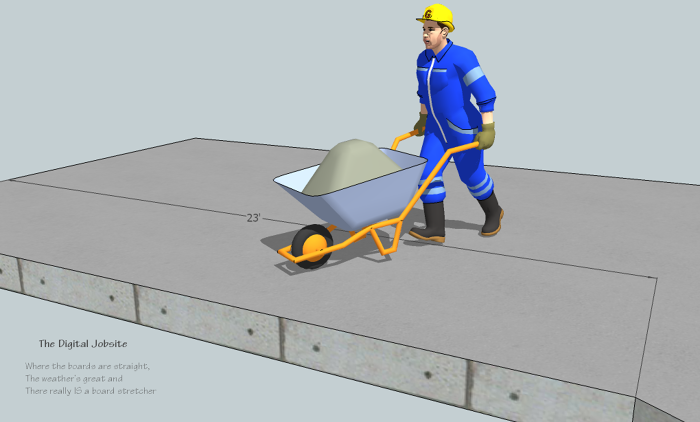 Mud Math
Doing "mud math" to figure concrete volume for a bid or pour is a routine task on any project.  The difficulty of getting an accurate volume amount is directly proportional to the complexity of the work being poured.  Basic rectangular footings, walls and slabs are a breeze with rule-of-thumb formulas or construction calculators but when irregular shapes are required it takes a bit more time.  That's when SketchUp can come in hand for determining how much concrete to order.
Thickened Edge Slab
To give an idea of how simple it is to create a SketchUp model for doing a volume calculation I show the steps I use to model an irregular/angle-shaped slab configuration with a 16″ wide, 8″ deep thickened edge.  In this video you'll see how quickly the Offset Tool combined with the Move Tool in Auto-Fold mode generates a representative configuration for this type of pour
Mud Wrestling
While this tutorial only shows straight lines you can see how this simple process could generate a volume calculation for curved, stepped, bowed or octagon type outlines.  Wrestling with "mud math" is just as simple with the most complex configurations.
Ya Can't Have Everything
Its a bit frustrating, but try as I might, I couldn't get the volume results in the most common cubic yards format from the Entity Info dialog box, so embarrassing as it is to say, you'll have to convert the cubic foot volume result (divide by 27 (27 cu ft per 1 cu yd) to get a cubic yard result.  But you can download the model created for this tutorial from the SketchUp Component Warehouse by clicking here.
Bonus Bits:
After you've taken the time to create a model to figure concrete volume you might as well take a few more simple steps and figure rebar for the thickened edge and lineal feet of material required to form the slab perimeter.  The Offset Tool makes quick work of this process with results displayed in the Entity Info dialog box.
Concrete Guarantee:
When you use this method for calculating concrete for your project you can issue the universal three-part guarantee for concrete:
Concrete gets hard, it will crack and no one will steal it!!
Thanks for stopping by The Digital Jobsite and please take a second to Thumbs Up/Down or post a comment as you click away to your next project