Designing Built-In Living Spaces
While a house can be filled with beautiful rooms, many homeowners long for a small away space where they can read, enjoy a view, or relax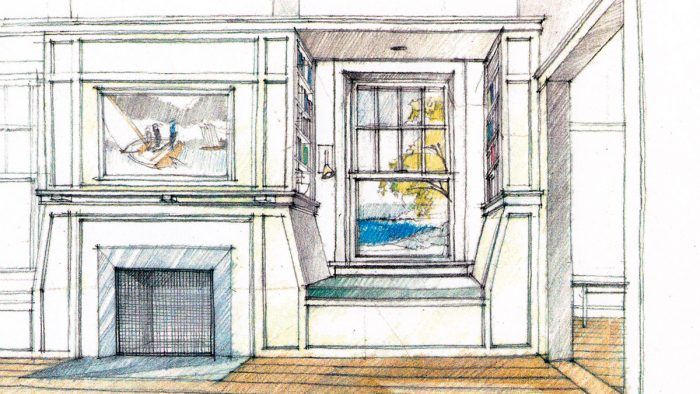 I want an alcove just for me. Kind of like a hideout separate from the commotion in the rest of the house from which to read, write, nap, or just daydream. I want to be aware of the action in the house, but be able to turn my shoulder politely and be by myself.
So goes the design brief from one of our clients. She's not alone in her desire for personal scale and place-making in home design; this is a common human need.
At my firm, Hutker Architects, we must create memorable spaces that our clients yearn to occupy to achieve our mission of creating heirloom homes worthy of preservation. We have found that most of the rooms we design are conceived initially as collective areas for family living. Dining rooms, kitchens, family or living rooms, and even studies and libraries are planned for multiple users. Naturally, the scale of these rooms is large, and when only one person uses such a space, it may not be comfortable.
One way to make a large space more comfortable for an individual is to create a smaller space in it. We often activate the edges of large rooms with built-in living spaces smaller in scale and near a window.
The success of these interstitial spaces is their relationship to the windows that animate them. A cherished characteristic of a window space is its intimate relationship to light, ventilation, and the view. The space allows one person to inhabit the defined area between inside and outside comfortably. These built-in spaces are at once intimate relative to the larger room and expansive to nature beyond.
Here are three examples of custom built-in living spaces: an inglenook, a window seat, and a bed alcove. These spaces beckon you to occupy them. Our clients like to hole up in these places with a few pillows, something to sip, and something to read. As in a cockpit or a berth on a boat, everything—light fixtures, surfaces for resting a beverage, eyeglasses on a bookshelf—is a short reach away. Cuddling up with a good novel while being warmed by the fireplace, spending a summer evening slumbering in a custom berth, or writing at a desk ensconced in a natural environment is a sure way to develop a personal and meaningful relationship with your home.
Custom Inglenook
A client who is an avid reader asked for her own personal space in a large living room. We obliged by designing her dream window in the manner of a personal library framing a window to a water view beyond. A double-hung window is the centerpiece of this inglenook framed by casings that align with opposing bookshelves. We designed an angled backrest after having the client test her preferred reading position during construction. The wall sconce was positioned strategically to be over her left shoulder and the windowsill to be aligned with her elbow. This space is at once part of the living area and of the landscape beyond.
Study with a Window Seat
At the top of a stairway, tucked in a 72-sq.-ft. dormer space, is a combination window seat and desk. The railing of the stairway defines one edge of the study area. Facing north is a double-hung window with counter-height cabinets that hide a printer and office supplies. Beneath the eave is a desk space where head height is not an issue. The result is an efficient L-shaped workspace in a residual corner of the house that might otherwise have become a dead end.
Except for the mahogany desktop and cap rails, this entire composition is made of one material: cypress. There is a seamless flow between upstairs and downstairs, study and window seat.
Custom Bed Alcove
Behind our office is a wooden-boat building business that produces 40-ft. to 60-ft. schooners. We take our interns back there to learn how the builders see wood, think through their designs, and craft their brilliant pieces of work. Together, we learn how efficient the spaces are in a boat and how many uses can come from a single space.
For an owner of such a boat and his family, we designed a harbor-front beach cottage. Located on the second floor, beneath a pair of windows centered on a gable, are two sleeping berths adjacent to a playroom. Tucked into the eave spaces are headboards with a shelf above; the wall on each side provides some privacy for the children. The berths are sized for standard 8-in.-thick mattresses. These two sleeping spaces occupy only 42 sq. ft., yet when looking out of each window, occupants can enjoy a feeling of spaciousness and of floating above the harbor below.
Illustrations: Matt Shiffer