Working Model: Quick Results from an Unrefined SketchUp Drawing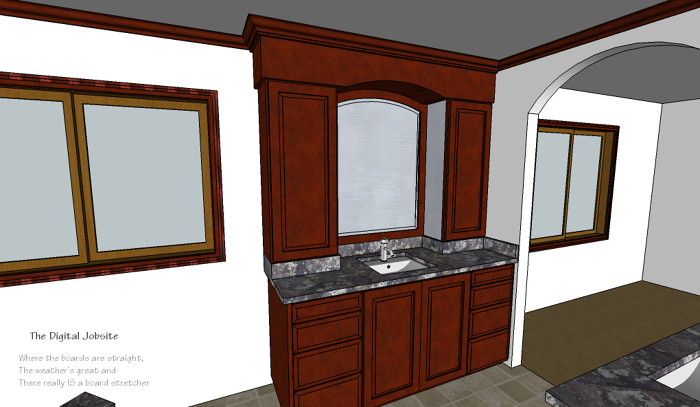 Lowering the Bar:
While I'm not one to resort to lowering the bar in most aspects of contracting work, in this case I think its the best practice. When my client approached me about doing an upgrade for their master bath suite I created a model to work through the design configuration. The purpose of the model IS NOT to use it as an actual plan but rather to shuffle and adjust various cabinets, plumbing fixtures and shower glass configurations. Therefore the model is put together in a somewhat haphazard but useful manner using groups, components and layers without too much time involved in any particular detail.
Working Model:
Feel free to import the unrefined model used in this video series into your SketchUp model by clicking here. Keep in mind the context of this tutorial when you explore the model. Notice that its groups, components and geometry in general are only refined to the level necessary to yield the results I need from it. A useful aspect of this process is that any part of the model can be developed in greater detail if required. For instance I copied the cabinet group and pasted it in a separate SketchUp file to work out exact face frame, drawer and door dimensions but didn't waste time refining other aspects of the model.
Q&A #1
In this real-world scenario my client asked the question "what would our master bathroom suite look like if we choose to add crown moulding?" Further, "What would matching cherry crown moulding look like around the whole perimeter versus having mahogany trim on just the walls?" Answering the questions is simple enough as long as I don't get too bogged down in details. Watch how I use the "follow me" tool to "install" two different crown-moulding scenarios into the model in this video clip:
Q&A #2
The question "what is the best depth for the tower cabinets on the wide vanity?" came up too. Here is how I answered that question and addressed a mirror-sizing issue at the same time:
Raising the Bar:
I hope these examples make clear how lowering the bar with an unrefined model can raise the bar for your planning and design issues.
Thanks for stopping by The Digital Jobsite for a visit during your busy summer. Comments and feedback are always appreciated.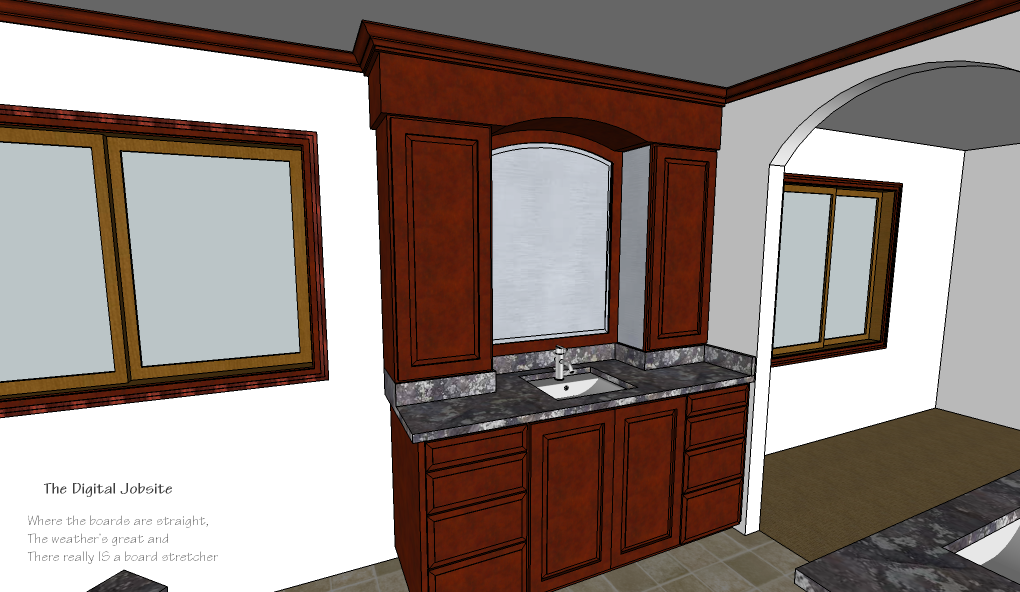 Solving "what if?" scenarios with an unrefined SketchUp model.