Tools & Materials
Toolbox Evolution
Model-specific tool cases may be facing extinction thanks to a new breed of stackable, customizable boxes.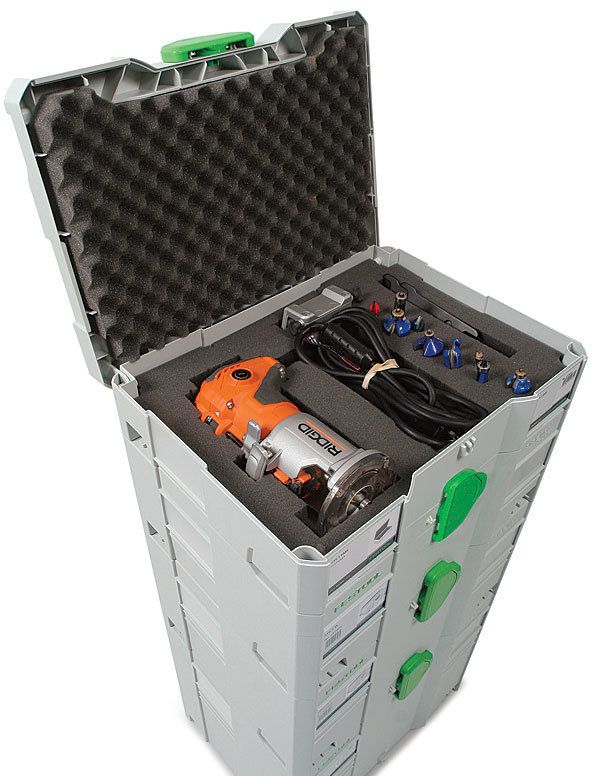 Synopsis: For any builder or carpenter, tool storage should be a prime consideration. Tools are a huge investment, and keeping them stored so that they aren't damaged or destroyed is important. In this article, San Diego carpenter Kit Camp takes a look at three tool-storage systems using a format popular in Europe but just beginning to make their way to the United States. These systems use stackable, customizable cases of different sizes. Here, Camp looks at systems from Bosch, DeWalt, and Festool. Camp praises Bosch's L-Boxx for its large footprint, spacious interior volume, and secure stacking and unstacking capabilities; the downsides include thin sidewalls and fewer customization options. DeWalt's TSTAK, says Camp, has strong heavy-duty latches, low cost, and places for labels; it also is less customizable and has a limited size range for its boxes. Finally, Camp says that Festool's Systainers are admirable for their backward compatibility with older Systainer models and for their assortment of inserts and accessories; the big downside for the Festool product is that it is pricier than the other two brands.
When I first started working as a finish carpenter, I carried all my tools in the bulky blow-molded plastic cases they came in. I figured that the tools were well protected and that the cases made me look professional and well organized. They also filled my compact truck nearly to overflowing, and made loading and unloading a daily chore I quickly grew to dread.
On my first big project, I met a meticulous stair guy who carried all his tools (other than a miter saw and an air compressor) in four rectangular milk crates and a single canvas bag. He could stack two crates, throw the canvas bag on top, and bring every tool he needed onto the job in two trips. At the time, I thought he would never be able to find anything in his jumble of tools, but over the years, I have found myself moving closer to a simple system like his. At this point, the only blow-molded cases I own are the tiny ones that came with a couple of small pin nailers.
Why not just use milk crates? Although they are stackable, nearly indestructible, and handy as step stools, they are wide open and exposed to dust, planer shavings, and prying eyes. Unless modified, they are not suitable for anything small (such as router bits) or thin and sharp (such as chisels). They also don't provide protection from dirt and moisture.
Today's toolboxes have some specific advantages over the old milk crate system. Less individual toolboxes and more a toolbox system, these stackable units can be outfitted to store tools and materials from finish nails to 3-hp plunge routers, and they provide protection, organization, security, and easy transportation.
I recently looked at three examples of these stackable tool-storage devices. Each system shares common traits, and they all accomplish the same job. The details, however, are likely to sway your decision about which one is right for you.
A systems approach
A new concept in the United States, stackable toolboxes have a longer track record in Europe. The concept is simple: Boxes are available in several heights but share the same footprint, allowing them to latch together into an easily movable stack. Because they are often sold empty, you can customize the interiors either with proprietary inserts or with aftermarket accessories, such as pick-and-pluck foam, Kaizen layered foam (FastCap.com), or homemade inserts.
I like to keep the interiors of each box simple, wasting the least amount of space with bins or thick foam. This way, I'm able either to get more tools into the box or to fit a tool and all its related accessories. Where it makes sense, I also like to arrange my tools in groups — for example, a dedicated box for finish nailers — rather than individually.
Unlike storing blow-molded cases of all different sizes, packing tools in containers of a standard size makes it easier to store them in drawers in your truck, on shelves in your van, or in cubbies in your shop.
For more photos and details, click the View PDF button below:
View PDF