Why I Regret Making My House a Smart-House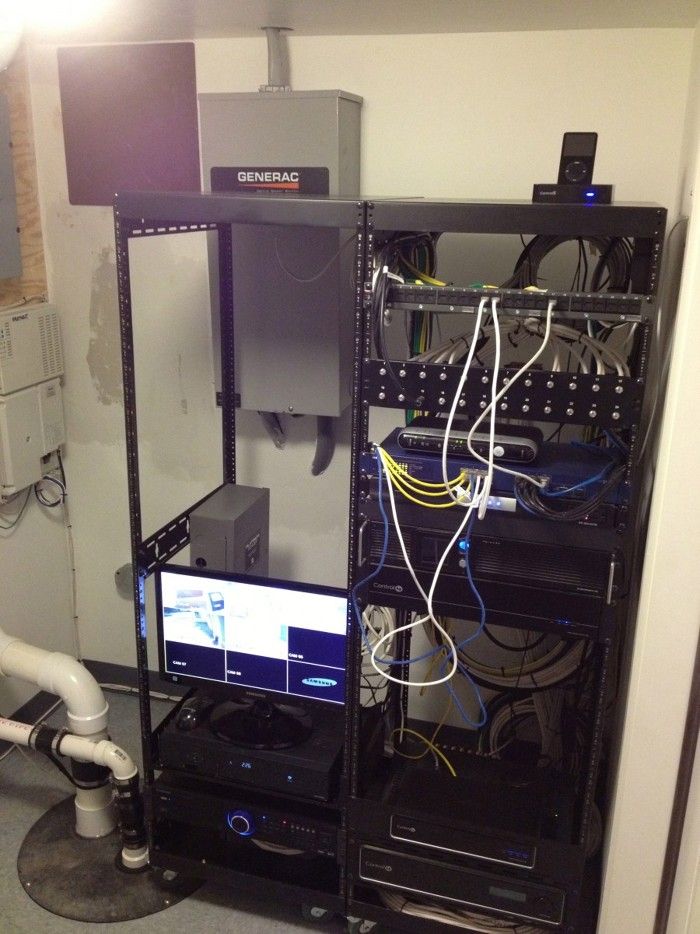 Don't get mad at me.
I AM one to embrace technology. I have current computer equipment, a wireless printer, an iPhone with a gazillion apps, an iPad, surround sound theater, a jacked Cannon digital camera, bluetooth, and a Smart House by Control 4.
The last one, though, is the one that gives me a rash.
I have been building my dream house for the last 4 years (Old Chinese Saying: House Done, Life Done) and had sales folks stopping by to convince me I needed more than I had planned for this, my hopefully last house. I hadn't considered making the house a smart house. I was going to have state of the art lighting, nice surround sound, flat screen TV's, a sound system, an alarm system, radiant heat and air conditioning. When the salesman told me this can all be controlled together, in conjunction with many convenient features like setting lighting scenes throughout the house with the push of a button, or have my lights shut, music go off, and garage doors close with the push of another, I began to get sucked in.
One company I was talking with proposed a comprehensive system for $120,000 all inclusive. Well, this was going to trump the cost of my plumbing, electrical, HVAC, flooring, and slate roof. No way. Can't even consider it, thanks for stopping by.
As I was getting on with the project I began to reengage with the idea that maybe I can have the smart house. Or, better, a PART of the smart house. I knew a low voltage wiring guy who wires these houses for a living, I could install all the basic equipment (TV's, speakers and such) and do the house over several years setting up one TV at a time, holding off on the full-on sound system, adding the alarm to the system later…just making it scalable but setting up everything behind the walls ready for the full system if I happen to win the lottery. The initial commitment I would have to make is to the lighting. The lighting uses these special $150 switches and dimmers. I know, we are used to them costing $3-$27. These are little RF devices that talk to one another and, this system eliminates all 3 way wiring in the house. No longer do switches that operate lights from more than one location need to be connected by wire. The way it works is this: All switches, dimmers, and thermostats can be hid in closets and cabinets, not visible at all. One doesn't need to ever touch them. They are controlled through the Zigbee network that will be in the house. The lighting switch legs go directly to this hidden dimmer in the cabinet. No 3-way wiring. So, the house is easier to wire for the electrician, making that a little cheaper.
Then there are the keypads. The keypads are populated buy the "buttons" that get programmed to control the hidden light switches. These are single gang, standard electrical boxes with 110V power fed to them. The keypads come with anywhere from 1 to 6 buttons on them. The idea here is to eliminate a gang of 3 to 6 switches and/or dimmers and consolidate into a slick single package. These buttons can be programmed to do anything, and they are specially labeled. For instance, on either side of my bed is a 6 button keypad. There is a button called "GOODNIGHT". Goodnight shuts off all the house lights both inside and out, music, TV's, illuminates the cupola on top of the house, closes the garage doors, sets the alarm, and lowers the temperature in the house to 65 degrees in the winter, and 70 degrees in the summer. There is another button called "PATH TO BATH". When you wake up in the middle of the night, one sees a dim blue indicator light (the color and intensity of each buttons indicator light can be programmed too), once pushed the lights slowly illuminate and provide a lit up path to a dimmed bathroom. After done, walking back to bed, the alarm motion sensors feel you walking by and shut off the lights behind you until your in bed and stop moving, then the rest of the bedroom lights go off. Pretty cool.
[[[PAGE]]]
I needed about 60 of these dimmers and keypads to do most of the house. I left as many as I could off for future installation. So the Smart House guys come out and program it any way I want, lighting scenes are set "House Bright" illuminates the whole house upon walking in, "Kitchen Cooking" maxes every light for cooking "Casual" sets the floor for entertaining. Its a big programming project and needs to be tweaked for about a year until it works exactly as you want. I would make notes for changes I would like for adjustments, and email them off, and the technician/engineer can remotely adjust the lights.
The house can be run from an iPad or an iPhone, or the several small touch screens ($980ea) scattered throughout the house. We put wires for locations on each floor including the basement, with one in the master bath and my wife's office, but we only purchased 3 of the 6 to start. One other thing we were waiting for was the release of the new Exterior Door Phones, which are a clean stainless unit that has a lit up doorbell, an intercom, and a hidden camera so we can see who is at the door. These finally came out about 8 months after we added the Touch Screens just to find out they have been developed to be compatible with the NEW Touch Screens, not the ones that were already installed. No warning from the company Control 4 was given to the guys installing the stuff, they were just told that these new units were "coming". They had been told at a trade show they were coming out 8 months before they actually did. So, what happens here? No Support from Control 4 – buy the new Touch Screens or pound sand. Fortunately our guys had another project and offered to buy them back at 1/2 price if we buy the new ones. At this point I'm becoming nervous since I have fully committed to this company who clearly is SALES and not CUSTOMER SUPPORT driven. So spend another $3000 recover $1500 and get everything compatible. This is bound to happen again a time or two in my lifetime I would guess if it happened within the first year.
We added a TV, then another, then the Alarm System over 2 years. As things get added there seem to be more and more problems. TV's would stop working, speakers popping, lights wouldn't work, touch screens get stuck, remotes don't work. I have grown accustomed to resetting (pulling the power plug and waiting 3 minutes) the equipment, removing and reinstalling the touch screens, taking the batteries out of the remotes and reinstalling.
We installed a generator this spring. A Generac whole house generator. Once it was hooked up we had lots of light flickering, and all the transformers in the recessed lights were humming loudly. I called the Control 4 people they claimed they've never heard of such a problem. Mind you this is all going on when the generator is not on. When we tested it, it got way worse, so we began to work with Generac to troubleshoot. One issue we had was we had put the conduit in the ground, that carried the wires from the generator to the house before the generator purchase. Generac requires that two pipes be run – one for the large power wires that come from the generator, and  one that carries the control wires from the house to let the generator know it needs help. Generac suggested the problem may be because of this, although the electrical engineer we consulted said thats not whats wrong here. Anyway, I brought the machine back to re-dig the 120′ trench to add another conduit and replaced the control wires. Honestly, it helped a little but not too much.
My wife and I were on vacation for 4 days and came home to a dead house. It was 98 degrees in the house, the AC had shut off, the lights weren't working, no TV's. I was able to get a few lights on by reaching into cabinets and turning them on manually- it was 9:30PM on a Sunday when we walked in. I contacted the Control 4 guys to help get it back on. Problem now, it seems, is that the brains of the system, the main controller, is in a closet on the third floor. The system will shut off if it reaches 104 degrees to protect itself. Every time I touch that thing its hot to begin with. I got it to cool down enough to go back on, and now its been suggested I install a hole and a fan in a closet packed with HVAC and A/V equipment. This will solve all my problems, all of a sudden, I'm told. But, one of the TV's and a touch screen was bugging out as well – both hadn't worked for a long time and I was told a NEW software REV was available and will be installed to correct that problem. The next day the REV was installed. It fixed the TV, the Touch Screen AND all the flickering, humming lights. Control 4 reported the REV "to fix some known bugs". Hmmmm….
[[[PAGE]]]
I was showing a neighbor the system early on, when the stuff was working, before we moved in and I was describing its potential and all the things it can do. He said to me "what if the house turns on you?", It was funny at the time.
See, I can't program this system, I can't fix the problems other than unplug everything and plug it back in. It is the only thing in my house I can't fix myself. It is most frustrating to be watching a movie, and have it freeze frame, or loose sound, just after I had come accustomed to the popping noise in the Sub Woofer.
Yesterday, again, the lights all shut off while I was working at the kitchen Island. The TV wouldn't work. After doing my plug and unplug routine, everything came back on and worked normal. A couple of months ago we had the sound system stop working right as a dinner party was beginning. It was funny to see a BOZE radio on the island playing CD's with an enormously expensive, state of the art system with speakers everywhere dormant.
The hidden Thermostats rely on sensors in the rooms to bring the temperature information to them. 5 of the 7 have failed already. Two that are side my side, one for AC, one for heat measure about 10 degrees different. This means that the heat and AC will slug it out when we are not here – and this we don't know until we get energy bills greater than the last 3 months combined. Those cost $30 each, and can quickly cause a silent $300 problem.
I really don't think I would have minded walking around the house and setting individual dimmers when company comes over. I don't mind walking downstairs to shut lights off, or put the alarm on, and probably would be better about leaving the garage doors closed. The 10's of thousands of dollars this has cost so far could have come in handy now finishing my barn. It also appears the original estimate of what this would cost has been abandoned as much has changed, and I was being billed as I needed things – so that scaleable idea kind of backfired. The many hours I have spent talking about, being frustrated, fixing, and walking from floor to floor to troubleshoot this system has outweighed tenfold the time it would have taken to walk around adjusting lights, thermostats, and the alarm in 2 lifetimes. And, I wouldn't have been extremely frustrated doing it.
I have no experience with this, although I work in a lot of houses that have these systems, but never really inquired about them. There always seem to be lots of people working on the stuff in the cabinets I may have just installed. So it seemed like lots of folks are using these systems. I can only speak of Control 4 as its all I know.
What I would like, is to come in from a long day in my shop and have a house that works. I have grown weary and no longer care how smart it is.