Laying Out a Quarter Ellipse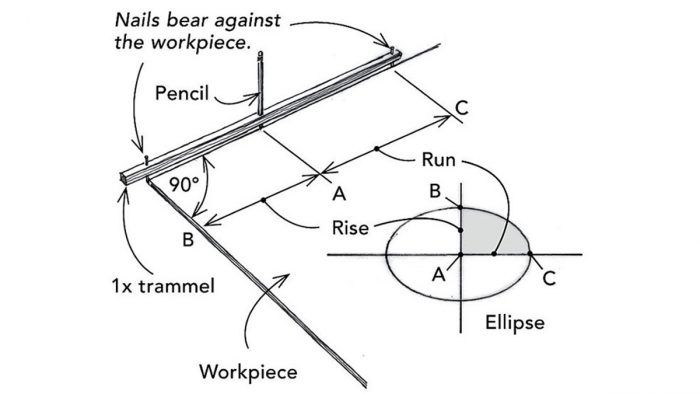 In my work as a trim carpenter, I'm occasionally asked to assemble the blocking for coved wall-to-ceiling intersections or arched doorways that will be finished in plaster or drywall. Laying out radiused blocking is simple; it's just a portion of a circle. If the curve is to be part of an ellipse, though, it gets trickier. Unlike a circle, an ellipse has two focal points. There are several methods for drawing ellipses using strings or graph paper. The simplest I've come across is the one illustrated here.
The ellipse in the drawings above has been divided into quadrants bisected by perpendicular lines that pass through the short and long dimensions. I call this the rise and the run—AB and AC. To draw the arc of a quarter ellipse at full scale, determine the rise and the run needed for the job at hand, then make a trammel with those dimensions. I use a piece of 1x material with a nail inserted at point B, a pencil at point A, and another nail at point C. The nails act as pins that bear against the side of the workpiece—in this case, a sheet of plywood. The pencil rides on the plywood. With the trammel flush against one side of the plywood and the nail at point B at the corner, slide the trammel along the plywood, keeping the nails in constant contact with the edges. The trammel ends up flush with the adjacent edge of the plywood, and the pencil has drawn the desired arch.
David Fary, Silver Spring, MD
Edited and Illustrated by Charles Miller
From Fine Homebuilding #241