Tools & Materials
Roundup: Heated Jackets
Project House editor Justin Fink tests three heated jackets.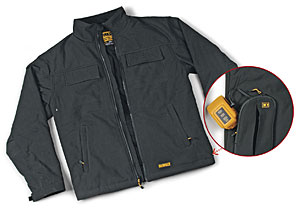 Over the last month or so of winter weather, I've donned three heated jackets on everything from long exterior remodeling jobs to early morning, windwhipping hikes with my dog, Benson.
Benson hasn't reported a strong opinion, probably because he's a dog, but I have a few observations.
DeWalt DCHJ06OB
I wore this roomy, soft, well-insulated, and nearly windproof jacket for weeks before even bothering to turn on the 12v/20v-powered heat. It definitely passes as a casual jacket (extra points for the Han Solo-style breast pockets), the fit is trim and comfortable, and the on/off button is hidden inside the collar. Several of the pockets have pass-throughs for ear buds or USB cables, and the battery will charge your phone or music player. Four heating zones include left and right chest, middle upper back, and the collar (a nice touch). Maximum run-time with a 20v battery (not included) is 7-1⁄2 hours. Cost: $155
Milwaukee 2344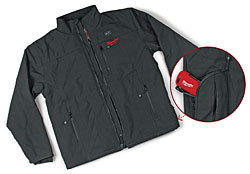 This jacket is well styled, although it's a bit bulky, and it has that loose feeling of a jacket with a separate liner, especially when sliding your arms into and out of the fleece-lined sleeves. The vertical-zipper exterior chest pocket is perfect for holding a music player without the normal tug you get when running earbuds to a lower pocket. The battery mount includes a USB port and a handy battery gauge, but this product loses some of its appeal thanks to its glowing on/off button—which is somewhat dorky. The jacket has four heating zones on the front, located left and right at both chest and pocket levels, and one in back. Maximum run-time with a 12v battery (not included) is six hours. Milwaukee also makes heated hoodies, high-visibility coats, and hand-warming muffs. Cost: $185
Bosch PSJ120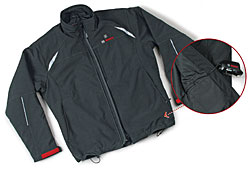 Like the Milwaukee, this jacket has a glowing emblem, although it's half as big. This is the only one of the three jackets to put the battery mount on a lower-left front pocket inside the jacket, which I preferred over the kidney pocket on others. The mount also has a belt clip, so you can carry the battery on your hip if you prefer. The shell is a bit thinner than the others, but it has a nice high collar, reflective trim, cinchable cuffs, and the same type of chest pocket as the Milwaukee, plus a massive mesh-net internal pocket. The main zipper pull is also on the left side rather than the right, which threw me off. Maximum run-time with a 12v battery (not included) is six hours. Cost: $170
Photos: Dan Thornton