Best Remodel 2014: Inside a Model Remodel
A small addition and a savvy design transform a small California bungalow.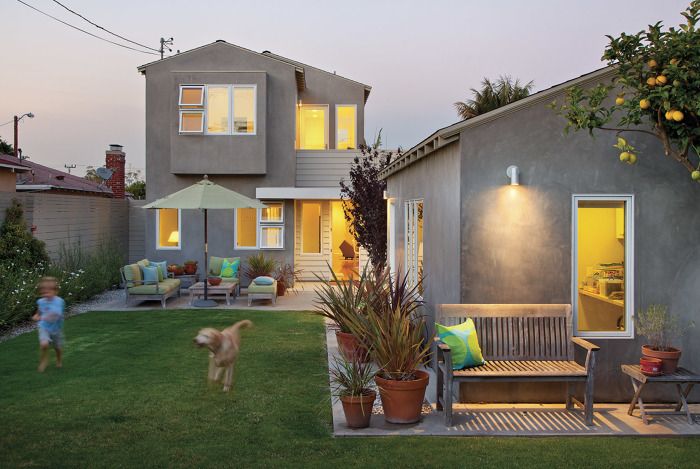 Synopsis: In "Inside a Model Remodel," architect Krista Becker writes about how she designed her award-winning best remodel of the year, a complete reinvention of her 1930s bungalow in Southern California. The whole-house remodel uses smart design strategies—replicable in any remodel-to modernize the floor plan and to create bright, contemporary interior spaces that are inviting and easy to live in. Organizing the new floor plan to create a contiguous living area made the home feel expansive, while providing the practical benefit of easier child supervision. The private spaces—bedrooms and bathrooms—are placed along a central circulation loop around the new stair, which provides access to the new master suite on the second floor. Should access to the master suite ever become an issue, the full bath and main-floor bedrooms can accommodate single-floor living. A thoughtful remodeling design must address four areas: attention to views to enhance a sense of space, uniform finishes to build flow from room to room, creating open space to offer freedom (ceiling heights rather than walls help define rooms), and increasing daylight to improve a sense of spaciousness.
As an architect, I've been fortunate to be involved in a variety of projects throughout my career—everything from high-rises to hospitals. Most recently, I've been focused on large-scale civic work—specifically, designing embassies around the world. The work is both demanding and rewarding, and it requires a considerable amount of travel. But as every trip nears its end, I look forward to returning to the small bungalow I've called home for the past 15 years in the Sunset Park area of Santa Monica, Calif.
My home was originally built in 1939 as part of a collection of houses constructed for the employees of the nearby Douglas Aircraft Company, renowned for producing the Douglas World Cruiser, the first aircraft to circumnavigate the globe (in 1924).
I was attracted to the house because of its appropriately sized rooms, its good bones, and its well-conceived layout. Public spaces were organized on one side of the house and private spaces on the other. The house met my needs at the time, and I felt it had the core elements that would yield plentiful design opportunities sometime down the road.
As the years went by, my family grew, and so did the demands on our home. That "sometime down the road" was now at our doorstep, and I decided it was time for a redesign. Despite my extensive work in architecture, this remodel would be my very first residential project.
An ordinary wish list
Over the years, I often considered how I wanted our home to live. For instance, I've always wanted a house with a strong connection to its backyard, which is the largest "room" in the house here in Southern California. I wanted a welcoming entry, an open kitchen with a large island, and a master suite with a deep soaking tub. I wanted all of the spaces to be finished with beautiful, low-maintenance materials. I envisioned a bright interior, with daylight pouring through windows that also provided views of our yard.
I craved the convenience of a laundry room and the luxury of a room that could serve as an office and as a bedroom for guests. Finally, I wanted a flexible space for my son to play in that wouldn't dominate the house.
Although our original house was only a touch beyond 1000 sq. ft., I was able to achieve everything on my wish list with min-imal expansion. A 158-sq.-ft addition to the back of the house and a 340-sq.-ft. second-story addition were among the subtle moves that transformed our small bungalow into a spacious family-friendly home.
For more photos and details, click the View PDF button below. You can also view the video here. 
View PDF