The No-Tape Drywall Patch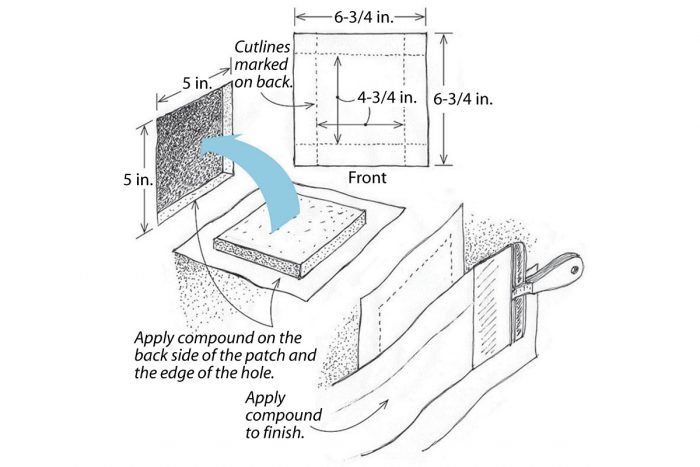 When working for a commercial/industrial builder and remodeler many years ago, I learned a simple method for patching drywall. It works on walls of any thickness and requires only whatever scraps of gypsum board are handy.
Square cut your hole as necessary—for example, 5 in. by 5 in. Cut your square patch of drywall about 1-3/4 in. oversize (6-3/4 in. by 6-3/4 in. overall). Flip the patch piece over, and score a 1-in. margin all the way around. Snap each of those scored lines one by one, and gently peel the gypsum off the face paper as you work your way around. You're left with a patch piece about 43⁄4 in. sq. with a face-paper flange that eliminates the need for tape. The slight undercut in size gives you wiggle room so you don't have to fuss with trimming, and it allows you to butter the inner edge of the hole and the outer edge of the patch piece for a tighter bond. The face-paper flange means no overlapping tape buildup to have to feather out. I've used this method for years with no apparent negative results. I think the advantage gained by eliminating the tape more than offsets the little extra time required to make the four perimeter cuts, which—like any often repeated task become almost instinctive.
Biff Crossley, Alloway, NJ
Edited and Illustrated by Charles Miller
From Fine Homebuilding #244