How to Use a Drywall Router
Making cutouts for electrical boxes is quick and easy with this compact power tool.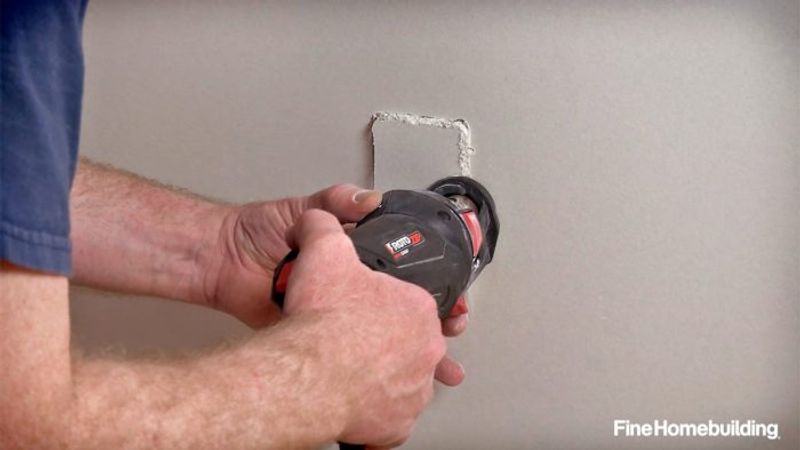 When hanging drywall, you could measure, mark, and cut holes for all of your electrical boxes before you install each sheet, but it's more efficient to cut them out with a drywall router once the sheets are up on the wall.
Here's what you will need:
Drywall router with a 1/8-in. helical bit (cordless routers are most convenient)
Safety glasses
Dust mask (optional)
Here's how to do it:
Make sure the power is off, and then push all wires to the back of boxes so that the router bit doesn't hit them.
Make marks on the floor at the location of each box; be sure to know or write down dimensions for the height of each box too—you will need that info in a minute.
Position the drywall and tack it in place, keeping screws at least 24 in. from boxes to avoid blowout.
Transfer locations of the centers of each box on the drywall.
Adjust your router bit so that it extends about 1/8 in.  to 1/4 in. more than the thickness of the drywall, and then tighten the collet.
When you're ready to cut the holes, turn the router on, line the bit up with the mark, and plunge it into the drywall, quickly moving to one side until you hit the edge.
Then, pull the router toward you just enough to jump to the outside of the box, but not enough that the bit comes out of the drywall.
Continue cutting around the outside of each electrical box, tracing it in a counter-clockwise motion, and applying gentle pressure to ensure that the router rides easily along the edge of the box. The piece of drywall should fall free once you've completely circled the box.
Note: Routing counter-clockwise against the perimeter of a box takes advantage of the the bit's rotation to help maintain contact with the box, giving you more control over the tool, and resulting in a cleaner cut.
When routing against interior perimeters, such as window and door openings, follow the same procedure but reverse the direction. Routing clockwise on an interior cut gives the same result as routing counter-clockwise on an exterior cut; it leaves a clean, straight edge, flush with the opening.
Learn more about installing drywall:
Crisp Corners for Drywall – Learn how to install metal, vinyl, and paper-faced corner beads straight and tight.
Install and Finish Drywall – These straightforward steps will make any drywall-hanging job easier,
Faster Drywall Finishing – Automatic tools produce better walls in less time.
Video: Drywall Delivery Dos and Don'ts – Protect people and the structure when loading drywall into a new home.
Previous:
Modern Drywall Hanging Tools, Methods, and More
Next:
Drywall Lifting Tools