Is RFID Technology in Your Future?
---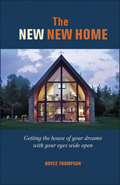 The New New Home
by Boyce Thompson
---
Imagine if your computer could guide you to the smartphone you lost under a couch cushion. Wouldn't if be nice if your washing machine could read the a tag on your blouse and then wash it accordingly? What if the doggie door recognized your dog and only opened for him?
These are just a few of the intriguing applications of RFID (radio-frequency identification) technology, which seems intent on finding its way into homes. Most people use RFID outside the home without even knowing it. It's used in key fobs to give you access to office parking lots. It's how passport scanners and E-ZPass toll readers know it's you. A few contractors even use it to tag their tools on a work site and prevent theft.
I've been fascinated with the technology since visiting Microsoft's Home of the Future several years ago. Researchers there had attached RFID tags to consumer products that communicated with readers connected to the home-automation system. The system recommended recipes based on what was in your refrigerator and on your shelves. Waving a party invitation with an RFID tag in front of scanner brought up a website where you could RSVP.
The technology is pretty simple, really, and costs keep dropping. A tiny, passive tag is implanted in an object, whether it's the label on a pair of jeans, a dog tag, or your cell-phone case. A reader picks up high-frequency radio transmissions from the tags. RFID could be used to control many systems within a home, including the lights, air conditioning, and the garage door.
The system is commonly used today by warehouse distributors to check in pallets of merchandise. Wal-Mart and the Department of Defense require vendors to use them.
Before RFID can reach its full potential in homes, though, manufacturers will have to start tagging individual products, rather than just pallets. That's already starting to happen in the fashion industry, thanks to the influence of retailers such as Macy's, which has been using RFID to gather granular data on dresses, coats, and shoes that are selling the fastest.
Costs for the tags — already down to 9 cents for passive versions — need to fall even further to promote widespread use. Then there's the matter of buying readers. I noticed the other day that a major home-automation vendor was selling a reader, along with a serial port, and some additional programming as an add-on to their system for less than $500.
The system has also raised significant privacy issues. It's one thing to track the identity and location of your dog. It's another to track people. Some tags are so small, close to the size of a rice kernel, they could easily be implanted in a person. There are already concerns that the government could monitor the movement of citizens using E-ZPass transponders.
As with all new technology for the home, the biggest issue may be whether it will make enough difference in your life to warrant the added expense, no matter how small. What do you think?