Laundry Closet Design Ideas
Designer Mike Maines details 3 types of well-designed laundry closets that make the most of a compact space.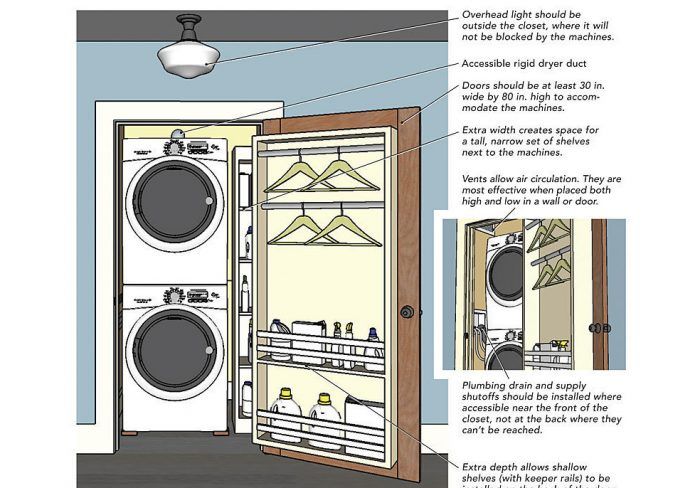 A Narrow Closet
A narrow laundry closet should be at least 32 in. wide to allow for hoses (when the supply is located to the side) and machine vibration, and 40 to 50 in. deep (about twice the depth of a standard closet). Units in this type of laundry closet are stacked. One problem that can arise with this configuration is that an unbalanced load can cause the machines to jump around. I've tamed wild machines by drilling holes in small squares of 3⁄4-in. plywood, setting the legs in the holes, and screwing the squares to the floor. If there is not enough room to access the dryer vent from the side, it should be routed up the wall to exit above the dryer. This allows rigid ducting to be installed and for the vent to be cleaned regularly.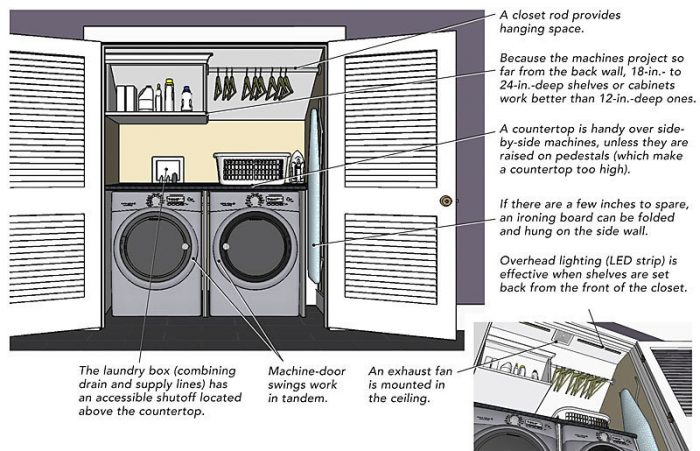 A Wide Closet, Side by Side
A minimum width of 5 ft. is usually required to fit two machines side by side and provide the wiggle room needed for vibration during use. This design works well when tucking a laundry closet under a sloped ceiling. Having a countertop over the machines is a nice option with this configuration, but be aware that it will be higher than a kitchen counter—usually between 38 in. and 42 in. high.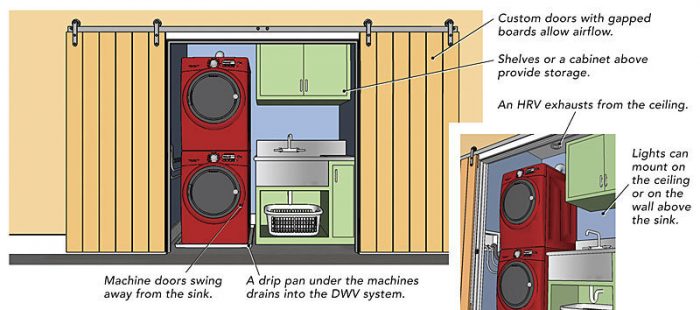 A Wide Closet, Stacked
If the ceiling is high enough, you can install stacked machines in the same 5-ft.- to 6-ft.-wide closet. This allows for a laundry tub or a section of countertop with or without a sink. An integrated sink allows laundry-basket storage underneath if the sink is not too deep and the drainpipe is carefully routed. A stainless-steel countertop with integral sink offers an easy-to-clean surface.
Laundries are one of the harder-working spaces in a house, yet they rarely receive the same design attention as kitchens or bathrooms. It may not make sense to allocate a large percentage of prime real estate to a chore that is only done once or twice a week, but that doesn't mean laundry facilities should be relegated to damp, dark utility spaces.
Having designed and installed many laundry areas in narrow closets and alcoves, I've found that you can carve out a fully functional laundry where it's most convenient, either near the working areas of the home or near the bedrooms.
Wherever you place a laundry, it needs adequate ventilation to remove moisture-laden air and replace it with fresh air. If the house has an energy-recovery ventilator (ERV) or a heat-recovery ventilator (HRV), it should exhaust from the laundry area. Alternatively, a continuous or intermittent bathroom exhaust fan can promote rack-drying and remove stale odors.
The volume of air exhausted by dryers varies, so check manufacturers' recommendations for makeup air. Code requires an opening of at least 100 sq. in. for dryers that exhaust more than 200 cfm.
In a tight closet, dryer venting can be problematic. If space is particularly tight, consider a recessed dryer vent.
Front-loading (horizontal axis) washing machines are popular for closets because they can be installed either stacked or side by side with a dryer. Other options include condensing dryers or combination washers/condensing dryers, which don't need an exhaust duct and are sometimes recommended for airtight homes; one-piece stacked units with top-load washers; and in wide closets, traditional top-loaders placed side by side with dryers. The designs shown here focus on front-loading machines, but the concepts hold true for other options as well. Consider also that machines come in several sizes: full-size units are 27 in. to 30 in. wide and from 28 in. to 34 in deep. Compact machines are 24 in. wide and 25 in. deep.
Regardless of which appliance you choose, consider a drip pan under the washer. Plumbers have told me that upgrading the supply hoses to braided stainless steel is the best insurance against a leak, but a drip pan isn't a bad idea, and some jurisdictions require them on upper floors. An accessible shutoff is usually required by code.
Finally, functional laundry rooms typically include a number of features and accessories to make the task of doing laundry less onerous, any of which can be added or eliminated based on space constraints. Here's what my clients ask for, in order of popularity: shelves or cabinets for storage; storage or a staging area for dirty clothes; a countertop for folding; rods and/or hooks for hanging; a sink or laundry tub; and room for an ironing board and iron. With planning, it's possible to fit many of these features into a small, efficient space.
Drawings: Mike Maines