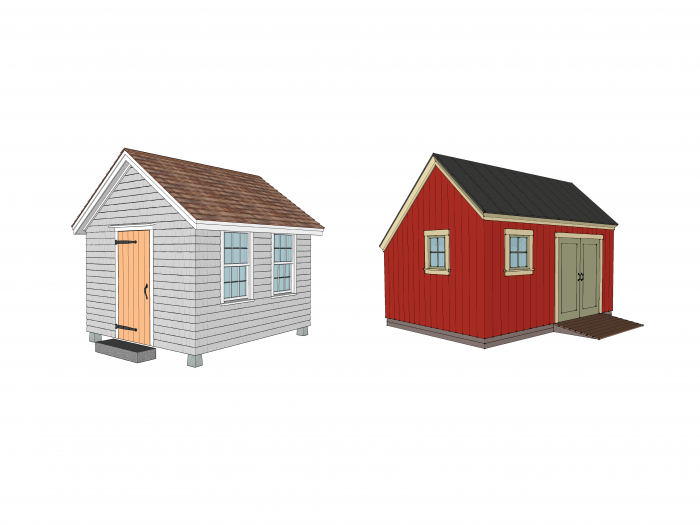 The first structure I ever built, not counting tree houses, was a shed. It served its function but was too small, oddly tall, and narrow, and I never put it on a proper base, so it heaved every winter. Later, as a self-employed carpenter, the first new structure I was hired to design and build was a garden shed, and I made sure this one was larger and had better proportions and details. Since then, I have designed many more sheds, refining my approach along the way.
Size and location
When designing your own shed, consider your needs above all else. A shed used to store garden tools is different from one used to store a riding lawnmower. When in doubt, a larger building is more flexible. The IRC doesn't require a building permit if you stay below 200 sq. ft., and many municipalities allow reduced setbacks for outbuildings smaller than 100 sq. ft., so place your shed where it will be convenient. Choose deliberately between keeping the shed out of sight or making it a focal point.
Style
The safest approach is to style the shed to match the house, but any home can accommodate a more whimsical shed. Keep trim elements the same scale as you would use on a house, or scale them down just slightly. Don't make the shed a scale model of the house, with proportionately reduced elements. This common mistake yields a shed that looks more like a dollhouse. It is good, however, to put some effort and detail into the trim, especially along the roof lines, where it will be closer to ground level and therefore more visible than on a house.
The sure sign of a flimsy, mass-produced shed is an extremely low roof pitch. Use a roof that is at least as steep as the house roof (especially for traditional designs), and don't be a slave to symmetry; saltbox-style roofs can work well. The roof material can match the house, or you can use the opportunity to introduce a different material into your property, such as reclaimed slate or hand-split wood shakes.
Traditional Gable Shed
Traditional Salt Box
Windows and doors
Use normal-size windows and doors when possible, and consider salvaged units. Windows can take up a large fraction of usable wall space, so size and location are key. On the other hand, big windows with low sills bring in lots of light, look good from the outside, and provide views from the interior if the space is used for more than just storage. If you are short on wall space, then either limit windows to one or two walls, or try awning, hopper, or fixed windows instead of double-hungs.
A 30-in.-wide door provides just enough room to walk through with a wheelbarrow or push mower. Bump up to 34 in. or 36 in. for a person with a wheelchair or walker, and provide at least 36 in. for a large garden cart. An even wider door or double doors are necessary for a riding mower or other larger equipment. If they can be accommodated in your design, opt for outswing or sliding doors to preserve as much usable indoor space as possible.
Construction
Modern platform framing with sheet goods such as plywood or OSB is fast, strong, and easy, but a shed is also a fun place to try your hand at timber framing, pole-barn methods, or other less common framing techniques. The small scale of a shed also makes all-natural materials a good fit. They age more gracefully under the kind of abuse a shed might see (dirty lawnmowers, wet wheelbarrows, etc.).
Use pressure-treated or otherwise rot-resistant lumber for any wood framing that sits on concrete or masonry, or that is within 8 in. of the ground. Avoid using doubled flooring—for example, floor boards over a sheet-good subfloor—if the floor will see much water, because drying will be an issue. Anything used for decking makes a good shed floor, and in insect-prone regions, it pays to lay window screening over the joists before installing the floor. Concrete and paver floors are also good options if your budget allows them.
Uninsulated buildings are somewhat forgiving of damage from water and moisture, but it's still important to use good water management strategies. Because a shed is usually drafty enough on its own, you don't need to worry about ridge vents, and air sealing is not necessary.