Tools & Materials
Tool Transporter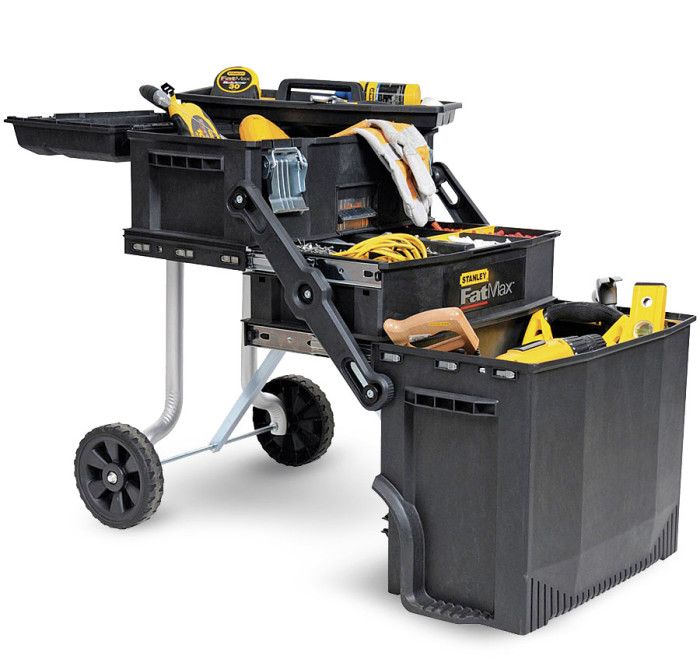 When it comes to storing and transporting tools, everybody has to decide what works best for them. As a do-it-all remodeler, I need to carry a lot of different  stuff. I prefer rolling boxes because their huge capacity means fewer time-wasting trips to the truck. Unfortunately, most large rolling toolboxes have cavernous main compartments that make it tough to find what you're looking for, and they are a bear to keep organized. The solution for me has become the Stanley FatMax 4-in-1 Mobile Work Station (model 020800R; $80).
Unlike conventional rolling toolboxes, the FatMax 4-in-1 has three levels of tool and accessory storage, so it's easier for me to keep track of my stuff. The three bins open and close at the same time, so you can see and access all the gear without opening and closing individual compartments. With its luggage-style wheels and telescopic handle, the FatMax 4-in-1 is also supremely mobile. When you have to park far from the job site, this quality makes a tool-toting hike from the truck much easier to manage.
My coworkers and I have abused this box on numerous remodeling projects, and it just keeps working. It does leak, but it's not designed to be weathertight. I think its best quality is its capacity for holding an entire category of tools. I have one box dedicated to trim-carpentry tools, for example. In the bottom bin are two finish nailers, a brad nailer, two staplers, 12-in. sawblades, and some fasteners. In the middle bin, I have screws and nails in dump boxes. I keep items such as air fittings, Teflon tape, nails, and staples in the sectioned area. In the top are more nails, a combination square, coping saws, pencils, a pencil sharpener, markers, and other tools. In all, that rig holds around 70 lb. of gear. I have another FatMax 4-in-1 dedicated to cordless tools. It can't contain every cordless tool I use, but it holds the everyday stuff in an easily moved cube.