Free for a Limited Time: Editors' Picks from the Article Archive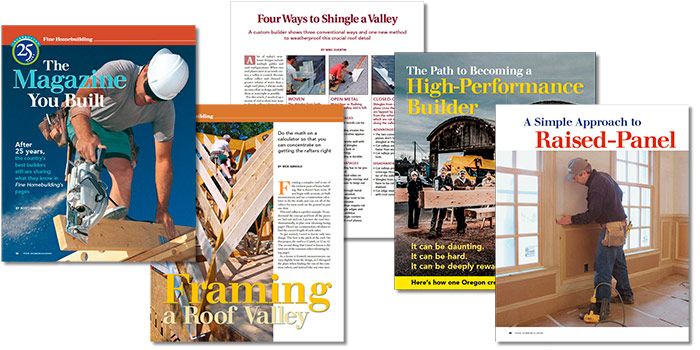 Although we have dedicated subscribers that have been with us since issue #1, we know that not every subscriber to Fine Homebuilding and www.finehomebuilding.com has been with us for all 262 issues. So, I thought it would be fun to team up with my fellow FHB editors and each pick a couple of articles from over the years that we consider to be standouts–maybe for the depth and quality of the how-to info, because it was something that pushed them to a new level as a builder, or just because they have some fond memory of working on that story. The funny thing is that we all picked different articles, which just further shows how much we have locked away in this vault that you can access! In the spirit of sharing, all of the articles mentioned here were unlocked from the members-only section of the site, and free for one month only!
---
Brian Pontolilo, Design Editor – 14 years on staff
Framing a Roof Valley
I helped frame a barn roof once. It was the most basic of gables though at the time, I didn't even know what a gable was. I held the rafters on the marks and awkwardly toenailed where I was told. I was a teenager, or maybe even younger. That was still the extent of my experience and knowledge when I worked on this article with Rick Arnold. Fortunately, this wasn't his first roof. Rick's techniques made so much sense that I was sure I could frame a roof with valleys by the time this was printed. It's been a few years now, but reading the article again, I still feel confident that with Rick's sage guidance, I could do it. I hope you find the lessons equally as helpful.
Decorative Concrete Floors
Where houses are built on slabs, concrete floors make a lot of sense if you like the look. I do. In fact, if I were building a house on a slab, I'd probably polish and seal the concrete floors their natural color. Again, I'm fond of raw details like this and other exposed structural elements. That said, concrete floors don't have to look raw or anything like concrete really. As you'll see in this article you can score and stain concrete for a more decorative look. Concrete floors are versatile in style, durable, and affordable. I enjoyed my trip to Dallas, TX to learn about this process with Shellie Rigsby, who had a thoughtful and meticulous technique for staining concrete floors.
---
Justin Fink, Managing Editor – 12 years on staff
If I had to pick one part of building and remodeling that I find most appealing, it's finish carpentry. When it comes to grand-scale finish carpentry with an eye on efficiency, Gary Striegler is one of the handful of people I'd point you to. Although it was published before I worked at the magazine, his article on achieving the look of true raised panel wainscot with non-traditional methods was so influential for me in terms of the way I like to incorporate woodworking and homebuilding techniques into a hybrid of efficient building strategies. Plus, wainscot is just such a fun project with an incredible payoff at the end.
When I was sent to photograph a tile backsplash being installed as part of a  how-to series on basic tile articles, I was settling in for a pretty hum-drum, A-Z, textbook style job. Installer Tim Keefe gave me anything but. He basically challenged everything I knew about installing tile, and his contagious passion and attention to detail lit a fire in me, urging me to up my game on future projects, and learn to find the parts of tile that I could learn to love. Some of this methods are slow, and you might call him finicky, but you can't argue with his results. They're a thing of beauty.
---
Andy Engel, Senior Editor – 11 years on staff
Shelter from the Storm
I used to work as a carpenter in a sea of carpenters whose favorite comments ranged from, "Just nail it," to, "Looks good from my house." FHB validated my efforts at craftsmanship by connecting me to a community that was as in love with the craft of building as I was. This article is a long read that doesn't tell you anything about how to build a house, but it gets right at the passion that defines FHB readers.
Four Ways to Shingle a Valley
There's rarely just one right way to do anything. This article is quintessential FHB, tackling the common building challenge of shingling valleys by showing four methods and explaining the advantages and disadvantages of each. It's information that I've been able to take from the magazine page and almost literally nail to a roof.
---
Patrick McCombe, Associate Editor – 6 years on staff
Articles and discussions about building science often have a very theoretical, even academic, quality, but not this one. Jeff Tooley, who could be best described as the builder who fixes buildings that nobody else can fix, walks us through the process of converting a Victorian-era energy-hog in an efficient and comfortable home. I took the photos that appear in the article and they're easily my favorites among those I've taken for Fine Homebuilding.
For years I heard from readers complaining that we haven't done a comprehensive article on how to install a new window in an existing brick opening. They were right, it was long overdue, so we went to longtime remodeler Mike Sloggatt who shows us how to pull the old window and install a new window with redundant flashings, all without disturbing the existing brick. I especially like the high-quality illustrations that show how everything goes together.
---
Aaron Fagan, Associate Editor – 2 years on staff
The Path to Becoming a High-Performance Builder
Rochester, N.Y., where I grew up, is along the Rust Belt and host to a largely cynical working class, however, I'm grateful to those who took the time to teach me the dignity and discipline of labor. That's why it was heartening for me to read this piece about Six Degrees Construction in Portland, Ore., where sustainability is holistically and unapologetically embodied and embraced through the quality of their craftsmanship, materials, and building science; the way they invest in and educate their employees; and how they prize communication and collaboration at every level of the construction process.
Golden State Garden Gatemakers
This is one of the most rewarding articles I have had the pleasure of editing to date, not just because of the extraordinary craftsmanship and creativity the authors demonstrate, but to absorb the combined generational knowledge between veteran Charles and his son Ben, a graduate of the prestigious North Bennet Street School in Boston.
---
Maureen Friedman, Administrative Assistant – 11 years on staff
When One Carpenter's Life went to print I had only been here a short while, maybe about a year. I LOVED reading about Larry Haun and some of what he did and experienced in his life and career. And I remember that we received many letters about the article after it was published from people who also enjoyed learning more about Larry, or those who said that he reminded them of their father, uncle, grandfather, the great guy they first worked for, etc. This fall with be five years since Larry left us. It might be fitting to honor him and all that he taught us.
My second article, which came from the same issue of FHB, was The Magazine You Built. It was so much fun to learn about the "roots" of Fine Homebuilding. I think it would be fun for those who have joined us within the past ten years since this article was originally published to read about "the good old days."