How-To
FHB House Framing in Pictures—Phase 1
Although grounded in familiar stick-framing principles, this assembly is very progressive.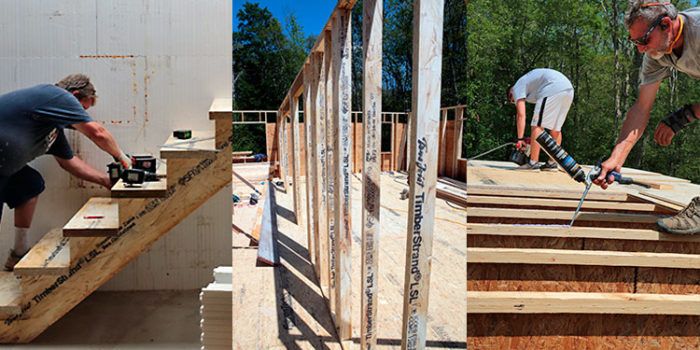 Like the foundation it's built atop, the lion's share of the FHB House framing is being tackled by brothers Mike and Bruce Guertin. Although certainly grounded in some familiar stick-framing principles, this assembly is very progressive. The frame was designed to be lean, strong, straight, use materials efficiently, and leave ample room for insulation.
Here's a glimpse of the construction as it's progressing. Stay tuned for the second round of photos, which will include the wall and roof sheathing, among other things.
In addition to the many general benefits of I-joists—lighter weight, longer spanning, and straighter than dimensional lumber—Weyerhaeuser's Flak Jacket I-joists were chosen for their factory-applied fire-resistant coating.
By laminating LVLs to the engineered rim board above the rough openings, most windows and doors in the house are able to be framed without standard drop headers and jack studs. This reduction in lumber in the wall framing means more room for thermal insulation.
Weyerhaueser's laminated-strand lumber (LSL) lumber is used selectively throughout this frame alongside dimensional lumber. They have consistent dimensions, are straight and don't warp.  This makes them ideal for king studs and jacks at rough openings where tall windows and doors will be installed;  studs in kitchen walls where cabinets need to be hung plumb and level; plates for long walls making straightening them a snap; and studs in tall rake walls where straightness counts.
The same LSL rim boards used around the perimeter of the I-joist floor framing are also put to work as stair stringers and treads, where their consistency, length, strength, extra depth and straightness make this work faster, easier and far more accurate.
1/2-in. beads of spray foam subfloor adhesive are dispensed from a pro-style gun to embody Huber's promise for squeak free floors. The foam can be applied to wet or frozen lumber, in temperatures as low as 20 degrees, and one canister will provide enough adhesive for bonding 18-20 sheets of Advantech compared to the 3 or 4 sheets possible with a 28 oz. or 29 oz. tube of adhesive.
To provide an effective air control layer from foundation to walls, the mudsill joint has to be sealed well. On this job the mudsill, foundation and wall sheathing are all sealed together using ProtectoWrap's Triple Guard Energy Sill Sealer. The lower self-adhering flap seals to the  ProtectoWrap Universal Primer-Free membrane that covers the Amvic ICF foundation, the upper self-adhering flap seals to the  Zip System wall sheathing (chosen for its impregnated water-resistive layer that also works as an air barrier), and the thick foam mudsill gasket seals to the top of the foundation while the mudsill plate sits on top.
Holes are cut in the wall sheathing to allow deck brackets to be bolted directly to the rim joist in preparation for the deck ledger that will come later. To air-seal and weatherize these penetrations, Guertin uses Titebond acoustical sealant around the perimeter of each cut out, and Zip System stretch tape across and into the recess.  Regular Zip System tape seals over the cut-outs after the brackets are mounted.