Step Up Your Setup
Run your business clean, neat, and efficient — inside and out.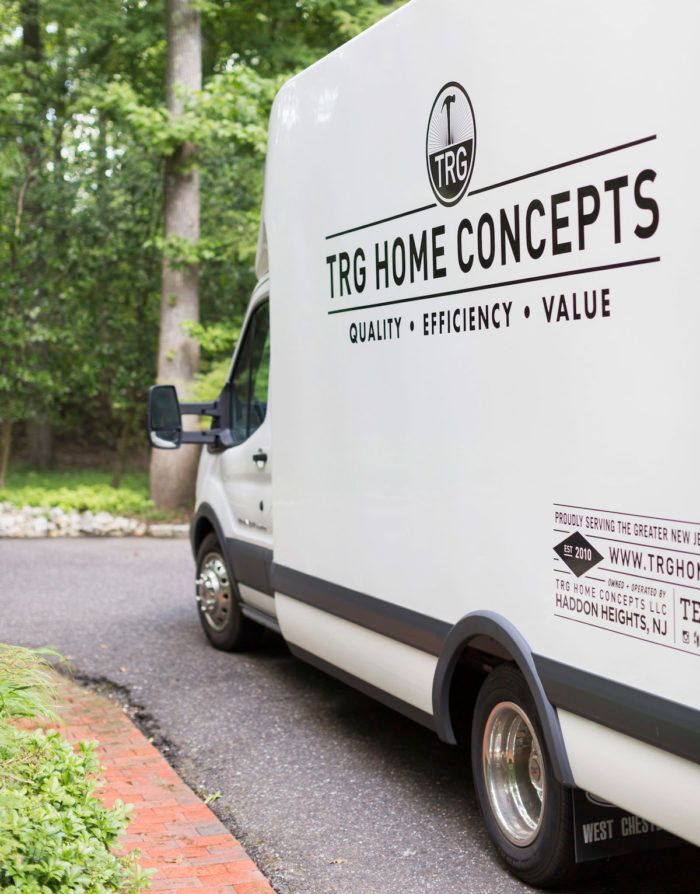 For years I worked out of a pickup truck and cargo trailer combination.  I have to admit, I absolutely loved it.  My first truck was a single cab short bed Toyota Tacoma that I put a utility cap on and kept all of my tools in the bed.  I then purchased a 6×10 utility trailer so that I would have more room and could expand my tool collection (shhhhh, don't tell my wife).  After struggling to tow a trailer with a four-cylinder mini-truck, I saved enough money to purchase a full size GMC with a Duramax engine.  Can you guess what happened next?  If you guessed that I purchased a larger trailer, you would be correct!  I bought a 7×14 cargo trailer, and I believed that I had found the perfect combination for my needs.
Here is a picture of my pickup truck, which is going back to being a company vehicle next week.  I will be getting it lettered shortly.
As my business continued to grow, and I became busier and busier, the trailer setup began to be a hassle.  I was constantly loading and unloading, hooking up and unhooking, backing into tough spots, unable to park in certain areas, and the negatives of the trailer began to outweigh the positives.  Another issue was that I did not want to get my trailer lettered.  I would often times leave it on job sites overnight, and I felt that was an invitation for theft.   After about a year with the new trailer and really wanting to start pushing my branding, I decided it was time to make another switch.
I went out and bought the brand new Ford Transit cutaway with a Unicell body pictured above.  The cargo area is 7′ wide, 6 1/2′ tall, and 14′ long.  I then switched all of my shelving and tools to the new truck and got it lettered.  I want to expand upon the last statement.
1.   My shelving is made from 99% job scraps, miscellaneous hardware, a screw gun, and a cordless circular saw.  It has been used, re-used, modified, and transferred from the 6×10 trailer to the 7×14 and then to the Transit.  It is not pretty, and it is not fancy, and I did not take oodles time doing it.  The goal was not for it to look good, but for it to be functional and increase my efficiency.  I did not want to have to tie down individual items, I did not want to have to sort through a pile of tools to get what I needed, I did not want to have to move one thing in order to get to something else, I did not want to hear banging around or rattling throughout the truck while driving. I wanted to be able to walk in and grab whatever I needed from a designated location, I wanted to always know where everything was or was not, and I wanted to be able to walk down the center of the truck pickup tools/turnaround/bend over without tripping or kicking anything.
Here is a snap of my quick and dirty job scrap shelving!  I am fairly certain I only bought one sheet of plywood for all of this.  
2.  I had a friend of mine (Ferris Caldwell) design my logo and lettering.  She created it, sized it, laid it out, proportioned it, and sent the info to the vinyl installer.  This is what she does for a living, she is more knowledgeable than I am, and she has an eye for design.  Hire someone to do your design for you.  Just like anything else, there are professionals that make a living doing this type of work day in and day out.  They know what work and what does not.  That being said, I wanted my truck to appear clean, minimalistic, tasteful, and and sharp.  I wanted the look of my truck to convey my business ethos and reflect my brand without having to actually say it.
Here are a few detail photos of my logo and design:
This new truck has by far been my favorite setup.  It looks professional, it drives great, it houses everything that I need, it gets great fuel mileage (splurged for the diesel), I can stand up in it, and I have no trouble parking wherever I need to.  I do not work in the city, so the height is not an issue for me (except the second day I had it when I backed into the overhead door at the lumber yard).  I can take this truck to go on estimates, make material runs, or for bouncing around from one job to another.
The only complaint I have with the box truck setup versus the trailer is that when I am not on the job, my tools aren't either.  With the trailer I could drop it off with an employee, and they could have everything they needed on site while I ran around.  Other than that, I love everything about this new truck.
Whatever setup works best for you, make sure you keep it neat and efficient.  Wasting time moving stuff, or jumping over piles of materials and tools is dangerous and simply doesn't look professional.  I make it a point to clean and organize the cargo area of my truck every day.  If not, it gets out of control quickly.  Keeping your truck clean and well-maintained makes a huge statement to your customers and potential clients.  It shows them that you have pride in your business, your image, and that you take care of your belongings.  Your truck should reflect your company's standards and your business model.  So a tidy, visibly clean, neat, and organized truck inside and out is a must.  Show your customers that you care about yourself before saying that you care about them.  I have always said that it is hard to convince customers to invest in your business if you are not doing the same.  That investment doesn't always have to be money.  It can be time.