Design
The Trend is Transitional
Top designers define and share tips for the most popular style in kitchens today.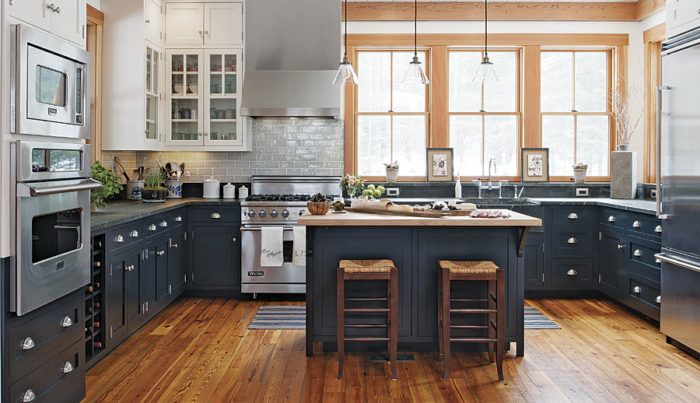 Synopsis: For good reasons, transitional-style kitchens are in high demand. In contrast to the more ostentatious kitchens popular before the Great Recession, transitional kitchens feature neutral colors, clean lines, and modern appliances, along with a few traditional elements. One of the goals of a transitional design is to avoid having a kitchen that will seem dated after a few years. With a transitional-style kitchen, homeowners who grow tired of a particular element or two can simply replace those elements with new ones, and doing so won't disrupt the overall design.
If you watch home-design shows on TV, or read shelter magazines, or use Pinterest or Instagram, you've seen transitional-style kitchens. Think neutral colors, clean lines, and modern appliances, warmed up with a few traditional details and natural materials, and possibly embellished with a funky touch or two. The popularity of transitional kitchens is a shift away from the more ostentatious kitchens of a decade ago. "When the economy tanked, homeowners had to reevaluate every purchase," says Portland, Ore., designer Amy Troute. "Budgets were smaller and needed to be used smarter. The move to stylish simplicity — the transitional style — was born from that need."
Transitional is something of a catch-all term that refers to a mix of contemporary and traditional elements. The style is versatile and adapts well to different regions, as well as to both old and new houses. According to polls by the National Kitchen and Bath Association, transitional has been the most popular style in kitchen design for a few years. Every kitchen designer I spoke to across the country said the same. They love it, and their clients do, too.
A few designers echoed the experience of Chicago designer Chad Esslinger: "My own style is eclectic — combining aesthetics — it's not quite modern, not quite traditional, so it pleases everyone when couples are trying to put their styles together in one room."
While transitional can morph, it's not amorphous. At the center are clean lines and neutral colors, providing a sense of serenity and calm that has widespread appeal. Gone is the ornate showpiece kitchen that draws attention to itself. "A transitional kitchen is a backdrop to life, art, and food — it doesn't compete with it," says Nicole Starnes Taylor, who runs Seattle's Make Design Studio.
One of the main goals of transitional is to avoid an identifiable style, one that will seem dated in a few years. That sits well with homeowners, who are both value oriented and more design savvy than ever, thanks to TV and the internet.
"People can spend up to $60,000 on a new kitchen, and they don't want to have to do it again," Esslinger says. "With a transitional kitchen, they can change out a few elements in 10 years — such as the backsplash or the lights — but the bones of the kitchen remain the same."
This quality is popular in markets where resale is top of mind. "We are tasked with creating a space that isn't too specific to the client's style — one that will be timeless instead of trendy, while still addressing their desires for style, color, and function," Troute says. "A transitional kitchen should be a gift to whoever owns it in 15 years."
For more photos and details, click the View PDF button below:
View PDF