Tool Test: Compact Routers
Choose the best tool for profiling, flush trimming, and mortising one-handed.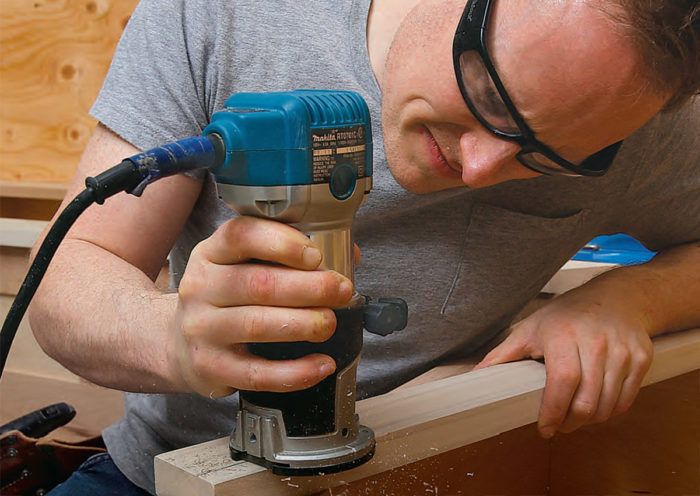 Synopsis: Cabinetmaker and remodeler Paul Johnson uses a compact router nearly every day for certain jobs: edge profiling, flush trimming, hinge mortising, and trimming laminate. For this article, he put seven models to the test. He took 1/2-in.-deep passes in hardwood and MDF, and then concentrated on more typical tasks: rounding over door edges and cabinet faces, routing profiles in cabinet tops and shelves, mortising hinges, and cutting slots, rabbets, and dadoes.
The original compact routers were created for a singular purpose: trimming laminate for countertops, cabinetry, and shelves. More recently, compact routers have become the go-to tools for edge profiling, flush trimming, and hinge mortising. I use one nearly every day in my remodeling and cabinetmaking business, and I really appreciate how a compact router, which can be held with one hand, frees my other hand for holding stock or managing the cord. Since I was in the market for a new compact router, I welcomed the chance to review all of the currently available models in a head-to-head test.
How we tested
I routinely use my compact router for dadoes, grooves, and rabbets, so I began the process with a power test. I gathered half a dozen species of hardwoods and some MDF and took successively deeper passes with a 3⁄4-in. mortising bit. I found that all but one of the routers could take 1⁄2-in.-deep passes with little problem. With power no longer a question, I concentrated on day-to-day shop and job-site tasks. I rounded over hundreds of feet of door edges and cabinet faces; routed profiles into cabinet tops and shelves; mortised hinges; and cut slots, rabbets, and dadoes.
Best overall and best value
After a few weeks of using these routers, I determined that the Bosch is the best overall, but the Makita and Ridgid are also in the running. The Bosch is available in several kits, which are differentiated by the last letters of their model name. The EVSPK has both plunge and fixed bases and is my top pick for general finish carpentry and cabinetmaking. The accessories in the EVSNK make it suitable primarily for laminate work. If you don't need the plunge base, the EVSK includes a router, case, and edge guide. The Ridgid is my best-value pick.
For more photos and details, click the View PDF button below:
View PDF