FHB House: Appliances Are the Daily Touch Points of a House
Featuring efficiency, convenience, and high-performance for a tight house.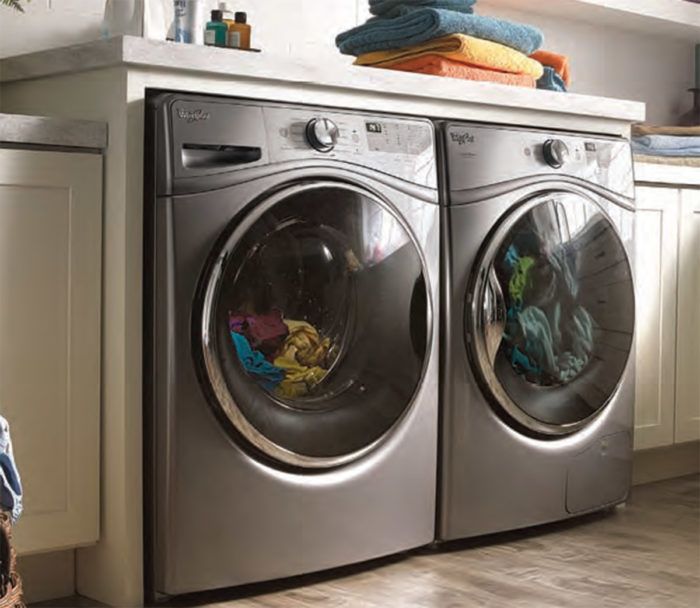 The design of the FHB House and the layout of each individual room will shape the experience of living in the house. In places such as the kitchen and the laundry room, however, the daily interactions with the appliances will have a profound impact on the success of those rooms. To limit the electric load of the house, the starting point for selecting kitchen and laundry-room appliances in the FHB House was an Energy Star rating. From there, features were considered that would make daily life a little more convenient.
Creating space for a second-floor laundry room simplifies the laundry process by having the washer and dryer near the bedrooms and showers, where the dirty clothes accumulate and where the clothes will return when they're clean.
The washer and dryer are both from Whirlpool. Among the washer's time-saving features is an integrated detergent reservoir that takes care of a dozen loads with a single fill. The machine's Fan Fresh option allows you to start and change loads when it fits your schedule.
Once the washer's spin cycle is complete, a fan blows air over the clothes and periodically tumbles them to prevent them from acquiring a damp smell. The post spin tumbling and fan also allow for a small load of two to four items made from synthetic fabrics (such as workout clothes) to be tossed in the washer on the way to bed so that they'll be clean and dry when the sun comes up.
The innovative Whirlpool heat-pump dryer is perfect for a tight house like this. A vented (traditional) dryer blows a good deal of air out of the house, and replacement air must come from somewhere. In older, leakier homes, the replacement air is pulled in through holes in the envelope, such as the unsealed space between a window and the rough opening. Tight homes require either planned makeup air or a ventless dryer. Ventless, or condensing, dryers have been around for a number of years and have generally gotten a bad reputation for long cycles that don't quite dry the clothes. Ventless dryers such as this one that replace the air-cooled or water cooled condensing surface of the dryer with the cool coil of a heat pump and that heat the drying air with a hot coil reduce dryer energy consumption by 50% to 60%. Homeowner reviews claim that clothes, especially bath towels, are also much softer when dried in a heat-pump dryer.
For photos and more information on how appliances can improve your house, click the View PDF button below. 
View PDF