How-To
Stair Master
With just a little guidance, student craftsman produces a professional-looking stair finish.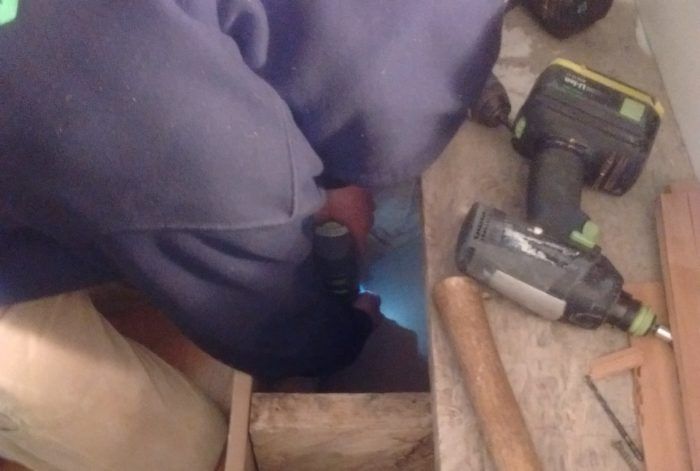 Usually Bruce or I tackle the installation of the skirts, risers, and treads on a staircase. The stairs between the first and second floor are pretty standard, but they still require solid carpentry skills and good judgment to make sure the fit and finish will stand up to visual scrutiny and years of foot traffic. After working with the WACTC students for six months, I was confident a few of them had the skills to finish the staircase.
I put Addison on the task. He's been coming to work on the FHB House after school for several hours and a few weekend days.
We worked together scribing and placing the skirt boards. Then I showed him how to make a simple riser pattern jig. After I made and installed one riser he took over and installed the remaining dozen. Looking up the steps from bottom to top, you could see he got the hang of patterning, cutting, fitting, and fastening the risers after just a couple. And since the risers and skirts were being painted anyway, the first couple that had tiny (1/64 in.) gaps were good enough, and the upper 10 risers were as tight as Bruce or I could have done.
After seeing how well the risers came out I had no qualms about letting Addison install the oak treads.   We made a new jig to pattern out the treads, and I cut the first one. I showed him how to place the treads without scratching the skirt boards and how to fasten and then align the upper riser to the back of the tread.
Addison took his time to micro-adjust each tread before bedding in adhesive and screwing in place. His pace picked up as he worked his way to the second floor — what started out taking about an hour per tread was down to about 15 minutes — a respectable time given the trek back and forth to the tools set up in the driveway area.
Stair finishing is a big test of patience and skill for a student craftsman — I'm not sure what I can challenge Addison with next that can top the stairs.