Tools & Materials
Tool Test: Cordless Sliders
Meet the new class of miter saws ... from big to little, we tested them all.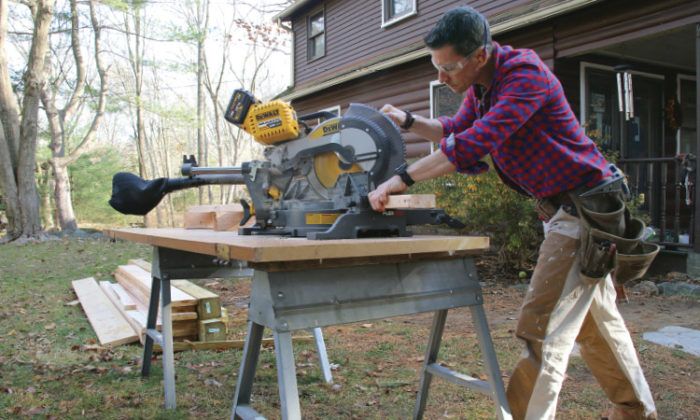 Synopsis: Cordless miter saws are a new tool category, and in this tool test article Mark Clement tries all of the cordless sliding miter saws in the market: The big 12-in. DeWalt and 10-in. Milwaukee, and the small 7-1/4-in. Dewalt and Ridgid and two 7-1/2-in. Makitas. Clement chose a best overall tool and best value tool, giving specific detail about readability of the bevel scales, amount of cordless power, ease of dust collection, and size of the fences. For each cordless miter saw, he includes market price at time of writing, weight, bevel angle capacity, miter angle capacity, and battery voltage.
As a remodeler, I build everything from finished basements to business offices. Given the decent availability of power at my job sites, the latest offshoot of cordless technology that's been applied to miter saws struck me as a rather expensive option I could do without. Even so, I understand the need. Someone has to build malls and office buildings where the nearest working outlet might be a hundred feet away. There are also carpenters who have to trim out tract homes where several trades spend their workdays fighting over one or two outlets. Plus, everyone wants to spend less time setting up, and eliminating cords is a big help.
Even though I'll admit to being skeptical initially, I've had a few months to use the half-dozen cordless sliders — some full-size 10-in. and 12-in. models, some smaller 7-1⁄4-in. and 7-1⁄2-in. models — currently on the market. Consider me a convert. I found the smaller sliders useful as a super-portable second saw, and the larger ones could even replace your corded slider.
Big saws, big capacity
The 10-in. Milwaukee and the 12-in. DeWalt saws have all the features common to corded sliders, including tall fences and large, easy-to-read bevel and miter scales. Both saws have the power and cut capacity to replace your corded saw, but they're far from equal.
Go small, go fast
Although they're light and easy to handle, the 7 1⁄4-in. and 7 1⁄2-in. saws have tiny tables and short fences, so you can't cut commonly sized baseboard or crown nested against the fence. Instead, you have to lay the stock flat on the table and use the saws' bevel settings. All the small saws can cross-cut a 2×8 in one pass, but only the Makitas can cut a 2×12.
For more photos and details, click the View PDF button below:
View PDF