Joining Rails and Fittings
How not to lose your shirt installing stair rails.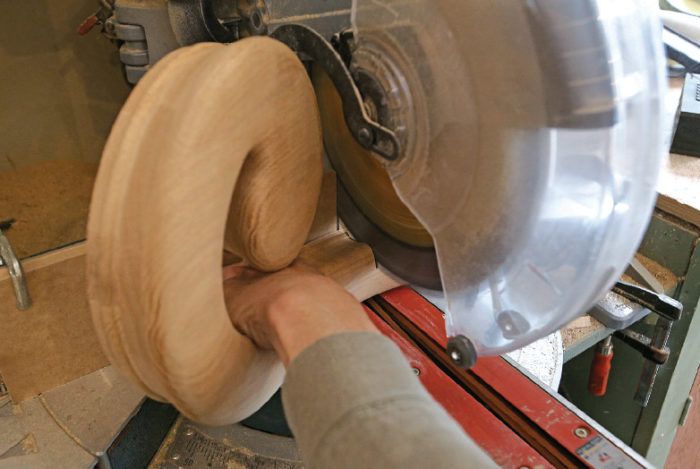 Thirty years ago, in a fit consisting of equal parts hubris and innocence, I let a builder convince me to install his stair rails. I was newly self-employed and saw installing railings as an opportunity to expand my offerings, even though I knew next to nothing about them. While I lost my shirt on that job, these step-by-step instructions will help you keep yours on.
For me, one of the more intimidating parts of the installation was cutting and attaching easings, volutes, and goosenecks to straight rails. These parts are expensive, which makes cutting the correct angle even more stressful — and then you still have to fasten the fittings and rails together both invisibly and stoutly. The fittings come with instructions, but they don't tell the whole story.
The key thing to remember is that fittings have to be cut at the point where their curves are tangent to the line of the rail, and each cut has to be square to the rail. A pitch block — a right triangle with one leg the height of the stair's rise and one leg the length of its run — is used to lay out the cut. Pitch blocks are similar to the cutout resulting from notching the stair stringers, but don't be tempted to use those cutouts because they'll be smaller than the stair's actual dimensions by the thickness of the saw's kerf. Once the parts are cut, they can be joined with a hidden 5⁄16-in. rail bolt, also called a hanger bolt and usually included with the fitting.
There are two main types of rail fittings. Starting volutes and easings are fittings used to transition from the bottom newel post to the stair rail. Up-easings and goosenecks are the second type, used to transition from a stair rail to a vertical section of rail at a landing.
And check out the video that accompanies this article: Fastening a Fitting to a Rail.
View PDF