Tools & Materials
Built for Comfort: Envelope and Mechanical Decisions
Although keeping costs low informs decisions about the envelope and ­mechanical systems, homeowner comfort gets the final say.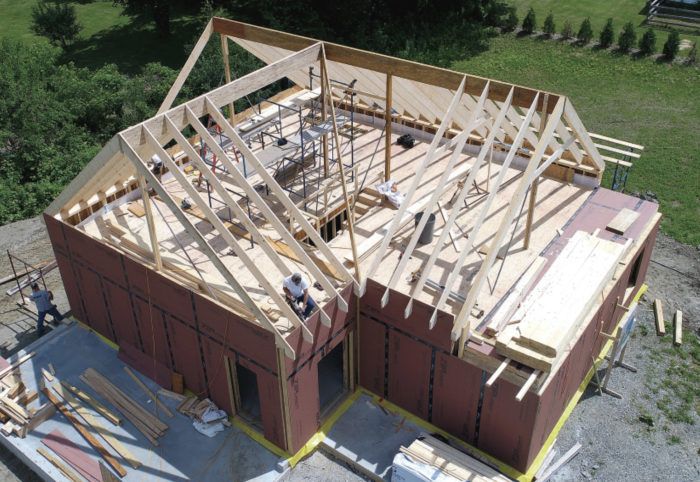 With the 2017 FHB House framed and dried-in, the attention turns to the components that will make the house net-zero capable, including different forms of insulation and the mechanical systems. Because this is a production-built house, Paul and Tim Biebel are trying to maximize performance while keeping costs—including labor costs that rise with more complicated assemblies—as low as possible. The walls are insulated with cellulose, held in the cavities with a membrane that acts as the primary air barrier. Sealants and spray foam air-seal tricky places like plates as well as window and door openings. The choice between double- and triple-pane windows for a cold-climate net-zero house can be hotly debated, but the decision to use triple-pane windows on this project is driven by homeowner comfort. As with any high-performance house, the FHB House has separated the heating and cooling system from the ventilation system. To maximize efficiency, the Biebels rely on a heat pump for heating and cooling and an ERV to maintain indoor air quality. Because it's a spec house, though, they recognize that future homeowners will have different ideas about what constitutes a comfortable temperature and are likely to value efficiency and comfort differently. To make sure they have happy clients, Paul and Tim are willing to spend a little more money—even if it means a small loss in efficiency—to ensure that owners are comfortable.
Please enjoy the entire complimentary PDF article by clicking below.
View PDF