Tools & Materials
Crown Point Kitchen Cabinets Shine With Frameless Cabinets and Glass Doors
Installation features innovative toe kicks and continuous horizontal trim pieces.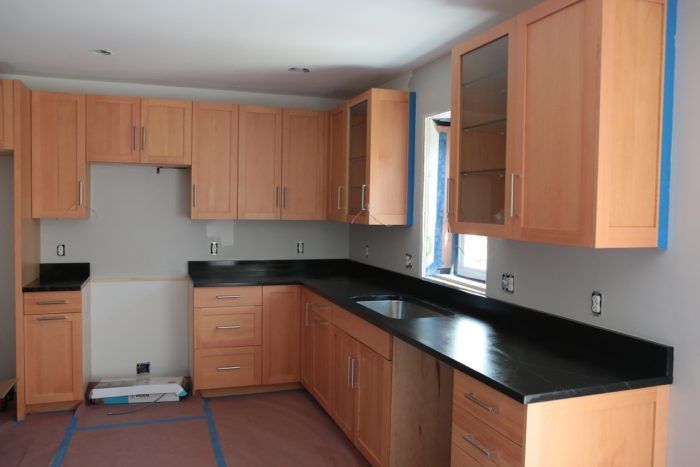 The kitchen cabinets in the FHB House are manufactured by Crown Point Cabinetry out of Claremont, N.H. It was nice to work with a company only 10 minutes from our office.
The cabinet style of choice was "Barnstead," a naturally finished, frameless 3/4-in. Douglas fir construction. They look very sharp now that they are installed, especially with the soapstone tops and gray-toned flooring as accents.
Installing Crown Point cabinets is a little different than we are used to. As one example, the toe kick is not built in to the base cabinets. Instead, adjustable feet are screwed to the underside and then can be used to level the cabinet. The toe kick trim piece then snaps on to the leg of the adjustable feet. While different, it was nice to be able to run the laminate flooring underneath the toe kick space to allow for more expansion and contraction than we normally can. With fixed toe kicks, the laminate flooring needs to be cut pretty tight because the trim piece is typically only 1/8-in. thick.
Another difference is that the upper cabinets have continuous horizontal trim pieces installed on the top and bottom of the frame after the cabinets are hung on the wall. This give the cabinets a bit more of a custom look.
We have received many compliments on the look of the cabinets. The glass doors on the upper cabinets on either side of the sink provide a nice touch, especially since it's the first part of the kitchen people see as they approach it from the living room.