Tools & Materials
Installing Electric Radiant Heat under a Tile Bathroom Floor
Schluter's Ditra-Heat adds warmth to an uncoupling membrane.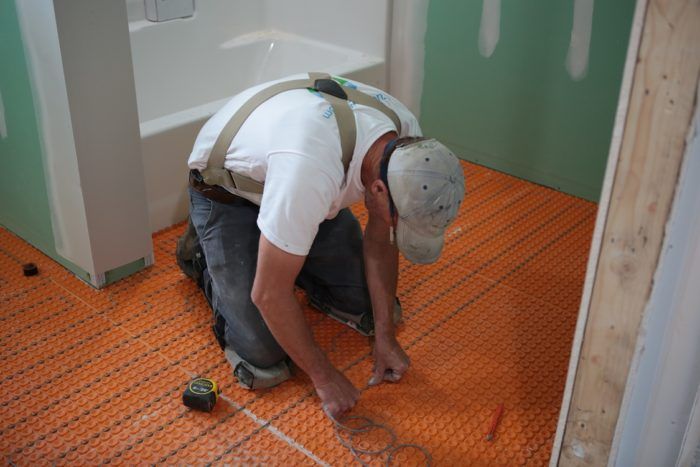 Nothing beats the feeling of warm tile under your feet on a cold morning. It's not that I would know from personal experience because I don't have it at my house, but I hear that from everyone that does have it. Are they rubbing it in or are they so smitten with it they can't stop talking about it? It's probably a little of both.
The bathroom floors in the FHB House are finished with soapstone tile, which provided a perfect pairing for Ditra-Heat to be installed in the Schluter underlayment. On past projects we have always subcontracted out the tile work, which included Ditra-Heat if it was called for. On the FHB House we decided to do it ourselves. This meant I needed to figure out how much material was needed for each bathroom.
It was easier than I thought to figure out. Schluter Systems has an online calculator that automatically spits out the material list once you insert the square footage of the project. As an example, the second floor bathroom is 57 ft². The online tool determined that 40.99 ft² would be heated, which required 37.5 ft² of 240V heating cable, one programmable thermostat, and seven pieces of Ditra-Heat-Duo–an uncoupling membrane with sound control and thermal break.
The heating cable cannot be cut, so the biggest mind bender is determining the layout of the cable without coming up short or ending up with too much excess. It's important to maintain the proper distances from walls (2 in.), other heat sources (8 in.), floor drains (4 in.), and toilets (7 in.); but in the end it wasn't too difficult.
The rest of the project was no different than a normal tile job. I like this product a lot. It's simple and much less involved than water-based radiant heat, not to mention less expensive.
| | |
| --- | --- |
| Schluter's Ditra mat is an uncoupling membrane so that subfloor movement doesn't crack grout and tile. The bottom of the membrane has a fleece fabric that's adhered to the subfloor with thinset. | Rolling the Ditra helps ensure good adhesion. |
| The heating cable snaps into the space between studs on the Ditra-Heat-Duo membrane. | Once the cable is installed it's tested–more than once–to ensure there are no cuts before the tile goes down. |
Previous:
Organic Transition: Wood to Tile
Next:
Installing Floor Trim