Tools & Materials
Thick-wall Insulation Strategy
A combination of spray foam and cellulose insulation meet the R-value targets and help air seal.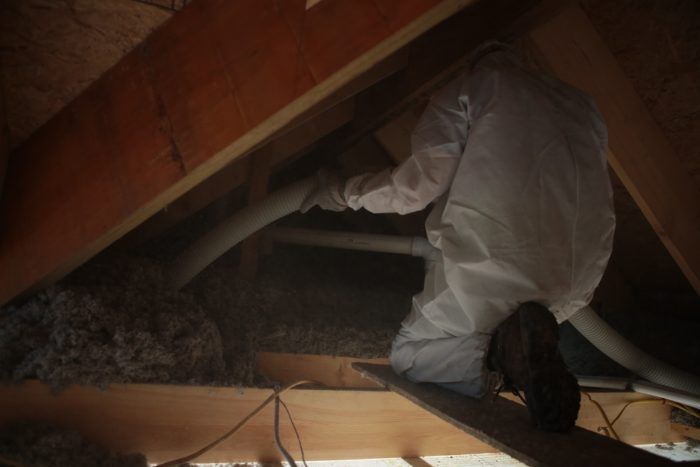 The insulation strategy for the FHB House relies on a mix of a small amount of closed-cell spray foam and large quantities of cellulose. When the walls are framed and the mechanical rough ins are complete, a flash-coat layer of foam (1 in. to 1.5 in.) is sprayed around the window and door bucks, at the exterior corners, and around any penetration (wires, sill cocks, etc.) through the Zip Sheathing System. I also like to spray a flash layer along the entire length of the base of the double exterior walls. This helps further seal the joint between the walls and slab and prevents the cellulose from sitting directly on the concrete.
Part of the ceiling in the living room is the one other area that needed spray foam. The first 10 ft. of the ceiling, measured from the front of the house toward the back, is the thermal envelope and to achieve R-60 we needed to use closed cell spray foam in the ceiling joists.
The remainder of the building is insulated with cellulose, most of which is dense-pack. The only loose-fill is above the flat ceiling on the second floor. We prepare the walls for the cellulose by installing the Intello Plus membrane and strapping the walls 16-in.-on-center. The strapping is necessary to hold back the Intello Plus as the cellulose is pumped into place. It provides a flat plane to hang sheetrock from. Once the cellulose is pumped, the small holes through the Intello are sealed with Tescon Vana tape to prevent any air leaks through the air barrier.
When I can, I use cellulose as much as possible. It's clean and inexpensive compared to closed cell spray foam, but as I've mentioned, sometimes a combination of the two is necessary.