How to Install a Mirror With Adhesive
Mastered in a Minute: Get a lasting hold with the right adhesive and a bit of prep.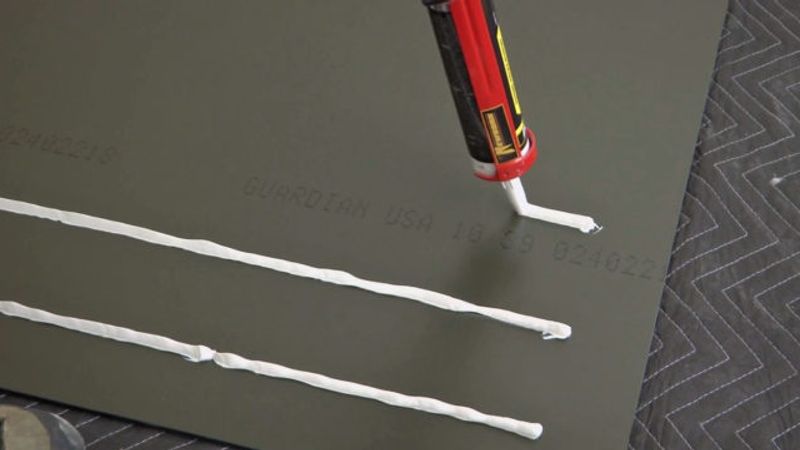 Hanging a mirror with no-slip adhesives is an alternative to mechanical fastening that can provide a clean look.
Start by marking the mirror's location on the wall, using a level to make sure the lines are level and plumb. Then apply painter's tape about an inch inside of these lines. This marks the area where the mirror will be bonded to the wall.
Many paints have additives that make surfaces easier to clean, but these additives also make it hard for adhesives to stick to paint. To ensure a good bond between the mirror and the wall, sand down to the original substrate—in this case, we're sanding down to drywall. When done sanding, wipe away any dust, and prime the area. Here we're using an acrylic primer.
Once the primer is dry, remove the tape, and attach a temporary wooden brace along the bottom edge to aid in positioning the mirror.
To bond the mirror to the wall, use an adhesive rated for mirrors. Apply the adhesive in a pattern recommended by the manufacturer. In this application, the manufacturer recommends at least three continuous, horizontal beads spaced at least 1-1/2-in. apart. Additionally, the manufacturer recommends at least 2-1/2 in. of standard-size bead for every pound of material. This mirror weighs 35 lb., so we need about 88 in. of adhesive. Keeping the adhesive 2 in. from the edges to prevent squeeze-out.
To install, set one corner of the mirror on the support while keeping the other slightly raised, and press it into the wall. As the adhesive makes contact, allow the raised corner to slide back down to the support. This helps spread the adhesive onto the wall surface.
Then, press the mirror firmly into the wall using a clean paint roller, and apply strips of painter's tape to the top corners until the adhesive sets up.
Once the adhesive has set, remove the tape and the brace, patch and paint any small holes, and the installation is complete.
Note that local code may require mechanical fastening in addition to adhesive when hanging mirrors.