Podcast Episode 144: Why Won't My Wood Floors Stay Flat?
After answering the question "Where has Justin been?", the Fine Homebuilding editors dig into several cases of what happens when wood gets wet.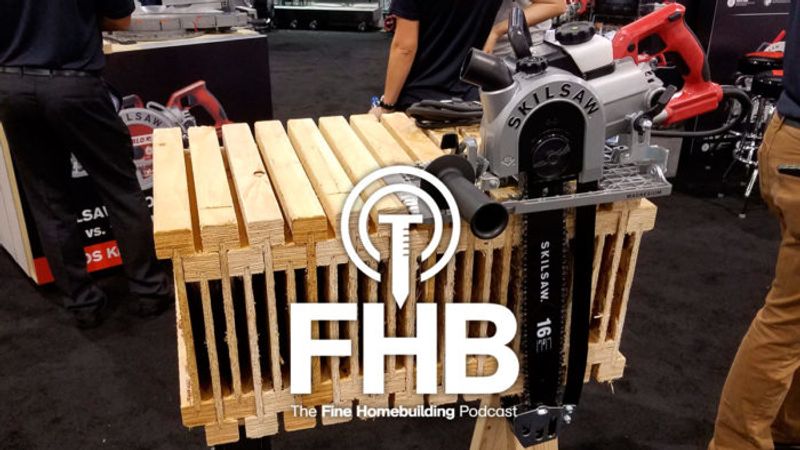 Justin Fink is back after a few weeks' hiatus, and he teams up with Patrick and Matt to talk about cool new tools Patrick spied at the STAFDA tool-dealers show in Phoenix, to revisit the topic of building storm-resistant homes, and to investigate why a listener's red-oak flooring is cupping. The crew also digs into more listeners' emails about replacing rotting sheathing under a porch and stopping condensation near a concrete door sill.
SPECIAL DEAL!
Fine Homebuilding's Holiday Sale started November 8. Podcast listeners can save 20% in our store on favorite titles like the For Pros By Pros series, Code Check, and SketchUp Guide for Builders. Visit Tauntonstore.com and use code GIFT20 to get the discount.
Suggested titles from the Fine Homebuilding staff:
---
Update from Fr. Chris Winkeljohn, a Catholic priest in the Port Saint Joe and Mexico Beach area of Florida
We talked a lot about the high-cost strengthening measures used on the house on Mexico Beach but Fr. Chris points out that five Habitat for Humanity houses survive in Panama City, Fla.
Well-connected load path. Metal roof and storm shutters. It's easier if you don't have to resist storm surge.
One of the homes discussed was built to what is known as "Fortified Gold" by the Insurance Institute for Business & Home Safety (IBHS). Roy Wright, president and CEO of IBHS, said a critical issue is "to make sure the edge of roof will be able to withstand the wind so the roof won't pop off."
This can be done through special nails and metal attachments between the roof and the walls, he said.
Wright continued: "This is not something that costs tens of thousands of dollars. Retrofitting a roof is about $1,000 for a 2,000-sq.-ft. roof, the average size in the United States. When building a house from scratch, it could cost as little as 3 percent to 5 percent more to harden the house; fortify the roof, windows and doors; and tie the house together tightly from top to bottom [in some areas of the country]."
Garrett W. Walton, CEO of Rebuild Northwest Florida, a nonprofit organization launched in the wake of Hurricane Ivan in 2004, has helped 14,000 homeowners in the Pensacola region to fortify homes built before Florida's statewide building codes came into effect.
The group, which uses funding from the Federal Emergency Management Agency, puts the cost of bringing a house up to statewide standards at $9,200.
---
Question 1: How can I stop my oak floorboards from cupping?
Phil from Maryland writes: We installed 1,000 square feet of 5 inch red oak flooring in the kitchen, living room, dining area, foyer and hall way. This was installed by us over 30lb felt, stapling every 8 inches. The floor was allowed to accumulate for 3 weeks in the house and rooms it was to be installed it. Moisture reading were taken during the acclimation time of the wood and subfloor. At install the MC was about 9-11% and in the exact same range as the subfloor. This was acclimated and installed in March. The floor were then sanded, stained, and finished with 2 coats of oil based poly in April a few weeks later.
In July and August the floor began to significantly cup. Moisture readings were taken, whole house moisture readings were taken. The basement at that time had a relative humidity only several percent different than the first floor. 55 vs 53 if I recall correctly. We as a company could not come up with a good theory. We ended up calling a hardwood floor expert with all the certificates and whatnot from the NWFA who came and did a thorough inspection and came up inconclusive and recommended we wait a year to see if it fully acclimates and flattens in the dry Maryland winters. Which it did. hooray! … at least until the next July… damnit.
This past July, 2018, the cupping returned. But this time less severe. So we called in a second inspector for another opinion as the homeowners weren't satisfied with the first inspectors non-conclusion. His report suggested that the hardwood was TOO dry upon install and was then taking on moisture in the hot and humid Maryland summers.
My question, is the stack effect causing the moisture problems and cupping in the hardwood? The stairs to the attic are in the middle of the house with only an interior door in the main hallway. i.e. is warm moist air coming down the attic stairs and is the moisture getting into the hardwood causing the cupping during the summer. These past two years have been very hot and humid in Central MD, even more so than normal this summer getting 20+ inches of rain which is 75% more than usually.
Thanks, love the Podcast. Patrick is doing a great job filling in for the MIA Justin Fink.
Phil says the house is leaky so in the summertime, warm outside air is getting into the basement .
Related links
---
Question 2: What's the easiest way to repair rot under a porch ledger?
Chris writes: Hello friends, I am a regular podcast watcher, online subscriber, and appreciate this FHB offering. I have a dilemma in our house: OSB sheathing rotting under a covered porch. The ledger has no appreciable flashing or continuation of a water barrier. The sheathing below the porch has been left essentially uncovered.
Background
Custom home two story home with finished basement built in 1997. Basement with block walls. Floor trusses sit on block walls. Vinyl siding with Tyvek house wrap. Other than the porch area, the exposed block has a stone facade transitioning to vinyl at the start of the framed walls.
We moved in about 1 1/2 yr ago and discovered mold in the basement which turned out to be a result of poor wall design in the setting of water intrusion through the block. We have remediated the mold, had an interior perimeter drain placed with heavy plastic sheeting on the wall tying to the perimeter drain and sump. About 1200 sq. ft. finished space had to be mostly demoed. I have insulated with sealed foam board behind new stud walls and re-wired the basement. I am currently working on a repipe of basement and 1st floor owing to polybutylene pipes. Look familiar????
The Problem
On the outskirts of basement work, I noticed a bit of water on some of the lowest wall sheathing. I then exposed the extent of the damage on the inside. There was water damage- all in the area of OSB sheathing at and below porch ledger.
Below is a pic of the sill plate and exterior sheathing viewed from the inside corresponding to the sheathing under the porch on the outside. That discolored sheathing is completely punky, not just discolored. This is at an interior stair area and that is why you don't see trusses projecting toward the camera.
My Thoughts
Need to pull the vinyl siding at the porch area including around the door. Need to pull up some or maybe all porch deck boards depending on approach to ledger. Need to pull ledger. Need to replace bad sheathing and wood around door. Tie in new wrap with proper shingling. Flash against house for new ledger board. Replace ledger and flash over ledger. Cover exposed but wrapped OSB below porch with some form of siding. Retrim and detail water at door. Restore deck. Replace siding.
BUT: The porch deck and structure is not to current code (upper deck supported by through bolts, etc). Per code, a new ledger needs to be approved by an engineer of the truss manufacturer. Changing to a free standing deck structure would mean 8' dig or helical piers as this is within 5 feet of home on disturbed soil. For sport, our water and electric run right about where you would place free standing deck support near the house. The concern I have is that the deck and supports would need to be replaced due to a combination of code compliance and demo for proper water management. It's also hard to know the extent of poor water management implementation, so I could imagine pulling a bunch of siding only to find more issues triggering concern for a whole house reside.
Questions
Is there a way to address this with a limited scope project, given that we are probably still in for $15k more in the basement remodel underway?
Said differently, how can I get out of this as quickly and effectively as possible?
Is there any proper way to flash around the ledger without pulling it off?
Would house wrap. properly tied in be an appropriate water barrier for repair or would you use a different product? How would you detail the water barrier at the bottom of the repaired sheathing below porch?
What would you use to cover the OSB and water barrier below the porch after repair? I assume vinyl.
Thanks!
Related links:
---
Question 3:  Why is my concrete door sill sweating?
Stephen writes: Love the show. I'd like to get your thoughts on how I might be able to limit condensation that is forming on the interior surface of the concrete door sills of my 1964 bungalow. I know it is a thermal bridging issue but how would I go about insulating that surface? Do the concrete sills normally extend into the interior like this?  There is a forced air heat register close by and the humidity within the house is not excessive (only a little bit of condensation forms on the windows).
Thanks for the help and keep up the good work.
Related links
---
And lastly: Securing loads
Florida driver escapes unscathed after plywood impales windshield. See story.
---
This episode of the podcast is brought to you by ProVia, BuildDirect PRO, and Stanley.
This episode of the Fine Homebuilding podcast is brought to you by ProVia—makers of vinyl siding, manufactured stone, and energy-efficient windows and entry doors. When you arrive at a new jobsite to replace a door and pull out your measuring tape does your heart sink when you discover the door is not a standard size? Custom sizes don't have to be a hassle and they don't have to be time-consuming. Every ProVia door can be built to a custom width and height and shipped off to you in two weeks. Talk to your local ProVia dealer to learn more. You can find them at Provia.com
This episode of the Fine Homebuilding podcast is also brought to you by BuildDirect PRO. Looking for quality flooring materials at wholesale prices, but also want to cut out that time consuming "looking" part? Stop driving from store to store searching for a product that might not even be in stock. Let BuildDirect PRO do it for you. For free. As a BuildDirect PRO you'll be connected with a personal account rep that sources your products to spec, at the lowest tiered price, and manages the logistics and delivery of your order directly to your jobsite. Plus you get added perks like unlimited free samples delivered overnight, and up to $5000 credit on product purchases throughout the year. Join for free at BuildDirect.com/BDPros.
This episode of the Fine Homebuilding Podcast is brought to you by STANLEY tape measures.One hundred and seventy-five years ago, STANLEY started making tape
measures for all kinds of folks who worked hard for a living. What started as a wooden rule soon became something people didn't even know they needed. Something that reached farther, and stood out straighter. Something that could drop, tumble, get back up again and keep working. Something tough, like the folks wearing STANLEY on their hip every day. Now, one hundred and seventy-five years later, STANLEY is still at it. Because as long as their name is still found on the hips of hardworking Americans, STANLEY will only work harder to stay there. Pick up a STANLEY FATMAX today, and see for yourself what a difference 175 years of innovation can make. Visit Stanleytools.com for more info.
We hope you will take advantage of a great offer for our podcast listeners: A special 20% off the discounted rate to subscribe to the Fine Homebuilding print magazine. That link goes to finehomebuilding.com/podoffer.
The show is driven by our listeners, so please subscribe and rate us on iTunes or Google Play, and if you have any questions you would like us to dig into for a future show, shoot an email our way: [email protected]. Also, be sure to follow Justin Fink and Fine Homebuilding on Instagram, and "like" the magazine on Facebook. Note that you can watch the show above, or on YouTube at the Fine Homebuilding YouTube Channel.
The Fine Homebuilding Podcast embodies Fine Homebuilding magazine's commitment to the preservation of craftsmanship and the advancement of home performance in residential construction. The show is an informal but vigorous conversation about the techniques and principles that allow listeners to master their design and building challenges.
Other related links: