How-To
Camouflaging Gutters and Hiding Downspouts
Clever flashing, thoroughly sealed downspouts, and custom channels behind the siding make the rain-management details all but disappear on the California FHB House.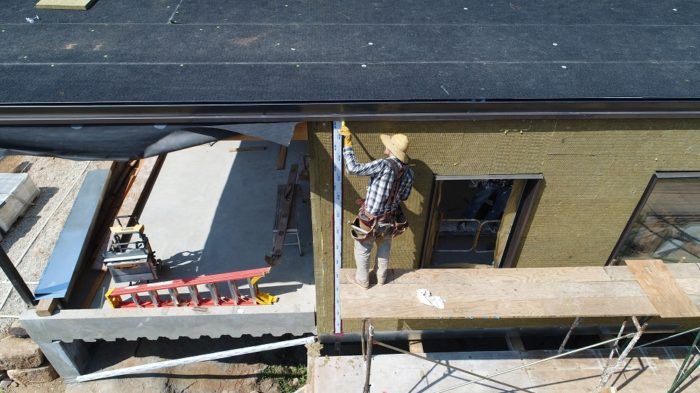 We wanted to hide the gutters altogether but decided against it at the last minute. Building them in for looks seemed an invitation for a major maintenance issue in the future. It is risky enough hiding the downspouts as we did. Gutters often rust through in the long run and need replacing. Downspouts not so much.
Our gutters are flush with the siding and integrate nicely with the sightlines of the building. To pull this off, I designed a flashing that Bridger Steel bent up that acts to house the gutter outside of the eave-to-wall connection—although this is a visual trick. The gutter flashing is essentially the gutter profile without the lip which forms the gutter trough. The gutter and its flashing are sealed tight where the downspouts penetrate, and we used three treatments for the inside of the gutters: vinegar, Rustoleum primer/paint, and two coats of asphalt emulsion. (We use asphalt emulsion on all flashings that end up below grade.)
Remember that this whole assembly is "floating" in the Rockwool exterior insulation and is outbound of our primary weather barrier. And as usual, we flashed and counterflashed, and sealed and taped rigorously. For instance, the downspouts were let into the outer 2-in. layer of Comfortboard, and we painted the void with Redguard. Then we taped our downspouts with Delta-Flashing tape. Even if acid rain eats the metal, I imagine the water will still fall through the outer layer without damaging the framing.
Gutter outlets are inherently wrong! They are "shingled" the wrong way and rely on sealant. We cut the outlet holes so that the gutter folds into them, which I think makes more sense. We still used lots of sealant and a few rivets. Hopefully we have a 30-year install or better. I'll let you know if we survive.
We are required to "have a method in place to keep the gutters free of leaves and debris." Our county says "gutter guard," while a city nearby interprets that as a homeowner's hand or blower. For us, the gutter guard will have to be custom because of our unique installation unless the foam type I found on Amazon fits. If I have to, I'll cut some hardware cloth for the final inspection.
More from the California FHB House