Podcast Episode 148: Siding Woes, Life-Changing Tools, and Newbie Home Builders
The Fine Homebuilding editors contemplate listener questions about cladding choices, sheathing layout, and wall-framing techniques.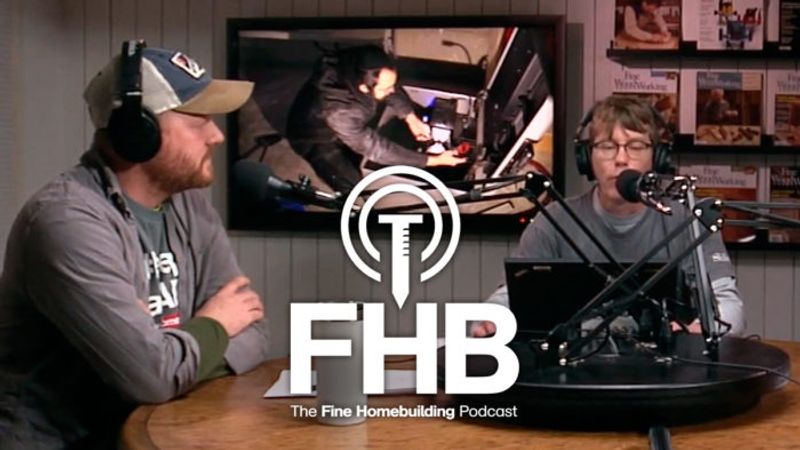 After chatting about some of their own roofing and cabinetry projects, Patrick, Matt, and Rob compare their lists of tools they can't live without, discuss the best options for replacing old wood siding, and advise a future home builder on framing and sheathing best practices. Patrick also recounts his visit to a job site where the homebuilders were using an impressive new automated whole-house air-sealing system.
---
Editors' project updates
Rob talks about the new roof going up on his house in preparation for 10kw of solar panels that will get installed in a couple of weeks. And Matt shows off a photo of the built-in cabinets in his walk-in closet.​
Patrick talks about his visit to a new home that is getting tightened up with an aerosolized sealant called AeroBarrier.​
---
Listener Feedback: Long-lasting, battery-powered mower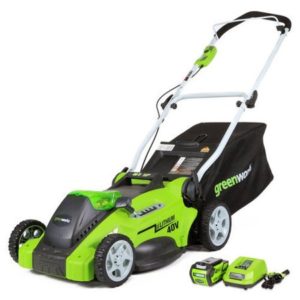 Jeff writes: Hi fellas, I've had a Greenworks 16-in. mower with single battery for 2.5 years now, and it will mow my 2,000 sq. ft. of lawn (I measured) 5.5 times, or around 11,000 sq. ft. on one charge. It's light and maneuverable, and I hand carry it up the steps to my garage easily. It is not self-propelled, nor does it need to be.
I think the lawns you talked of in regard to the Ego mower must be huge or the self-propelled feature uses a huge portion of battery.
Note: There are 43,560 sq. ft. in an acre.
Related links
---
Question 1: : What are the best tool purchases you've ever made?
Patrick saw the following question on a Facebook page for professional builders that he regularly follows: What are the tools you've bought where you immediately thought, "I can't believe I waited so long?"
Related links
---
Question 2: Should I replace my peeling wood clapboards with new siding?
Dan from Boston writes: We are now faced with the choice of once again painting our wooden clapboard house. I have always resisted siding, but it is probably cheaper than replacing the existing boards with new (I like the cement boards I have seen) or sanding down what we have (too much lead paint, and we have a toddler).
I am interested in hearing from others who have come to this junction in the road. I have done siding jobs for clients, and it may come to that, but I want to consider all options. Is there a not-so-horrible siding product out there that will not rob the house of its original charm?
Related links
---
 Question 3: Sheathing in Ontario
I'm planning on building my own house next year, having gained experience from building a small shed. For the big house, everything has to be up to code and make the inspector happy. I have some doubts that maybe you guys can help me with:
1. I'm in Ontario, Canada. According to our code, I should be using 2-in. or longer nails for 1/2-in. or thicker sheathing. I plan to use 1/2-in. plywood. Should I go with the code minimum of 2 in. or use 2-3/8 in.? Because a traditional hand-driven 2-in. or 6-penny nail is thicker than nail gun ones, going with a slightly longer one won't do any harm, right? Besides, there are some good discounts on 2-3/8-in. nails, and it's a good time to stock up on them when Black Friday is approaching. I plan to buy HG nails just to make the sheathing look good after raining. I own a DeWalt cordless framing gun that works super well—no jams, no fuss, and paper-tape nails mean no plastic garbage.
2. Now for sheathing, I understand that an expansion gap of 1/8 in. has to be left. Do I need to account for this growth when laying out studs? 2 in. on centre doesn't work anymore after a few laps; the centre would be off more and more.
3. Sheath the wall first, then raise, or the other way around? I get mixed opinions on this. For me, the problem is that we only have two people, so putting on sheathing first would make the walls hard to lift, though I'm aware of products that aid in the raising of the wall, by use of poles and ropes. I guess putting on the sheathing afterwards is good in the sense that you can speed up the framing process and get the roof done first, avoiding rain damage.
4. How to sheath the 2nd floor? Yeah, it's gonna be a two-story house. So how am I supposed to carry a heavy piece of 4×8 up there when I struggle to drag it on the ground? Scaffold? Scissor Jack? Anyone got some tricks for dealing with this?
Related links
SPECIAL DEAL!
Fine Homebuilding's Holiday Sale is in full swing. Podcast listeners can save 20% in our store on favorite titles like the For Pros By Pros series. Visit Tauntonstore.com and use code GIFT20 to get the discount.
New gift memberships
We have a new feature in the Fine Homebuilding store­—you can now buy gift memberships to FineHomebuilding.com, giving access to all of our feature articles and how-to videos.
Visit FineHomebuilding.com/membergift for details!
---
This episode of the podcast is brought to you by Danner and SupplyHouse.com
This episode of the Fine Homebuilding Podcast is brought to you by Danner boots. We're not fortune tellers, but when you lace up our new Stronghold work boots, it's easy to see that the future looks strong. We're Danner, and after 85 years of making boots for the unforgiving Pacific Northwest…well, that means our boots come with deep roots. And the new Stronghold work boot does just that. This is what happens when iconic quality runs into modern technology. You get tomorrow's classic today. Get into the Stronghold for strength that starts right from where you stand. Find your local store at Danner.com.
This episode of the Fine Homebuilding Podcast is also brought to you by SupplyHouse.com. When you need plumbing, heating, and HVAC products in your starting lineup, take the field at SupplyHouse.com with easy online ordering. SupplyHouse.com has a stacked team featuring lightning-fast delivery, industry-low prices, and undefeated service. Have a question? Give their friendly support staff a call. If you're a contractor, ask about the exclusive SupplyHouse.com trademaster program for industry professionals. Stop fumbling away your time and money, and take it to the house: SupplyHouse.com.
We hope you will take advantage of a great offer for our podcast listeners: A special 20% off the discounted rate to subscribe to the Fine Homebuilding print magazine. That link goes to finehomebuilding.com/podoffer.
The show is driven by our listeners, so please subscribe and rate us on iTunes or Google Play, and if you have any questions you would like us to dig into for a future show, shoot an email our way: [email protected]. Also, be sure to follow Justin Fink and Fine Homebuilding on Instagram, and "like" the magazine on Facebook. Note that you can watch the show above, or on YouTube at the Fine Homebuilding YouTube Channel.
The Fine Homebuilding Podcast embodies Fine Homebuilding magazine's commitment to the preservation of craftsmanship and the advancement of home performance in residential construction. The show is an informal but vigorous conversation about the techniques and principles that allow listeners to master their design and building challenges.
Other related links